Bustamante carries the load as Post Falls handles Lake City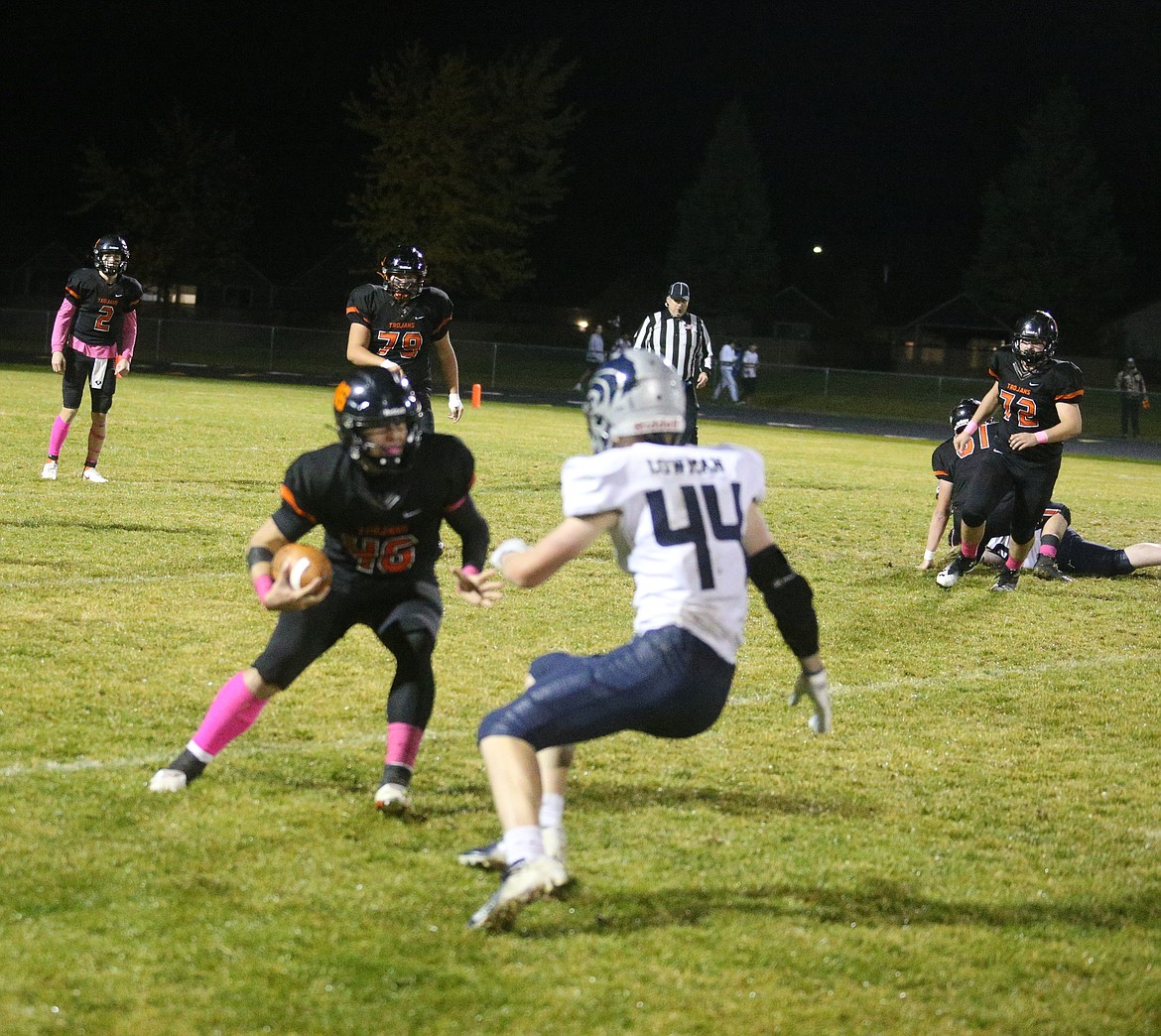 JASON ELLIOTT/Press Post Falls senior running back Jake Bustamante attempts to cut up the field on Lake City junior linebacker Ben Lowman during the first quarter of Friday's game at Trojan Stadium.
|
October 23, 2021 1:20 AM
By JASON ELLIOTT
Sports writer
POST FALLS — Post Falls coach Blaine Bennett hinted to junior Jake Bustamante to be prepared when his time came on Friday..
Little did he know how that was going to play out.
Bustamante carried 20 times for 130 yards, scoring two second half touchdowns for the Trojans in a 35-13 win over the Lake City Timberwolves in a 5A Inland Empire League game at Trojan Stadium.
"Coach Bennett kind of hinted to me that I was going to get a lot of carries, so to be ready," Bustamante said. " I knew that Jacob (Sullivan) was starting and we're going to switch out. I pretty much knew that it was going to be him running and scoring, or me scoring."
Sullivan also had two touchdown runs in the first half for Post Falls (5-4, 2-1 5A IEL), which led 14-0 at halftime.
"There really wasn't a single guy that jumped out tonight," Bustamante said. "We just played really well as a team."
Sullivan opened the scoring on a 7-yard touchdown run in the first quarter, then scored on a 3-yard run in the second quarter.
"Our offensive line really got the job done tonight," Sullivan said. "It's great getting two touchdowns."
"It was nice to have both running backs healthy again," Bennett said. "We haven't had them both healthy for a couple of weeks. It was nice to be able to run both Sullivan and Bustamante. Both of them are excellent running backs."
The win, coupled with Coeur d'Alene's 38-7 win over Lewiston forced a three-way tie for the league championship. To determine playoff berths, Post Falls, Lewiston and Coeur d'Alene will compete in a Kansas tiebreaker on Monday night at Bear Field in Moscow starting at 6 p.m.
"It's going to be interesting Monday," Bennett said. "I thought our players really played well. Our defensive staff did a great job. They've got some talented players, and we were able to keep them in check for most of the game. That was big to go in at halftime 14-0."
Post Falls ran for 262 yards on the night. Senior quarterback Jaxon Anderson was 11 of 13 for 136 yards passing for Post Falls
"We just thought we had an advantage up front, so we wanted to run those two healthy running backs," Bennett said. "So we didn't throw as much as we normally do."
As for the tiebreaker situation, Bennett has mixed feelings.
"One thing about being at the 25 (yard-line), I think everyone has an equal chance," Bennett said. "It only takes one play, a defensive stop, interception and one play on offense. You need one guy to make a play, and don't need to manage a game for four quarters. I think each team has an equal advantage. With the flip of the coin, the team that doesn't play first might have the advantage."
Post Falls, which started the season 0-2, has won 5 of its last 8 games.
"I think our players and coaching staff have done a good job of getting better each week," Bennett said. "We're a much better team now than we were in September, and I think people can see that now. It should be an exciting Monday."
Lake City junior Jackson Pettit completed 16 of 29 passes for 150 yards, scoring on a 2-yard run in the fourth quarter for the Timberwolves first points of the night.
"We just got out executed tonight," Lake City coach Brian Fulp said. "We gave up a couple big plays and some penalties that hurt us. It's disappointing."
Five different runners finished with 94 yards for Lake City, which finished 2-6, 0-3 in league.
"We felt like we could run a little bit," Fulp said. "We got beat up a little bit up front and they played hard and played well. Hats off to them."
Lake City 0 0 0 13 — 13
Post Falls 7 7 7 14 — 35
First quarter
PF — Jacob Sullivan 7 run (Alexander Luna kick), 7:33
Second quarter
PF — Sullivan 3 run (Luna kick), 9:43
Third quarter
PF — Jake Bustamante 10 run (Luna kick), 9:37
Fourth quarter
PF — Bustamante 14 pass from Jaxon Anderson (Luna kick), 5:38
LC — Jackson Pettit 2 run (Kyrus Condon kick), 4:01
PF — Luke Howland-Martin 2 run (Luna kick), :45
LC — Bridger Stephens 1 run (kick failed), :11
INDIVIDUAL STATISTICS
RUSHING — LC, Condon 4-14, Stephens 8-31, Johnson 2-7, Bumbaugh 11-40, Pettit 2-2. PF, Sullivan 8-36, Tucker 3-20, Howland-Martin 5-64, Anderson 3-4, Bustamante 20-130, Wild 1-8.
PASSING — LC, Pettit 16-29-0-150, Weaver, 1-2-0-44. PF, Anderson, 11-13-0-136.
RECEIVING — LC, Condon 1-0, Adkinson 4-22, Johnson 3-43, Stephens 1-(-5), Hill 4-66, Bumbaugh 2-20, McMeekan 1-11, Rowland 1-44. PF, Wild 3-47, Sullivan 3-42, Bustamante 2-18, Myers 2-6, Summers 1-23.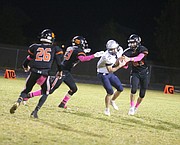 Recent Headlines
---