Griffin shines as Coeur d'Alene routs Lewiston, forces Kansas tiebreaker on Monday
|
October 23, 2021 1:30 AM
By MARK NELKE
Sports editor
COEUR d'ALENE — The potential "showdown" with the 5A Inland Empire League title on the line turned into a showcase for Coeur d'Alene senior Isaiah Griffin.
The wide receiver/defensive back caught seven passes for 109 yards and two touchdowns — and nearly scored three other times — as the Vikings routed the Lewiston Bengals 38-7 on Friday night at Viking Stadium.
That result, coupled with Post Falls' 35-13 victory over Lake City, caused a three-way tie for the league title, and sends Coeur d'Alene, Lewiston and Post Falls (all 2-1 in league) to Moscow's Bear Field for a Kansas tiebreaker Monday at 6 p.m. to determine two, and possibly three, berths to the state 5A playoffs.
Griffin took a bubble screen from Brayden Bengtson and zipped 41 yards for a touchdown and a 17-0 lead for Coeur d'Alene (6-2) early in the second quarter. On the next drive, Griffin slipped behind the defense and was wide open as he caught an 18-yard scoring toss from Bengtson.
"He did a great job," Coeur d'Alene coach Shawn Amos said of Griffin. "We focused on getting him a few more touches, tried to get the ball in his hands a little bit more, and it paid off. He's a dynamic playmaker on both sides of the ball."
Griffin had another touchdown catch called back on a holding penalty, thought he had scored on a reverse only to be ruled out at the 2, and nearly hauled in a deep ball down the middle for six.
"We (Griffin and Viking coaches) had a little talk about it, what I can do more," Griffin said, adding when he knows his number is being called, "I can definitely feel my heart start pumping a little bit."
Coeur d'Alene bounced back from a turnover-plagued 32-27 loss to Post Falls at home last week with a sharp performance on both sides of the ball. The Vikings rolled up 500 yards of offense and held Lewiston (7-2) to 155.
"We showed up the way we should have showed up last week," Amos said. "Real proud of how they responded to that game, so we came out and did what we had to do to give us a chance to keep playing."
Lewiston could have its first league title since 2016. But the run-oriented Bengals struggled to move the ball from the get-go. Cruz Hepburn, a 1,000-yard rusher for Lewiston this season, was held by 5 yards on 11 carries by a Viking defense that didn't allow the Bengal runners around the corner — and plugged up the middle pretty well, too.
"Rough night," Lewiston coach Matt Pancheri said. "I thought we were pretty well prepared, but we didn't come out and really physically impose ourselves on them. I thought we were tentative on offense, had a hard time moving the ball. They were really aggressive, and we didn't respond very well."
Bengtson threw for 240 yards and three touchdowns in the first half, and finished with 278 through the air. Coeur d'Alene scored on four straight possessions and led 31-0 at the half.
Rob Collier ran 60 yards for a touchdown after taking a handoff from running back Gunner Giulio out of the wildcat, but suffered an apparent knee injury in the second half.
Amos said Coeur d'Alene earned the No. 1 seed to the tiebreaker based on point differential in the head-to-head meetings between the three teams, though the playoff will be double-elimination.
Lewiston 0 0 0 7 — 7
Coeur d'Alene 10 21 7 0 — 38
First quarter
Cd'A — FG Brayden Bengtson 22, :56.3
Cd'A — Gunner Giulio 2 run (Bengtson kick), :38.4
Second quarter
Cd'A — Isaiah Griffin 41 pass from Bengtson (Bengtson kick), 10:35
Cd'A — Griffin 18 pass from Bengtson (Bengtson kick), 6:19
Cd'A — Colton Farrar 12 pass from Bengtson (Bengtson kick), 3:00
Third quarter
Cd'A — Rob Collier 60 run (Bengtson kick), 7:17
Fourth quarter
Lew — Kade McKarcher 20 run (Thor Kessinger kick), 9:25
INDIVIDUAL STATISTICS
RUSHING — Lew, Hepburn 11-5, McKarcher 19-81, Shaw 8-22, Taylor 5-19, Lathan 1-1, Hottinger 1-2, Taber 1-1, Ellsworth 2-10. Cd'A, Giulio 10-37, Bengtson 4-(minus 12), Collier 8-92, Griffin 1-23, Maciosek 4-66, Potter 1-(minus 2).
PASSING — Lew, McKarcher 1-8-1-14, Hottinger 0-1-0-0. Cd'A, Bengtson 19-27-0-278, Giulio 1-1-0-18, Potter 0-5-0-0.
RECEIVING — Lew, Rice 1-14. Cd'A, Giulio 1-6, Griffin 7-109, Wuolle 4-29, Collier 1-9, Farrar 4-71, Short 1-49, Cope 1-18, Walker 1-5.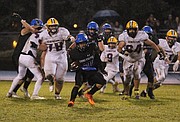 Recent Headlines
---