CDA man in good company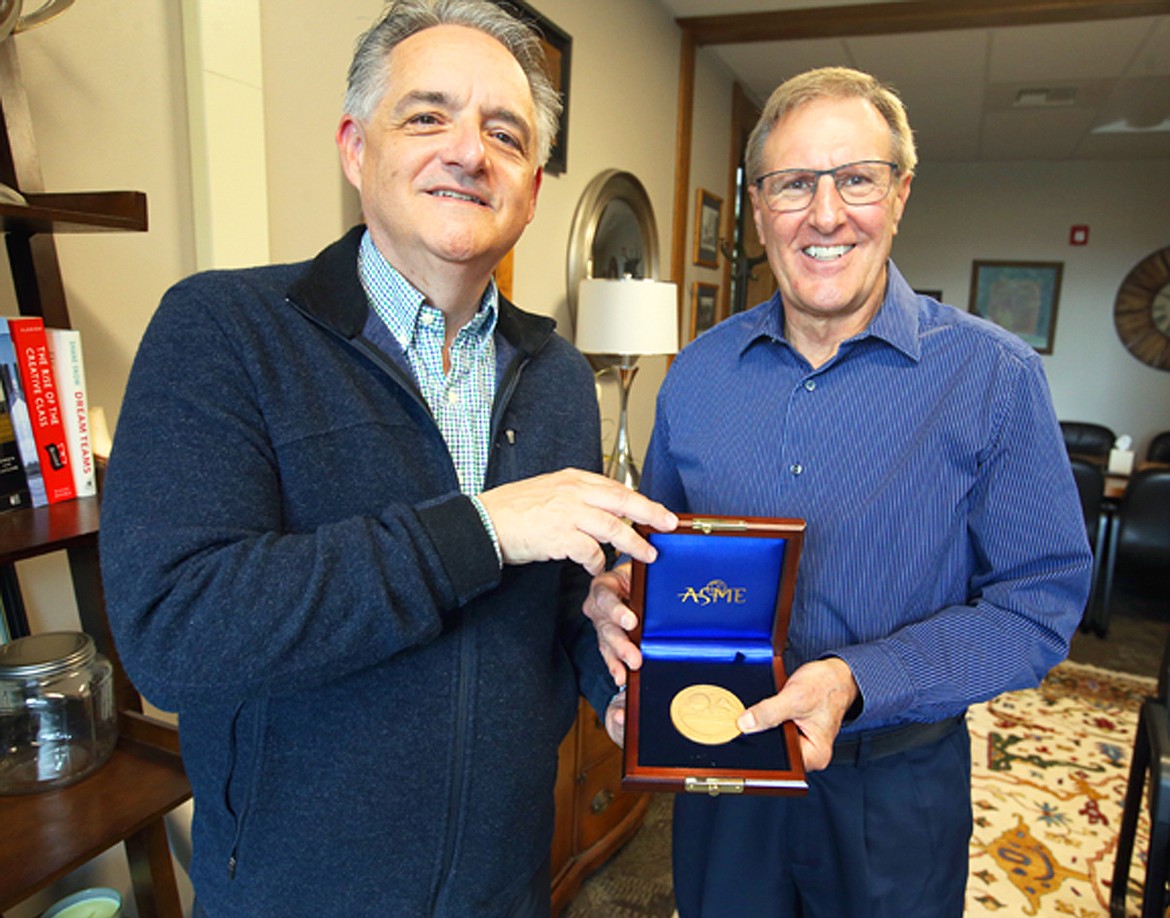 Coeur d'Alene resident Darold B. Cummings, right, is joined by Coeur d'Alene Mayor Steve Widmyer in displaying his Spirit of St. Louis Medal as given by the America Society of Mechanical Engineeers.
BILL BULEY/Press
by
BILL BULEY
Staff Writer
|
October 23, 2021 1:06 AM
COEUR d'ALENE — Perhaps you've heard of some of the past winners of the Spirit of St. Louis Medal as given by the America Society of Mechanical Engineers. Folks like Neil Armstrong, James Doolittle and Daniel Guggenheim grace the list that dates back to 1929.
Now you can add Coeur d'Alene resident Darold B. Cummings.
"I'm getting goosebumps just thinking about it," Cummings said during a recent presentation at Mayor Steve Widmyer's office. "I look at the people who got it before. It's hard to compare myself to Neil Armstrong."
The medal engraved with Cummings' name was accompanied by an ASME certificate that reads: "For more than five decades of outstanding and sustained contributions to the design, development and testing of military and commercial aircraft, including the YF-23 in the '80s and the most recent design of a NASA X-plane, the eMSTAR."
Cummings, president of ForzAero, was pleased to be honored for his work.
He said for a person who designs airplanes, "it's about as high as it gets.
"It's a pretty nice crowd," he said.
Widmyer said the city is proud of Cummings and that it has a resident working on such designs right in the Sanders Beach area.
"I think it's great that he's here," Widmyer said.
The Spirit of St. Louis Medal is awarded for meritorious service in the advancement of aeronautics and astronautics. It was established by Philip D. Ball, ASME members, and citizens of St. Louis, Missouri.
There have been just 61 winners.
Cummings, who still draws by pencil, does a lot of military work. He is currently working on a Mach 3 air launch cruise missile "that's going to be significantly better than anything other countries have.
"There's nothing like it," he said.
Recent Headlines
---