ENT From stage to film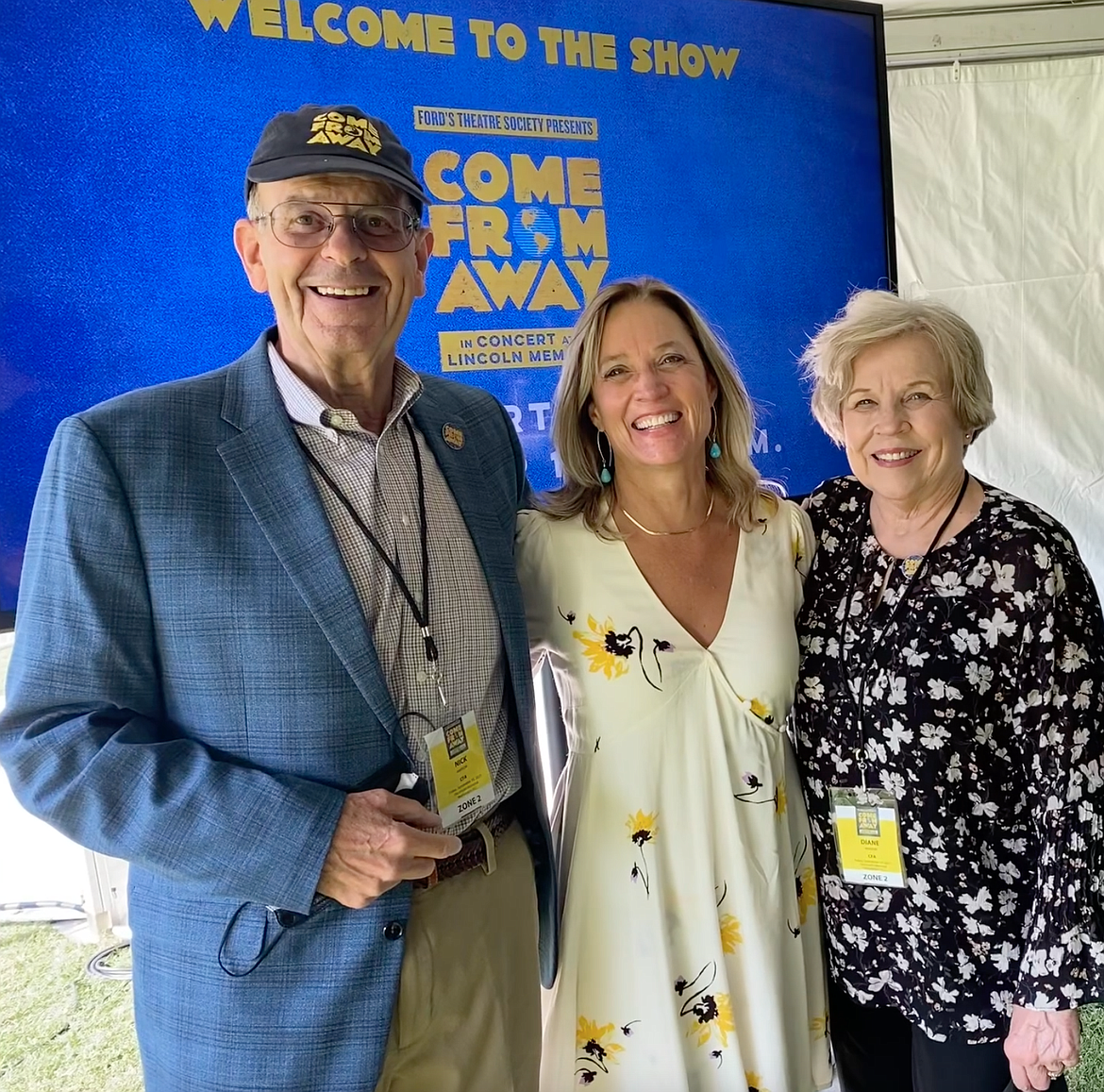 Laura Little, center, co-producer of the show "Come From Away," stands with Nick and Diane Marson on Sept. 10, right before the touring cast put on a performance on the steps of the Lincoln Memorial. "Come From Away" tells the story of 7,000 people stranded in the small town of Gander, Newfoundland after all flights into the U.S. were grounded after the 9/11 attacks. The Marsons were stuck in Gander for five days. Photo courtesy of Laura Little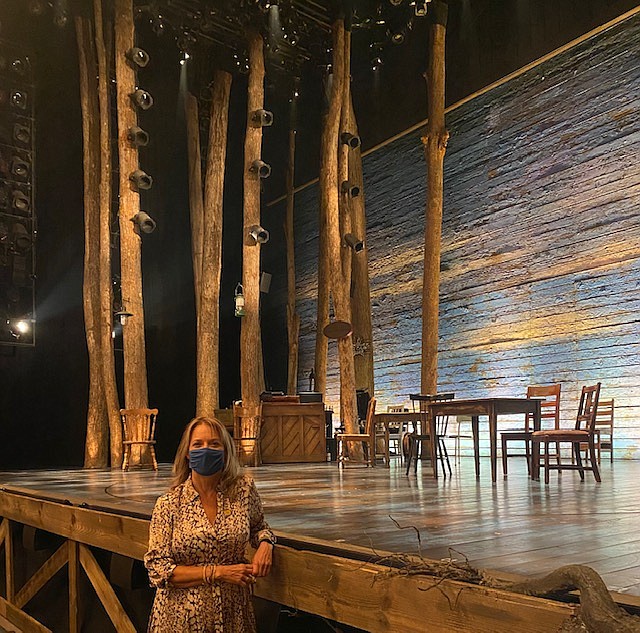 Laura Little, co-producer of "Come From Away," a musical that tells the story of 7,000 people stranded in the small town of Gander, Newfoundland after all flights into the U.S. were grounded following the 9/11 attacks, stands in front of the stage for the reopening on Broadway on Sept. 21 after COVID-19 closed down theaters. Photo courtesy of Laura Little
Previous
Next
by
HANNAH NEFF/Press
|
October 22, 2021 1:00 AM
A show with many local ties, including a Coeur d'Alene resident co-producer and many Coeur d'Alene investors, has now gone to global TV.
"Come From Away," the story of 7,000 people stranded in the small town of Gander, Newfoundland after all flights into the U.S. were grounded after the 9/11 attacks, came to Apple TV+ on Sept. 10.
"Audiences seem to love it," said Laura Little, a co-producer who makes Coeur d'Alene her part-time home. "All the producers just feel really blessed, because not only did that happen for us, but it's been very successful."
After laughing and crying through a reading of the musical in 2013, Little said she knew she had to be a part of it.
"I was touched to the core," Little said. "When that happens to me, I know it's going to happen to a lot of other people too, because I see a lot of readings and there's very few that catch me that way."
Little said she used to live in New York, so there was a personal connection to the show for her.
She said one memory that has stayed over the years was the short time she was unsure if her father was safe as he was getting ready to board a plane in Washington, D.C., during the 9/11 attacks.
"It wasn't that long after we realized it wasn't his plane that was in jeopardy, but he was at the airport getting ready to fly out," Little said. "I remember that moment very well."
Little said usually a show goes through one or two tryout runs in different cities before it's taken to Broadway, but because of the sensitive nature of this show, they went to multiple cities to see if people accepted a story about 9/11.
"And they do because it's sweet," Little said. "It's funny, and uplifting and tells a great story about people who all come together during a trying time."
The show was on Broadway for three years, and was doing remarkably well when COVID-19 shut down everything, Little said.
The cast was on a national tour and they also had a cast in Australia, and a cast in London who won five Olivier awards, which are equivalent to Broadway's Tony Awards.
In fall of 2020, Little said they were approached by Entertainment One, a Canadian multinational entertainment company who wanted to secure the film rights.
From there, the company took over the full process. Entertainment One took a live capture of the production in May at the Gerald Schoenfeld Theater in New York City with a select audience that included 9/11 survivors and front-line workers, with health and safety measures in place.
"I think all of us are just blown away at what a good job they did with it," Little said. "You can hear everything and understand everything."
On Sept. 10, the same day the film came out, the tour cast performed the show on the Lincoln Memorial steps in Washington, D.C., with thousands of people in attendance.
The show reopened on Broadway on Sept. 21., and will come to Spokane from Aug. 9 to 14, 2022, at the First Interstate Center for the Arts.
Tickets: https://firstinterstatecenter.org/event/come-from-away/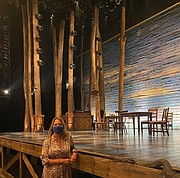 Recent Headlines
---