THE CHEAP SEATS with STEVE CAMERON: Readers weigh in on Rolo; do 'Hawks have a shot?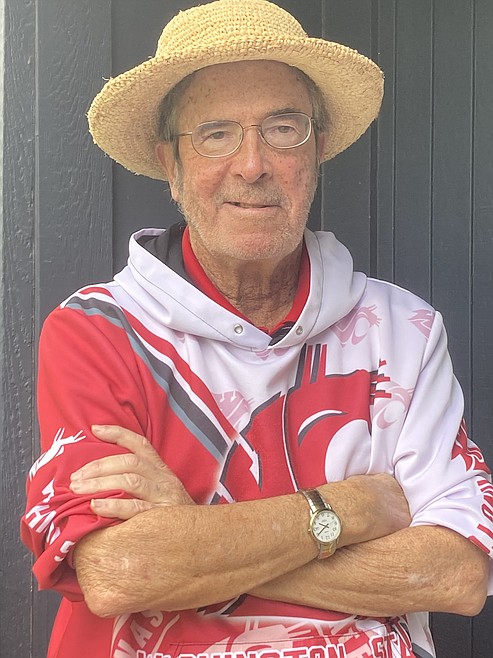 |
October 22, 2021 1:05 AM
Yes, yes, we're doing our notes and quotes for the week, but first…
We have to talk about Nick Rolovich.
Not because I'm eager to do it. No, the topic has to be addressed since everyone else seems to have an opinion on the Wazzu coach's firing.
I've received more emails about Rolo's dismissal for declining the COVID-19 vaccine than on any subject I can remember.
The great majority agree with my original take that the coach abandoned his team and the university for unknown reasons (he's never fully explained his position on the vaccine), and that his silence on the subject for several months has put players, administrators and supporters in an absurd spot.
Now, Rolo is going for the obvious — suing WSU (and presumably the state) for an unjust firing.
A statement from Rolovich's attorney, Brian Fahling, was almost laughable.
Fahling suggests that Rolo was shown the exit door because of seriously held religious beliefs.
Here's the best line…
"It is a tragic and damning commentary on our culture, and more specifically, on (AD Pat) Chun, that Rolovich has been derided, demonized, and ultimately fired from his job, merely for being devout in his Catholic faith."
Did he say Catholic faith?
That's rich, considering that Pope Francis has repeatedly urged the world's Catholics to get vaccinated for the good of all humanity.
Maybe Rolo or Fahling missed that.
ITEM: The Seattle Kraken are finally home, after a brutal season-opening road trip that included five games in eight days – over three time zones.
The Kraken went 1-3-1 but were competitive in all but one game.
Now comes the fun part, opening Climate Pledge Arena on Saturday night against the Vancouver Canucks.
You'd think the Kraken would be most excited to get home to see their families and sleep in their own beds, but captain Mark Giordano offered up a more important reason.
"We definitely need some practice time,'' Giordano said.
"You can see it in little areas of the game. We've got to sharpen up. We'll get two good (workouts) at home and then a little homestand, so it's going to be good for our team.''
The Kraken now have first-line center Yanni Gourde back in the lineup after a long rehab following shoulder surgery.
They're also hoping to get top-six forwards Calle Jarnkrok (Covid protocol) and Marcus Johansson (lower body injury) back sometime in this first homestand.
Bonus note for environmentalists: Climate Pledge Arena is the only certified carbon-neutral facility of its size in the world.
Climate Pledge, which will hold 17,459 fans for hockey and WNBA basketball, has 12,500 living trees and plants inside the building.
ITEM: Speaking of the WNBA…
Courtney Vandersloot, the point guard who just directed the Chicago Sky to a league title, is going to be officially honored as Gonzaga's greatest female basketball player.
Vandersloot, who graduated from Gonzaga in 2011, was the first Division I player — man or woman — to score 2,000 point and register 1,000 assists.
She was all-WCC in each of her four seasons in Spokane and the conference player of the year in her final three years.
Now it's time for Courtney to receive proper acclaim from her alma mater.
Gonzaga will retire her No. 21 and raise it to the rafters – alongside just three men's players: Frank Burgess, John Stockton and Adam Morrison.
No date has been set for the ceremony, because Vandersloot also plays in Europe, and tying her schedule to a Zags home game is difficult.
The Gonzaga women open their season on Nov. 11.
They're not ranked in the top 25 for the first time in ages (which I predict will be a mistake).
ITEM: Beyond the barrage of emails about Rolovich, the No. 2 subject in my mailbox this week has been the struggling Seahawks.
Specifically, Hawks fans want to know if their heroes can still make the playoffs after this 2-4 start.
Let's start with the ugly numbers…
According to research by the Providence Journal, 205 teams have opened the season with a 2-4 since 1990 (the era of six- and seven-team playoffs).
Of that group, just 19 advanced to the postseason (9.3 percent), and none won the Super Bowl.
As for the Seahawks, of the club's 19 playoff appearances, all but one included a start of 3-3 or better.
The 2015 team, which was coming off back-to-back Super Bowl appearances and still featured most of those same players, opened 2-4 but rallied to finish 10-6.
That group was knocked out in the NFC divisional round.
Which brings us to the present…
The current Seahawks have home games coming up against New Orleans and Jacksonville.
Call them must-wins.
If they can navigate those two games with Geno Smith at quarterback, Seattle would be sitting at 4-4 – still with almost no chance to win the division (Arizona is 6-0 and the Rams 5-1), but with an outside shot at a wild-card spot.
The problem would be the schedule.
Assuming Russell Wilson returns after the Jags game (and a bye week), the remaining gauntlet begins with a visit to Green Bay and includes a rematch with the Rams, two games against the high-flying Cardinals and a home game with the 49ers.
My own prediction…
To see the postseason anywhere but on TV, the Seahawks need to win these next two, beat the 49ers, hold serve late in the year against Washington, Houston, Detroit and Chicago – and pull off one upset against the Rams, Cards or Packers.
That would leave them with a 10-7 record, and maybe …probably … a wild-card invitation.
No problem, then.
Email: scameron@cdapress.com
Steve Cameron's "Cheap Seats" columns appear in The Press on Mondays, Wednesdays and Fridays.
He also writes Zags Tracker, a commentary on Gonzaga basketball which is published weekly during the season.
Recent Headlines
---