4A Region 1 volleyball championship: A painful finish for Lakeland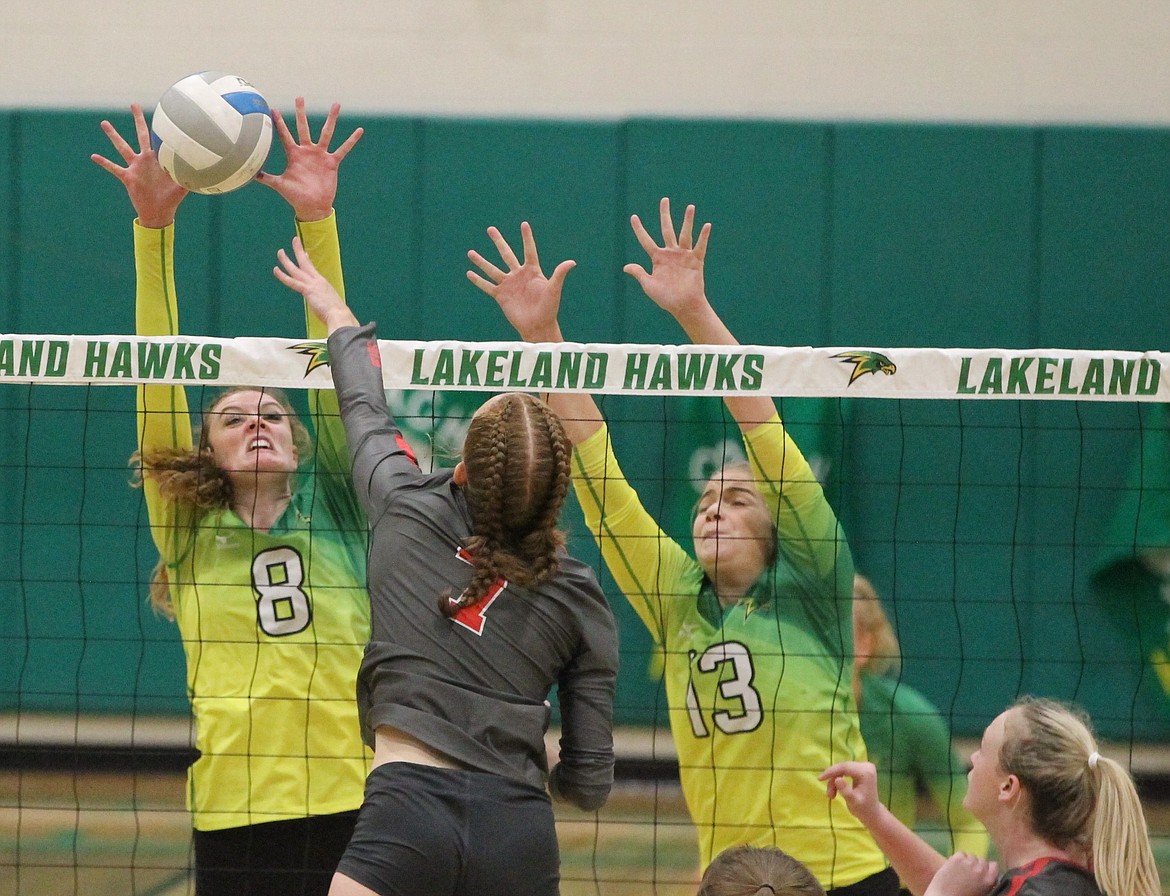 MARK NELKE/Press Bethany Johnson, left, and Addie Kiefer of Lakeland put up the block against Grace Allen of Moscow in the 4A Region 1 volleyball championship match Thursday night at Hawk Court in Rathdrum.
MARK NELKE/Press Emily Morlan of Lakeland passes during the 4A Region 1 volleyball championship match vs. Moscow on Thursday night at Hawk Court in Rathdrum.
Previous
Next
|
October 22, 2021 1:30 AM
By MARK NELKE
Sports editor
RATHDRUM — The momentum swings in volleyball can be cruel.
So can the unforgiving nature of, in this case, the 4A Region 1 volleyball tournament.
The defending state champion Lakeland Hawks were one point away from returning to state on Thursday night in Hawk Gym.
But the Moscow Bears scored seven of the final eight points of the match to stun the Hawks, 25-21, 20-25, 25-20, 7-25, 17-15 in the championship match to earn the Bears (9-7) the region's lone berth to state next week.
Lakeland's season ends at 19-14.
"We should have been on our way; it was tough to lose that," Lakeland coach Kelsie Badger said. "Pressure. It's tough when you have three freshmen on the floor, and the pressure got the best of us."
Senior Addie Kiefer had 14 kills and 28 digs for Lakeland. Freshman Landree Simon had 11 kills. Senior Sam Daniels had 40 assists, junior Ellie Carlson 30 digs and three aces, junior Kenna Simon five blocks, senior Olivia Staudinger three aces.
Senior middle blocker Bethany Johnson, a key member of last year's state title squad, suffered a left knee injury when she came down awkwardly on a block attempt late in the fourth game. She was carried from the court into the locker room, but returned and sat behind her team's bench during the deciding set. Badger said Johnson was planning to get an X-ray later Thursday night.
"The mentality to play a (fifth) set without one of our best players on the floor was impressive," Badger said. "We had the momentum in our court, and weren't able to keep it."
Moscow qualified for state for the first time since 2017.
"You know what, these kids just never give up," Moscow coach Tori Claus said. "The score was (14-10), we could have rolled over and died, and they just fought to the end."
Lakeland had all the momentum after rolling Moscow 25-7 in the fourth set. Moscow jumped out to a 6-3 lead in the final set (to 15), but the Hawks took the lead back at 8-7. Landree Simon had a couple of kills, and Lakeland served for the match at 14-10.
Moscow tied it at 14 on a stuff-block by sophomore Taylor Broenneke. After another block, Moscow served for the match. An exchange of points later, and another block by Broenneke — her fifth of the night — ended the match.
"Toughness, and they had a belief from Day 1, this is what they wanted to do," Claus said. "I have five seniors, and this is the way they wanted to go out."
Junior Morgan Claus, daughter of the coach, totaled 11 kills and 24 digs for Moscow.Grace Allen added eight kills and four blocks, Sam Under 33 assists, Peyton Watson eight kills, Maecie Robbins 24 digs, Ellie Gray 23 digs on a night when both defenses shined.
"Seems that they could dig everything we gave to them," Badger said. "We couldn't get the ball to the ground."
4A Region 1 is almost always a one-bid region. Every now and then, math allows the regional runner-up a chance at a play-in match. But the last time that happened was 2015.
Lakeland could have used that half-bid to come back around this year.
"And I don't know when they're going to bring that (play-in berth) back, or if they ever are going to bring that back," Badger said. "But I definitely think Region 1 has something to say at state — more than just one team."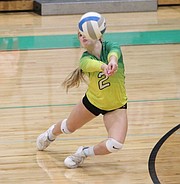 Recent Headlines
---