Protecting big blue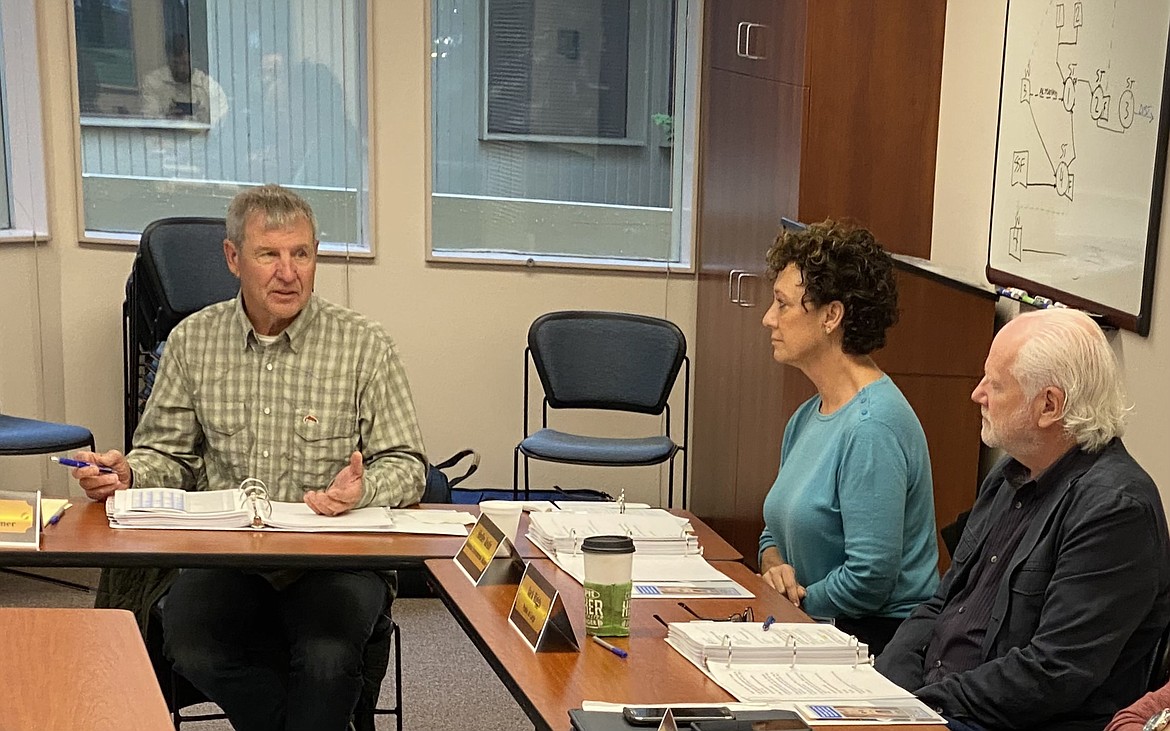 Coeur d'Alene Lake Advisory Committee members Bruce Cyr, left, Shelley Austin, and Jack Riggs discuss 40 projects submitted for state funding on Wednesday. (MADISON HARDY/Press)
by
MADISON HARDY
Staff Writer
|
October 21, 2021 1:09 AM
With 40 projects to choose from, a state advisory committee has one month to divvy up to $2 million to improve the health of Lake Coeur d'Alene by 2023.
A subset of Gov. Brad Little's Building Idaho's Future initiative, the Coeur d'Alene Lake Advisory Committee held its second of three meetings Wednesday morning. The nine-member board is tasked with finding projects to reduce lake phosphorus levels. 
On Wednesday, Idaho Department of Environmental Quality representatives presented 40 phosphorus-reduction proposals submitted by local organizations. Members of the CLAC were unanimously amazed and hopeful by the amount of interest in the program. 
"We want to thank the public for participating," CLAC member Bruce Cyr said. "All of us are in this room because this means something to us. But it's clear from the number of projects we received that it also means something to the people who live here."
The initiative has $2 million in state funds meant to mitigate the impacts of metal and sediment residue throughout the Coeur d'Alene Basin. Projects selected by the CLAC are intended to support an ongoing study by the National Academies of Sciences into historical and current water quality data in Lake Coeur d'Alene.
Millions of tons of metal contaminants like zinc, cadmium and lead in the Coeur d'Alene Basin stem from historic mining activities in the Silver Valley. While the concentration of the metals has declined since the mid-1970s, other nutrients like phosphorus have increased, IDEQ limnologist Craig Cooper said. 
High levels of nutrients like phosphorus cause eutrophication, which increases algae growth and lowers oxygen in water bodies. If the oxygen levels in Lake Coeur d'Alene decrease too much, the metals resting on its bed will release, damaging the basin's health, Cooper said. 
Projects prioritized by the CLAC and IDEQ were those that:
• Reduce wastewater pollution from point sources like wastewater treatment plants
• Manage stormwater that drains into the lake and its tributaries
• Address nonpoint source pollution such as sediment loading through bank stabilization, wetland enhancements and other efforts
• Support research projects such as lake treatment options 
IDEQ experts evaluated proposals and scored them based on factors like cost per pound of phosphorus reduction, the total amount of phosphorus reduced, project timeline, and relative community support. The CLAC gave shovel-ready projects with the most significant phosphorus loading reduction priority. 
IDEQ Surface Water Manager Robert Steed noted that even if the CLAC did not select a project for funding, the agency "is committed" to assisting groups in bringing their plan to fruition. 
"These projects are not forgotten," Steed said. "I appreciate the CLAC for putting out the call for projects because it gives opportunities to look at other sources as well."
Many top-ranking projects highlight stormwater, sediment, wetland, bank stabilization, and general phosphorus reduction efforts. 
"We're working on real, meaningful reductions that are valuable," IDEQ Regional Administrator Dan McCracken said.
Coeur d'Alene Tribe Secretary/Treasurer Hemene James expressed appreciation for his fellow committee members and IDEQ for approaching their task with an "objective" and "open mind." He also commended Gov. Little for allocating the $2 million for projects that will give him a "broad view of what we're dealing with up here, up north." 
"(The lake) is the center of our entire existence. Everyone that comes here comes for the lake," James said. "I appreciate your productivity, I appreciate the governor giving up the opportunity to get the word out to the public, and I think we can only go up from here."
The final CLAC meeting is on Nov. 17. Members will rank priority projects and determine which proposals will go forward to the Panhandle Basin Advisory Group and the IDEQ director. 
Other CLAC members include:
• Kootenai County Commissioner Chris Fillios
• Kootenai Environmental Alliance Executive Director Shelley Austin 
• Former Lt. Governor and state representative Jack Riggs
• Coeur d'Alene Mayor Steve Widmyer
• Coeur d'Alene Rep. Paul Amador 
• Hagadone Marine Group President Craig Brosenne
• Harrison City Councilman Jordan Hall
Info: www.deq.idaho.gov/coeur-dalene-lake-advisory-committee/.
Recent Headlines
---