PREP SOCCER: Quite the defensive dudes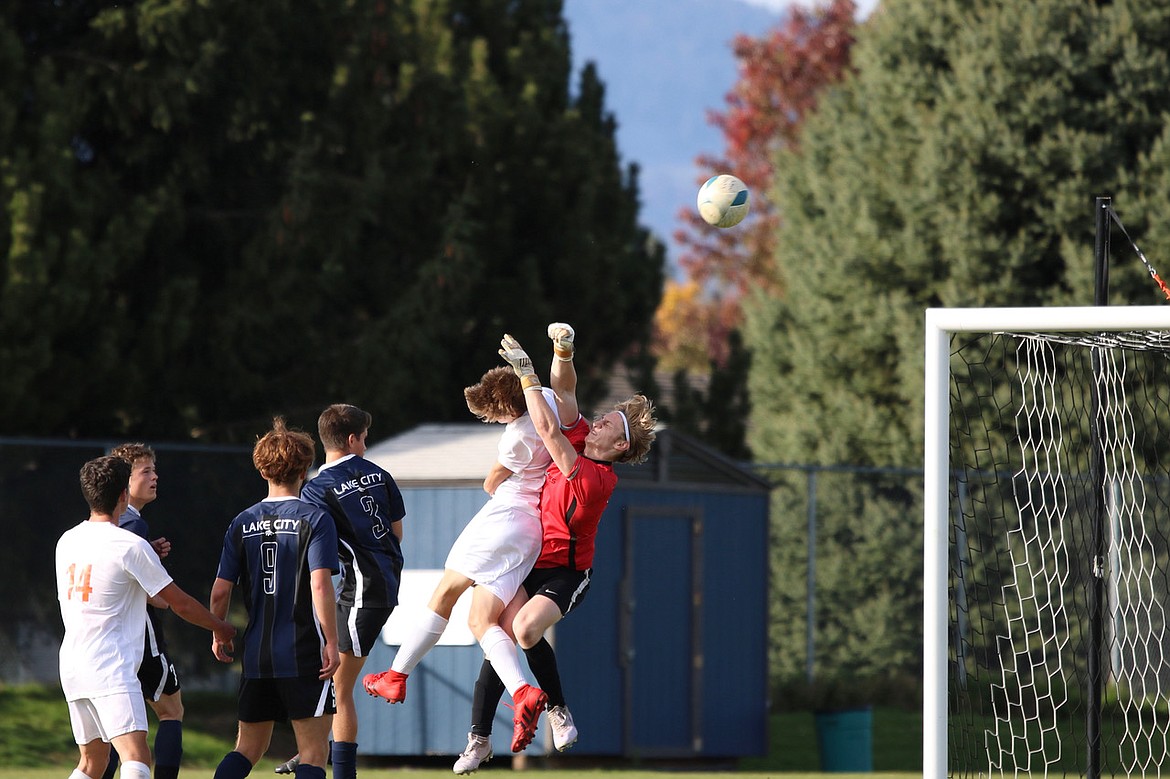 Photo by ZAC CHAN Lake City goalkeeper Tyler Allred (in red) goes up for a save during a match against Moscow in August.
|
October 21, 2021 1:25 AM
By JASON ELLIOTT
Sports writer
Sometimes, things just don't go your way.
You can be so close to a return to a state tournament, only to have it taken away in a play-in match.
In the case of the Lake City High boys soccer team, that feeling wasn't something they really wanted to have anymore.
"We'd gotten second in the region in the game before," said Timberwolf senior defender Miles Jones, a two-time team captain. "Being on varsity and getting second, I was just kind of fed up with it and I think the other guys were too."
In 2020, Lake City lost 2-1 to Centennial in a state 5A play-in match at Middleton High.
"It was a feeling like just trying to contain the sadness and anger," said senior Tate Nowak, a three-year starting defender. "It was a disappointing game to go down and lose. I think we all bonded as a team for going through that experience together."
"We just knew that we had to do anything we could not to make it to that game again," senior goalkeeper Tyler Allred said. "That's how this thing happened. It's always that one risky game that can mess things up."
This fall, as seniors, the Timberwolves have left no doubt on the field, taking a 17-0-1 record into this week's state tournament at Eagle High, where the team is the top seed.
"We've got a great group of guys," Jones said. "We've played on the same team since we were 5 or 6 years old. It's something special and something that doesn't happen very often."
Maybe even more rare, Lake City has won 12 of 18 matches this season via shutout.
"There's been a lot of close calls," Nowak said. "It's insane. To have a shutout in 12 of 18 games, that's just insane."
"We're just not trying to give up a single inch of that backfield," Allred said. "Once that happens, it kind of turns into a snowball effect, and it just keeps coming and coming faster. Tate and Miles, I swear they're the best we've got and best I've had back there since I've played."
It was something that nearly didn't happen for Allred this season.
"I almost didn't play this year because I'd gotten a little burnt out on soccer," Allred said. "But the guys, especially Miles and Tate, really convinced me to come back. And we've had a really fun year."
Jones added that the key to the Timberwolves has been their ability to keep things light.
"We like to play really loose and have fun," Jones said. "We like shutting out strikers and talking trash sometimes. We just love each other and it's a tight connection back there."
As for the trash talk ...
"It's gotten me in trouble a little for sure," Jones said. "We've gotten a few yellow cards this year, but we've definitely chilled out and learned our limits."
Lake City has allowed eight goals thus far this season.
"We're looking to get a shutout each game," Jones said. "Getting to do that 12 times is a really cool feeling and nothing to complain about. It's a good group of guys and I think we can bring it home for sure."
As it so happens, thanks to MaxPreps rankings being used to seed the state tournament for the first time, Lake City opens at state on Thursday at 8 a.m. PDT with fellow Inland Empire League school Lewiston (8-8-0), which is seeded eighth and making its first appearance at state.
"It's just a lot of confidence back there," Nowak said. "We've got an attitude that we're never letting one in."
Lake City has shut out Lewiston in all three matches, including last Wednesday's 5A Region 1 championship match.
"It certainly hard to beat a team three times in the same season, but by the time you get to the fourth meeting, there are no secrets," Lake City coach Alan Rich said. "They know you, and you know them, so it comes down to which team executes best on the field. In 2018, we had to beat Coeur d'Alene four times (twice in the regular season, then in the regional final and the state consolation final) to win the consolation bracket at state and we will prepare for Lewiston the same way we prepare for every game."
When it comes to preparation, Allred has a few different things that he's done to be at the top of his game in the goal for Lake City.
"I do CrossFit," Allred said. "I started lifting weights to get better for this, and I kind of liked doing the assault bike and all that cardio stuff, mixed with the other Olympic lifts and other stuff."
Allred also does pull-ups on the crossbar of the goal before each half to get himself ready to play.
"It's just a ritual thing," Allred said. "A lot of keepers have something they do. Just before the half or a penalty kick, every keeper has something that they do."
For both Allred and Nowak, it could be the final matches of their playing career, with Jones still undecided.
"I used to want to play college soccer, but I think this is kind of it with me," Allred said. "I just want to get everything I can this year."
"I want to be a firefighter or paramedic," Nowak said. "I've taken a CNA class for medical experience and am doing a fire cadet program in the spring for some experience."
However things go this weekend, the group will do it together, win or lose.
"Although individual technical skill is critical, we emphasize unselfish team soccer," Rich said. "They are a competitive group and the team chemistry is some of the best I've ever seen. They encourage each other and keep each other accountable to our goals and they are not afraid to call someone out if they are not meeting expectations. Every few years, you are fortunate enough to have a group that just gels and has fun together. We do a lot of off-the-field bonding activities. I believe if you like each other off the field, you will play better together on the field. So everyone is all-in this season."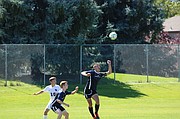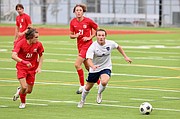 Recent Headlines
---