Steve Halliday, 56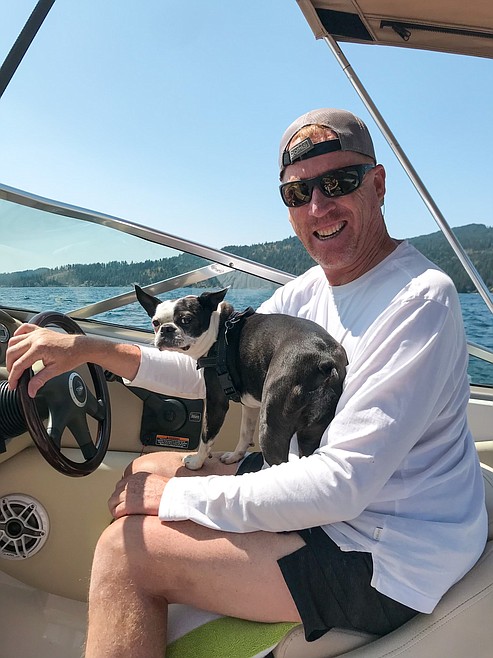 |
October 20, 2021 1:00 AM
"The loss is immeasurable but so is the love left behind."
Steven Bruce Halliday was born Oct. 2, 1964, in Spokane, Wash., to Bruce and Shirley Kay Halliday and was raised in the family home on Government Way in Coeur d'Alene, Idaho.
Steve graduated from CHS in 1983 after leading the mighty Vikings at quarterback to their very first Idaho State Championship. They were 12-0 and set seven team and individual game records that glorious day in November. It was a team Steve was incredibly proud of and where life-long friendships were forged.
Steve met Jan (Wendell) in 7th grade at Lakes Junior High. Young, wild and free, their relationship grew over the years. At the age of 16, Steve presented Jan with a "promise ring" purchased from Clark's Jewelry with hard-earned money from lawn mowing, Parks & Rec. baseball scoring and selling nightcrawlers to the fishermen who passed by the family home on their way to the lake. Steve and Jan married April 12, 1986, and moved to Corvallis, Ore., where they both graduated from Oregon State University — GO BEAVS! Over the next 14 years it was in Beaverton, Ore., where Steve's successful insurance career began and where his most significant title was earned: father. Once both girls were born, Steve felt the call to move home to raise his kids near family in the wonderful community where he grew up, as that was the most valuable thing to Steve. In 2000, the Halliday family made the move back to their hometown and never did look back.
Steve was a man of deep integrity and an incredible work ethic. He was fiercely loyal and protective — traits he instilled within his family — and he filled his home and community with life. He was a man extraordinaire who enjoyed travel (especially Mexico), fishing, boating, kayaking, tending to his yard and barbequing. A man of God with deep faith, he enjoyed listening to music along with quiet meditation with his Bible. He put family first and never missed a family event. He was also the first to paint his daughters' nails, style their hair, attend Thanksgiving lunches at Dalton Elementary, assemblies, Father/Daughter dances, academic recognition assemblies, dance recitals, band concerts and the girls' many, many soccer, basketball and softball games.
Steve's incredible spirit wasn't limited to home and family. He gave his time to the Hayden Lake Rotary, Lake City HS Booster Club and was always compelled to help others. He valued his friendships which truly spread across the country to include co-workers, friends of friends, and the dear friends of his kids whom he embraced as his own. An open door was provided to all. Sorely missed will be the open table conversations with Steve's incredible barbequing skills, where cell phones and technology were set to rest for those moments of deep conversation, questions of life and just learning about each other's journey. All who knew him will especially remember the laughter, OH the laughter, and perhaps this will be missed most of all.
Steve was preceded in death by his father, Bruce Halliday and his father-in-law, John Wendell. His mother Kay Halliday-Millsap passed away 11 days after her beloved son. Steve is survived by his wife and soulmate, Jan Halliday, two daughters, Alexa Jean Halliday (Houston, Texas) and Capriel Dior Halliday (Boise, Idaho), brother Duane Halliday, mother-in-law Kate Wendell, stepfather Bill Millsap and nephews and nieces: Connor Halliday, Skye Halliday-Wilson, Chloe Halliday, Sara Wendell and Mike Wendell. Survivors also include numerous aunts, uncles, cousins and friends whom he thought of and valued as family.
Celebration of Life to be held at 11:11 a.m., Nov. 19, 2021, at Real Life Ministries Post Falls, Idaho.
Please sign the guest book and share stories and memories at englishfuneralchapel.com.
Our family wishes to extend its gratitude and appreciation to the dedicated and hard working staff and heroes at Kootenai Health. The care that was provided is appreciated beyond measure. Thank You for your dedication and compassion in extremely difficult and gut wrenching situations – You truly amaze US!
Recent Headlines
---