Roberta "Bobby" Depew Goodhart, 103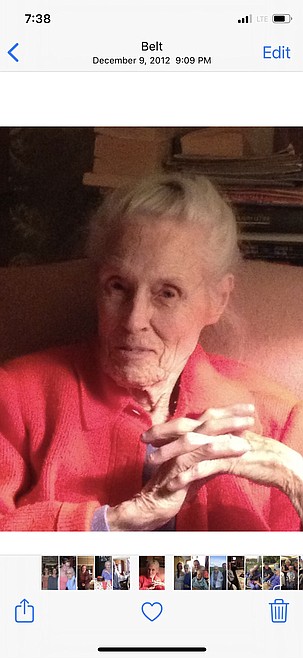 |
October 20, 2021 1:00 AM
Roberta "Bobby" Depew Goodhart, 103
Roberta "Bobby" Depew Goodhart was born on her family's homestead in Belt, Mont., on Dec. 10, 1917. She was the youngest of five girls born to Mack and Anna Mae (Davis) Depew, hence the name Roberta, named after her grandfather Robert.
She often recalled her chores on the ranch which included getting water from the spring, herding cattle to pasture on bareback, and helping with the harvest and gardening. She attributed her longevity to this lifestyle. When she was a child she sang duets with her sister Maxine, coached and accompanied on the piano by her older sisters, Dorothy, Aroline, and Helen. They were quite the rage in their community.
She graduated from Belt, Mont. in 1934 as valedictorian of her class. She participated in Glee Club and National Honors Society. She was active in 4-H and was awarded a scholarship for her sewing abilities to Montana State where she received a bachelor's degree in education and business in 1940. She would have graduated earlier, but her parents could only afford to send one girl to college at a time.
Between 1940 and 1946 she taught school in Joliet and Scobey, Mont., and in White Swan, Wash. She rounded out her teaching career in Helena High School teaching business and typing, retiring in 1992. During that time, she lived with a favorite cousin and her daughter, lrene Sage, who is a dear friend to this day. She would return to the ranch on the weekends and summers to help with the planting and harvest. Bobby met her husband, Everett Goodhart, when he was hired to manage her parents' ranch and they married on Aug. 16, 1952, in Fort Collins, Colo., after a seven-year courtship. She earned her master's degree in education counseling from Colorado State University (1953). She was a member of Eastern Star and Daughters of the Nile.
A special thank you to Helen Olson and Neil and Patti Sweeney for helping to make it possible for Bobby to stay on her beloved ranch, in the house where she was born, until the age of 102. She moved to Coeur d'Alene, Idaho in March 2020 to live with her great-nephew and niece, Wayne and Ginny Longo. She passed away on Oct. 16, 2021, in the loving care of Schneidmiller Hospice House of North Idaho with family at her side.
Bobby leaves behind her niece, Carol Anderson, and multiple great-great-great-nieces and nephews. She is preceded in death by her parents, Mack and Anna Depew; her four sisters: Helen Blakey, Aroline Johnson, Dorothy Lattin, and Maxine Asher; her husband, Everett Goodhart; and her three nephews and two nieces.
Bobby did not desire a service, preferring to have her ashes scattered on the ranch she loved so much. Donations may be made in her memory to Hospice of North Idaho, 2290 W. Prairie Ave., Coeur d'Alene, Idaho, 83815 (www.hospiceofnorthidaho.org).
Yates Funeral Home is entrusted with final arrangements. Please visit Bobby's online memorial and sign her guestbook at www.yatesfuneralhomes.com
Recent Headlines
---