Please pet responsibly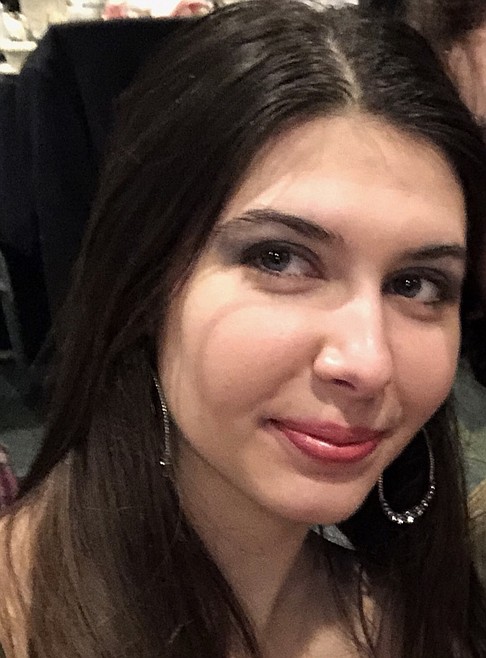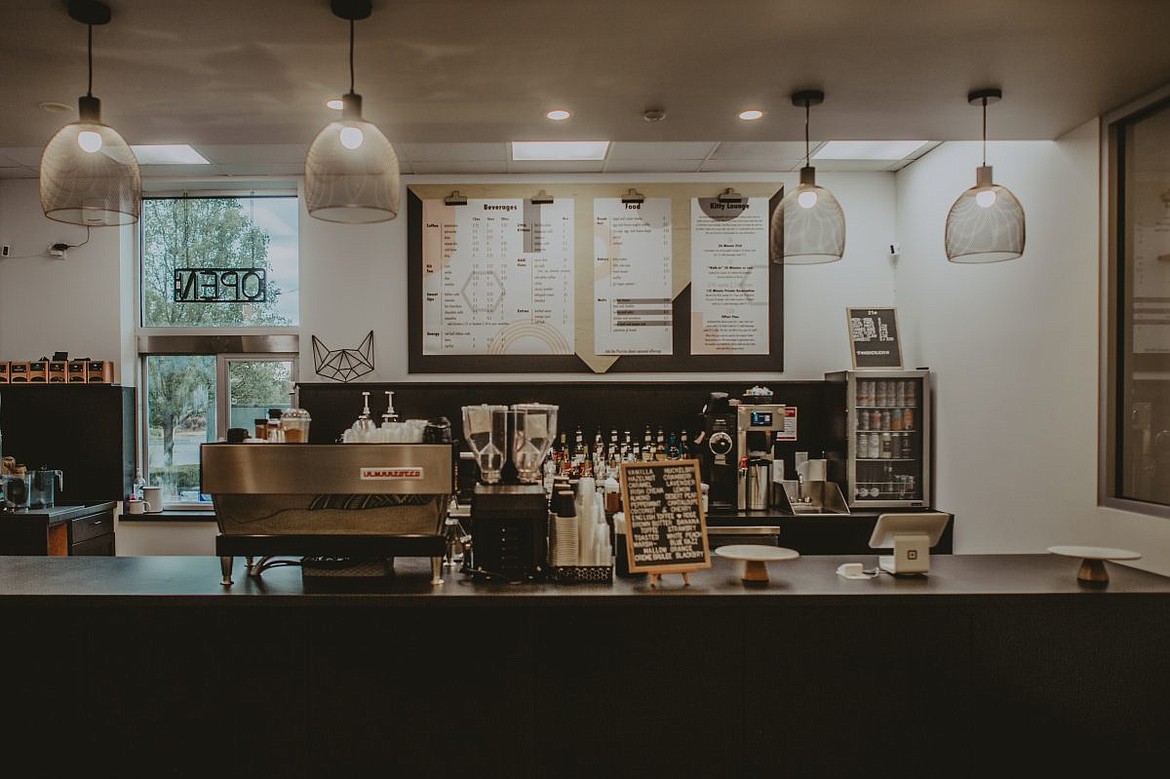 The coffee bar at Kitty Cantina offers java, tea and drinks for cat lovers over 21.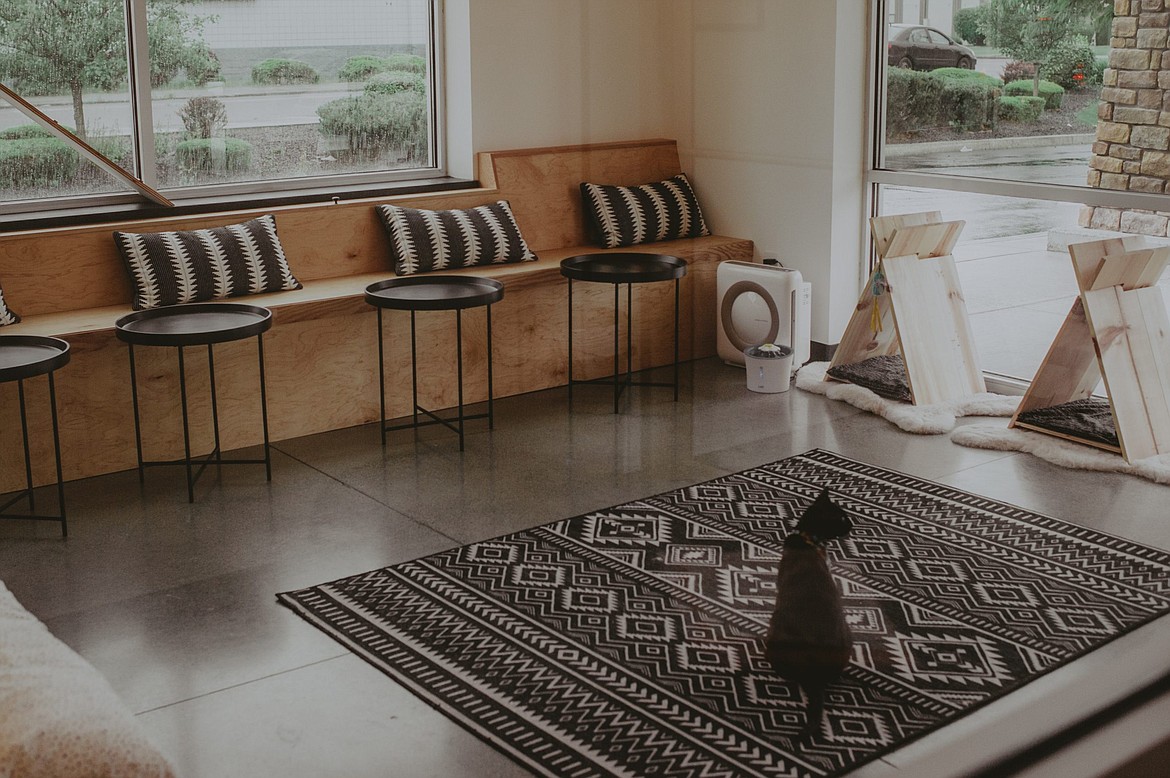 A prior resident of the cat cafe checks out the digs in the cat room.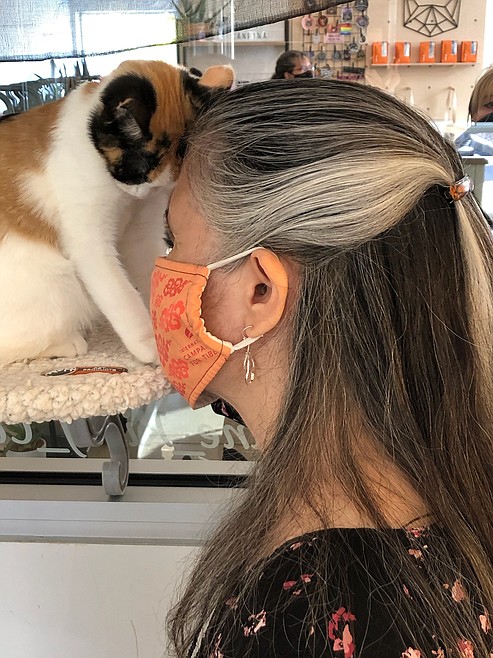 Press columnist Sholeh Patrick resists the urge to take new friends home.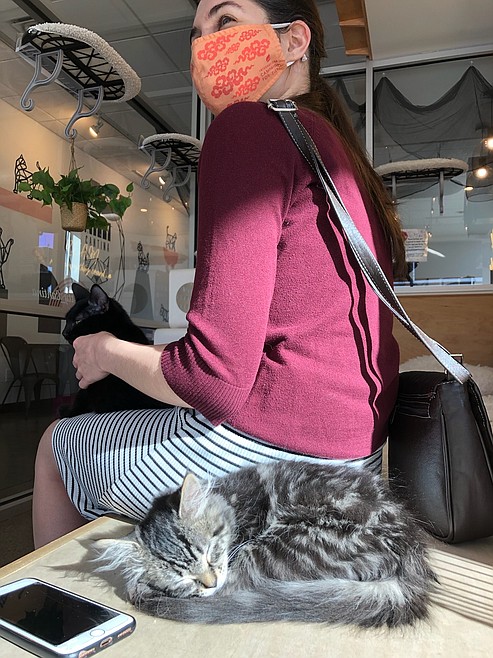 A visit to Kitty Cantina will likely result in some serious kitty cuddling. Be warned, once one cat chooses you, the others may follow, depending on the personality of the cats in residence.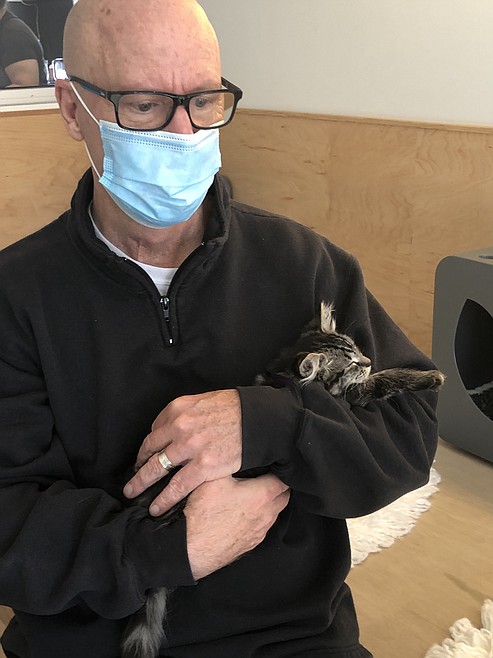 Press Managing Editor Mike Patrick resists the urge to take new friends home.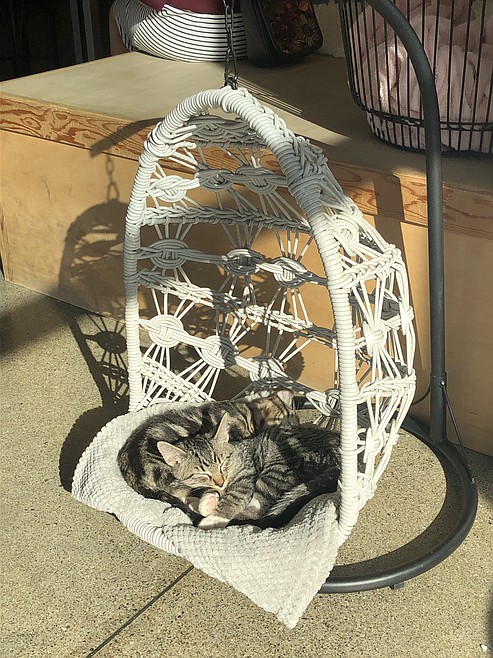 There is no shortage of sunny napping spots in Kitty Cantina's catroom.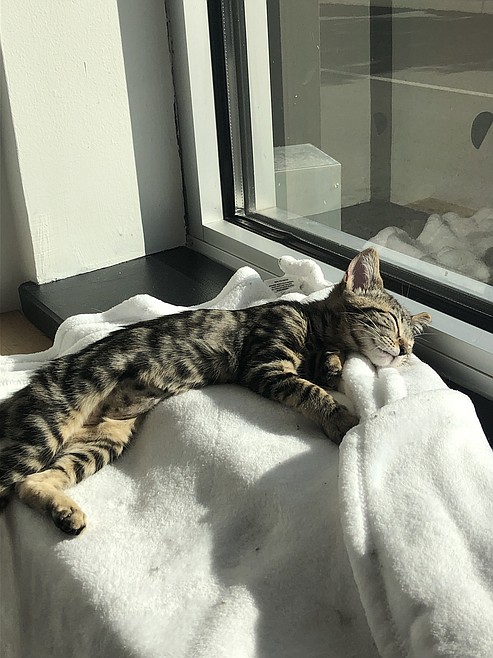 Sky didn't look up once. She barely perked up when her new forever family came to take her home.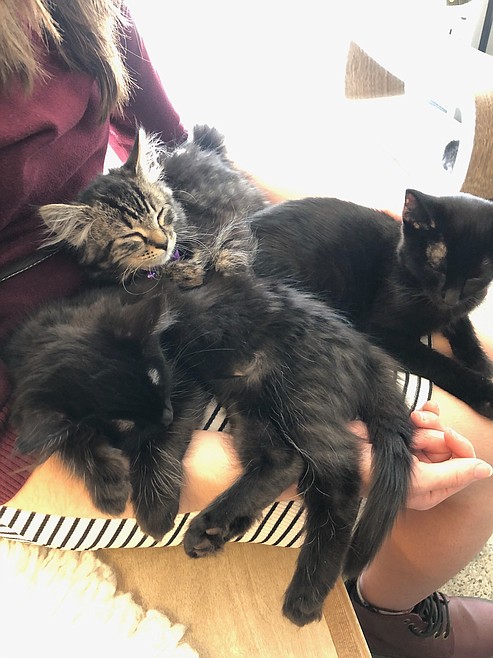 The writer was graced by a lapful of sleepy (and slightly pushy) kittens at Kitty Cantina, Spokane's cat cafe, last Saturday.
Previous
Next
by
ELENA JOHNSON/Coeur Voice Contributor
|
October 20, 2021 1:00 AM
If you follow Kitty Cantina, Spokane's cat café, on Facebook (and who doesn't?) you're familiar with two things: a seemingly endless fount of playful descriptions of baby felines known for the same energy, and a social feed full of doe-eyed piles of kittens.
For those who don't know, the experience is something like this:
Magnum is an enigma. He might get distracted, but once you coax him into your lap he'll never leave. And he'll bat at your hand if you stop petting him for a single instant! We'd be mad, but he's too cute to boot.
Toast with the most knows a good spot when Magnum sees it. So he just may crawl into your lap, too. But don't worry; Magnum's too sleepy to cause a fight. Just don't expect to be able to get up anytime soon. It's always nap time for this piece of sliced bread!
As for Muffin, well, she just wants to be included. And if her bonded BFF Toast likes a person, she'll need to see what the fuss is about and will crawl on top, other kittens' naps be darned.
I don't know if Kitty Cantina needs another social media writer, but the pawers-that-be can take the above as my formal application for the role.
As for pictures, the accompanying are a simple sample of my first experience in the cat room.
Yes, there were three kittens on my lap — two crawled on top of the first of their own accord — and there was a fourth (sweet, sleepy Muffin) taking twin advantage of the line of sun and the warmth of my back.
Yes, it's a cat lover's paradise. And the drinks ain't half bad either.
After a delayed opening in the middle of a pandemic last year, Kitty Cantina seemed to steadily find its rhythm — and it's more of a cha-cha than a waltz. Aside from slinging java and snuggle sessions, the cat café has also adopted out more than 600 cats in about a year and a half. Judging by the Facebook posts, Kitty Cantina is getting a few cats out the door a week.
That's probably happy news for kitties in need and for Spokane shelter SpokAnimal, freeing up space for other homeless cats. These rescue cats have pretty lux digs — complete with lots of sunny window spots, soft mats, hidey holes, and structures to climb — and get plenty of attention while waiting to find a new home. Even those who don't live in the café have the biggest benefit of the extra room back at base — more time. With more room and more adoptions coming out of Kitty Cantina, the pressure is lessened.
It's a great system for shelters and for the customers who enjoy grabbing a drink and a pet (or just watching the feline hijinks through the glass walls of the cat room). It's no surprise cat cafes like this one have slowly begun popping up around the country and world — after taking off in Japan. But there's another crucial benefit that can be too easily ignored when we're talking about adoptions:
Cat cafes provide an ethical way to interact with cats that's NOT about taking them home at night.
In fact, while Kitty Cantina's success has been exciting to watch, I feel a little relief when the numbers don't seem to slow once in a while. No one wants a homeless cat, but no one — and especially no shelter — wants furry friends adopted too hastily, even though they're tiny, fluffy, and look up at you with big eyes. If you fall in love, you'd better be ready for a 15-year commitment (more if you're blessed).
To be clear, the cat café is careful in their adoption process, requiring an in-person meeting and a "sleep on it" period, and the staff make it clear that they take matching the right cat to the right person seriously. But beyond finding good fits in good homes, the cat café actually provides a crucial service to those who can't, shouldn't, or simply won't be adopting.
If you can't bring a kitty into your rental, café residents would love to hang out with you. If you shouldn't take on the expense or work in the responsibility of a furry loved one into your home life right now, you can get your fix in the cat room. And if you can't resist bite-sized kittens — but know better than to take home a baby when your grown cats are more than enough to love (and because Her Royal Highness would kill you), then you can snuggle up the café's kittens while they wait to meet their person.
Whatever your motivation, the cat café is worth the visit. Just don't wear a knitted sweater. If you're lucky, little kitten paws will be climbing their way into your lap.
Recent Headlines
---