This one's for you, Lass
by
BILL BULEY
Staff Writer
|
October 20, 2021 1:08 AM
COEUR d'ALENE — When Geri Nicoll couldn't go to Ireland, friends and family did the next best thing: They brought Ireland to her.
And yes, it was just like being there.
In some ways, even better.
"They didn't miss a thing," said a delighted Geri on Sunday evening.
There was music, food, drink and dance flowing at Aspen Meadows Bed and Breakfast — all in the custom and tradition of the Emerald Isle.
Geri, who is fighting cancer, soaked it in with husband John and several sisters at her side.
She smiled start to finish when the Lake City Highland Dance team performed several numbers. The corned beef brisket and potato dinner was perfect. The bagpipers from the Coeur d'Alene Fire Department hit all the right notes.
"It was a complete surprise," she said.
The party was organized by family friend Tiffany Walker of the nonprofit One More Time Northwest, whose mission is to enrich the lives of adults with life-limiting issues or disease by helping them have experiences "one more time."
"We make special moments for people," she said.
Special it was.
A family vacation to Ireland was planned later this month, but when the airlines canceled their reservations, it was too late to try to reschedule everything.
Geri said since the last year and a half have been pretty much staying home and going to doctors, it would have been a nice break.
"She was looking forward to the trip very much," said John Nicoll, Geri's husband.
But in true Irish resolve, they didn't sit home and sulk in their Guinness.
The family decided to gather for a weekend at Aspen Meadows Bed and Breakfast, run by Diane Rueber, one of Geri's sisters. A boat trip on Lake Coeur d'Alene on Saturday was a highlight.
"I never felt that good in almost a year," Geri said. "It was great to be in sun, fresh air and on the water."
"And there's nothing like being with your sisters," she added.
John and Geri, from Humboldt, Calif., have been to Ireland several times. They enjoy riding the trains and visiting villages.
"Ireland is just a lovely place," John said.
Dublin's cathedrals are special to them.
"When I'm sitting in that church and you think of all the things that have happened, the Irish and the struggles, it just really takes me back to that period of what these people have gone through," Geri said. "I just love being surrounded by that history."
The Irish surprise party helped Geri get over the disappointment of the canceled trip.
"It made her feel wonderful," John said.
Victoria Hawkins, instructor of the Lake City Highland Dance, brought eight dancers to the party who performed several numbers, including the Scottish Sword Dance.
"We really just wanted to make this lady's day really special," Hawkins said. "We wanted to come out here and give her an experience of Scotland."
Geri said they try to visit Ireland every two years. Due to COVID-19 restrictions, planning the latest one was like "putting together a really difficult puzzle in order to get everything in order."
They not only had to coordinate around everyone's work schedule, but her chemotherapy, as well.
Geri's cancer fight had already forced them to delay the trip several times.
"She was trying to get up the energy," John said.
So when Geri received notice of the canceled plane tickets, "to do it all over again would have been too difficult."
Geri called the gathering of family a blessing. In one way, that so many were there, it was better than Ireland.
"When we get together it's fantastic," she said.
Diane Rueber was glad to open her home.
"It was special that they came here," she said.
John and Geri haven't given up on returning to Ireland.
"The doctors give us cause for hope," John said.
Geri figures that with a little Luck of the Irish, maybe they'll go next year.
"I'd go in a heartbeat," she said.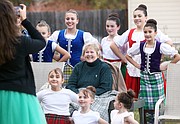 Recent Headlines
---