'Mammograms save lives'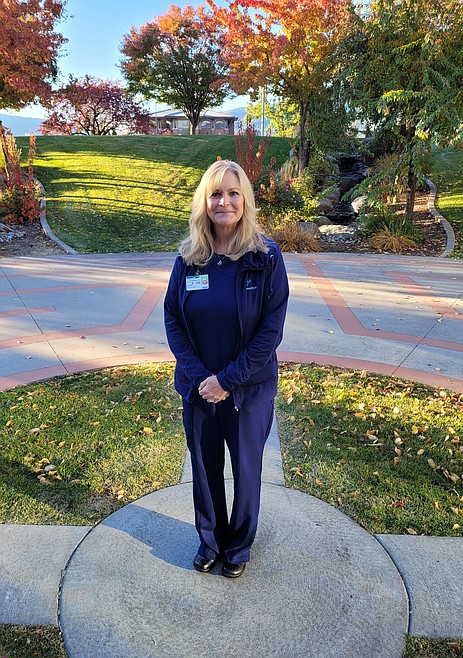 Oncology nurse and breast cancer survivor Patricia Graham stands in the meditation maze outside Kootenai Clinic Cancer Services in Post Falls the morning of Oct. 12. Graham was diagnosed with breast cancer this spring after going in for her yearly mammogram. "I could not feel my disease. It wasn't palpable," she said. "The only thing that saved my life was the mammogram."
DEVIN WEEKS/Kootenai Health
by
DEVIN WEEKS/Special to The Press
|
October 20, 2021 1:09 AM
Breast cancer doesn't care who it affects.
Knowing this, breast cancer survivor Patricia Graham wasn't angry or bitter when she received her diagnosis in March.
"I really felt like, 'Why not me?'" she said during a recent phone conversation. "So many women get breast cancer, so I'm not special."
Graham, a Kootenai Clinic Cancer Services nurse who has worked in oncology for nearly 30 years, has never missed a mammogram since she began her yearly appointments at age 35.
For her most recent mammogram, she did what many women are doing during the COVID-19 pandemic — she pushed it out a few months.
"It's the absolute truth, I was just trying to avoid crowds. I've never had a bad mammogram," she said. "Mammograms (in general) never did stop, but I myself had kind of stopped because I was trying to be cautious."
Mammograms are low-dose X-ray exams taken of the breast, most often used to screen for breast cancer in women who have no symptoms.
Graham had no symptoms. Self-examination presented no concerns.
However, if she hadn't gone in for her mammogram when she did, doctors might not have found the large cluster of microcalcifications that had developed in her breast.
"The radiologists said, 'We don't think it's anything; we just want additional views,'" Graham said. "In April I had the biopsy."
The results revealed invasive cancer.
"DCIS (ductal carcinoma in situ) — pretty much stage zero breast cancer. That's not what I ended up having ultimately," Graham said. "That surprised everybody, including me."
Initially, she was grateful she knew the process from her years of working in oncology.
"I thought about how scared women are when they get that call," she said. "Then I was on a mission. I knew I would need a team to help me — surgeons and oncologists. So I went to work finding who would be on my clinical team."
She also realized her life was about to turn upside down.
"I certainly felt like, 'No! I really don't have time for this,'" she said.
In May, Graham underwent a lumpectomy, which is a minimally invasive breast preservation surgery. It was performed by now-retired Kootenai Health surgeon Timothy Quinn, M.D.
Kootenai plastic surgeon Benjamin Mandel, M.D., conducted Graham's breast reconstruction.
Following the lumpectomy, a full course of radiation to the whole breast was recommended.
"Radiation lasted almost seven weeks, Monday through Friday," Graham said.
She persevered through the entire treatment, "but at the very end, I just told my boss I was tired," she said. She took only a couple of weeks off at the very end of her treatment to allow her body to heal.
Graham was also placed on a calcium-depleting, anti-estrogen therapy that requires infusions to strengthen her bones. She'll be on the therapy for five years to starve the estrogen-driven cancer.
"My skin has healed," Graham said. "Now I just feel kind of tired and a bit fatigued, but for the most part I feel pretty good."
Graham said she's grateful for the excellent work of her care team.
"My care was fabulous. I had such a great team," she said. "I had Dr. Tim Quinn, on his last month of working, right before he retired, and Dr. Mandel came in at the same time and did reconstruction, and medical oncologist Dr. Nathaniel Gay, and he is fabulous and radiation oncologist Dr. Corbin Jacobs, he is fantastic.
"The teams, everyone has been so incredibly kind, so respectful, so educational, telling me everything," she continued. "It was a really beautiful experience. If you have to have that kind of an experience, they made it really nice for me. We're really fortunate to have such a wonderful program."
Breast imaging tests are used in women experiencing symptoms like pain, a lump or a suspicious change seen on a screening mammogram.
In cases like Graham's, mammograms detect what self-exams cannot.
"I could not feel my disease. It wasn't palpable. Any amount of self-breast exam would not have saved my life," she said. "The only thing that saved my life was the mammogram."
By the time the experienced oncology nurse may have noticed it, "it may not have been curable."
"Mammography saved my life," she said. "Don't wait. Mammograms save lives."
October is National Breast Cancer Awareness Month. Breast cancer affects women and men and is among the most common cancers. According to the National Breast Cancer Foundation, one in eight women will develop invasive breast cancer in her lifetime.
Visit www.appointmentcenter.kh.org/#/mammogram today to schedule an appointment with Kootenai Outpatient Imaging.
• • •
Chicks n Chaps celebrates best year to date
Each year at the North Idaho State Fair, the women-only rodeo clinic, Chicks n Chaps, is held in conjunction with Tough Enough to Wear Pink Night to raise awareness and money to support local people who have breast cancer.
The 2021 event was the best one yet, grossing more than $80,000. Since its inception in 2012, Chicks n Chaps has donated nearly $126,000 to the Kootenai Health Foundation Cancer Patient Support Fund. This popular event has raised more than $260,000 overall.
Through hands-on Chicks n Chaps clinics, guests enjoy rodeo event tutorials. They spend time among cowboys and cowgirls learning how to rope, riding a buckin' machine, touring the bucking chutes and more.
The day is full of fun and activities, including dinner, drinks, raffles, silent/live auction items and rodeo performances.
All Chicks n Chaps proceeds stay in the community and go directly to the Kootenai Health Foundation Cancer Patient Support Fund and the Fair Foundation.
Recent Headlines
---