'Halloween Kills' a disappointing middle chapter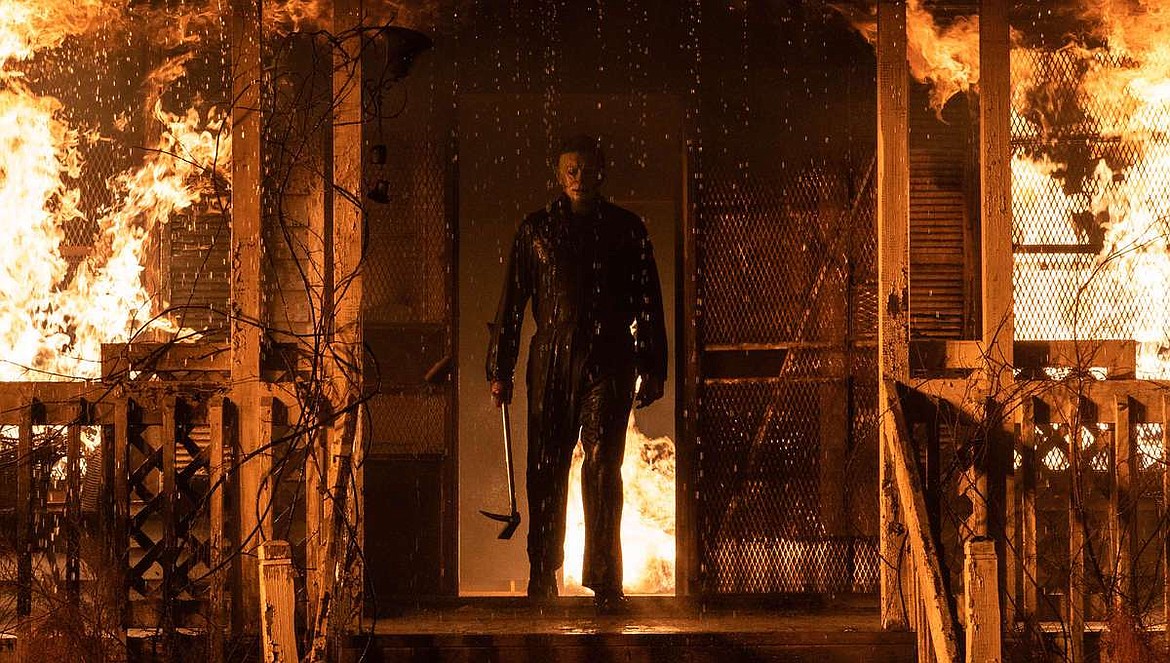 Photo courtesy of NBC/Universal
by
TYLER WILSON/Coeur Voice contributor
|
October 20, 2021 1:00 AM
The body count explodes in "Halloween Kills," the follow-up to the 2018 "Halloween" sequel/reboot that brought Jamie Lee Curtis back to fight killer Michael Myers.
The new film unfortunately stumbles as it tries to be about anything more than just bloodletting.
This new series, courtesy of director and co-writer David Gordon Green (with a writing assist from comic actor Danny McBride), abandons all the previous sequels/reboots to "Halloween," leaving the 1978 original as the only canonical story. The 2018 film reintroduces Curtis' Laurie Strode as a grief-wrecked survivalist struggling to maintain relationships with her daughter and granddaughter (Judy Greer and Andi Matichak). Then Michael Myers reappears and lots of people die by stabbing.
That film ends with Strode seemingly victorious, but everybody knows you can't truly kill pure evil. The highlight of the 2018 film is Curtis' full-throttle performance, and unfortunately, a stomach wound shackles Strode to a hospital bed for most of "Halloween Kills," which takes place in the immediate aftermath of the previous movie. Curtis is unconscious for the entire first half, then she gets maybe three or four scenes to yell at various people at the hospital in the second half. That's all. It's a glorified cameo for the franchise's most dynamic performer.
Most of "Halloween Kills" focuses on the various townsfolk of Haddonfield, almost all of which end up dead-by-knife before the end. After dispatching an entire firefighting crew, Michael takes a slow walk back to his childhood home, slaughtering every poor soul who stumbles in his way.
The most notable new character is Anthony Michael Hall as an adult Tommy Doyle, the little kid Laurie babysat in the 1978 film. When he hears about Michael's new rampage, he wrangles up a mob of neighbors to hunt down the killer.
The mob mentality escalates, as they do, but Green and his co-writers rely on dramatically stilted cliches and an increasingly preposterous series of rallying speeches ("Evil dies tonight!") to convey a clunky message about how fear fuels evil. After the last couple years of watching real protests unfold around the country about various things, the mob in "Halloween Kills" looks like a silly cartoon version of reality, hardly the tone you want to convey in a brutal slasher film.
While the best characters don't get much to do, "Halloween Kills" continues the 2018 choice to inject more personality into the lives of Michael's victims. There are a few sets of side characters here who get some funny and charming moments just before the monster preys on them. It adds dimension to the setup for each stalking scene, then makes the inevitable kills all the more unsettling and devastating. That may not be what many slasher fans want from these victims, but at least it's a novel approach.
The biggest sin of "Halloween Kills" is how unnecessary it all feels, especially once the movie spends its final moments setting up the trilogy capper, "Halloween Ends," arriving next October. That movie will at least offer a new scenario that gives Curtis more to do, but little about this middle chapter seems essential to completing that story.
Plus, let's be honest, "Halloween Ends" obviously won't be the end of this franchise. As long as people keep seeing them, it'll just keep rising from the grave.
"Halloween Kills" is now playing in theaters and streaming exclusively on Peacock.
• • •
Tyler Wilson has been writing about movies for Inland Northwest publications since 2000, including a weekly column in The Press since 2006. He can be reached at twilson@cdapress.com.
Recent Headlines
---