A giant jump for Parkinson's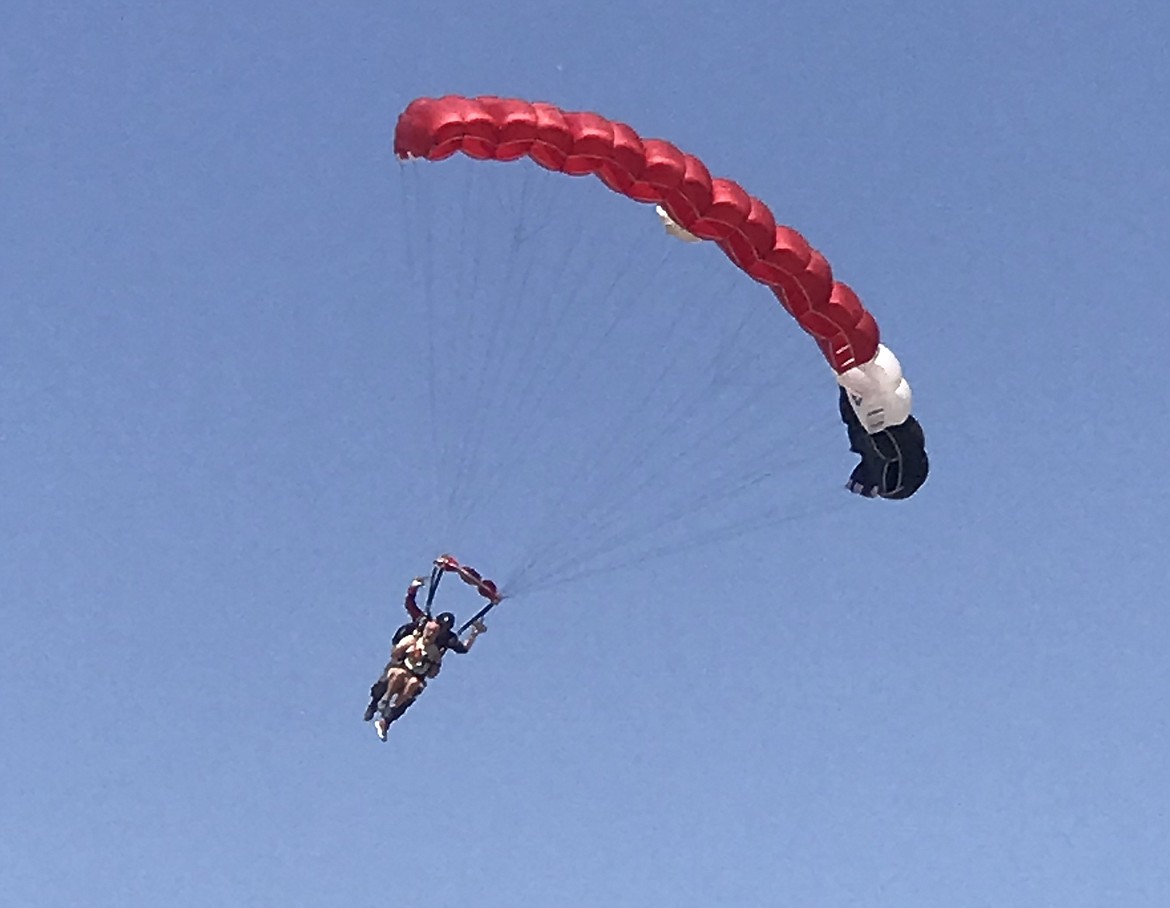 A.C. Woolnough is pictured with his tandem jump partner floating through the sky in the mid-September jump.
(Courtesy photo)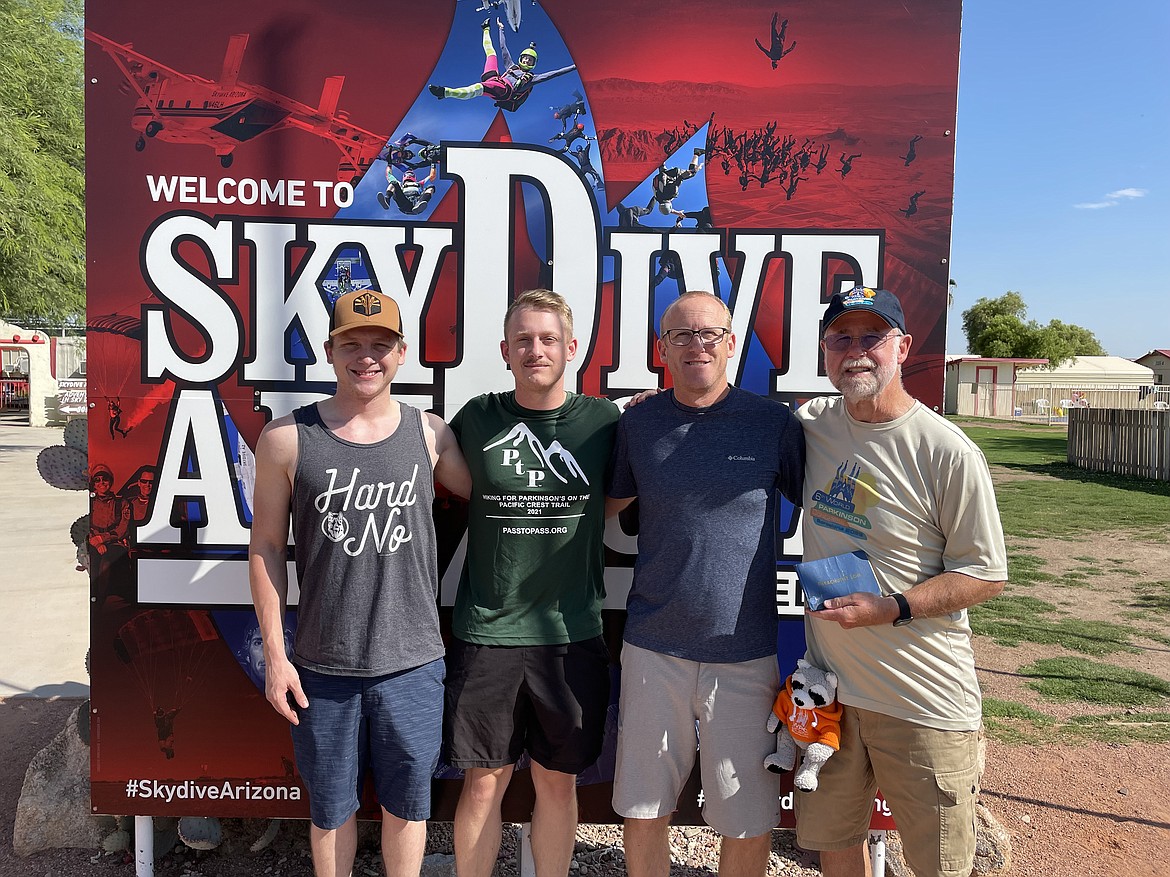 A.C. Woolnough, far right, is pictured with his son and his grandsons at the jump site in Arizona. Hanging from a carabiner attached to his belt is his Parkinson's mascot, Parky, who also made the jump.
Previous
Next
by
CAROLINE LOBSINGER
Hagadone News Network
|
October 20, 2021 1:00 AM
For former Sandpoint High School principal A.C. Woolnough, jumping out of a plane at 13,000 feet in mid-September accomplished several things.
First, it was a chance to do something with his son and two of his grandsons to celebrate his 71st birthday. Second, it was a chance to again do something he loved — something he hadn't done for almost 50 years.
And third, it was a chance to raise funds to send young researchers to the World Parkinson Congress, slated to be held in Barcelona, Spain, in 2023.
Woolnough, who was selected as a WPC ambassador, had hoped to make the jump last year, but it was delayed by the pandemic. When things opened up, he again broached the idea to his son and grandsons and got them on board — some with more enthusiasm than others.
While his son had never been skydiving, both grandsons had gone on a tandem jump before and were willing to do it again for their granddad.
"You know, can't let a 71-year-old man beat the young 20-year-old or 22-year-old," Woolnough said, then laughed. "The competitive spirit of the Woolnough family runs deep and strong."
One of his grandsons had a great time and is ready to go again. The other was nervous before the jump, and finished with an "OK, I did it," attitude, Woolnough said.
For his son, being up at 10,000 feet and having to take off his seatbelt to maneuver to the jumper was a bit unnerving. The plane is tilted, you're on a bench, having to scooch on the floor toward the other jumper while seeing a five-foot by five-foot hole in the side of the plane. The thought goes through your mind, what happens if there's turbulence and I tumble out of the plane without a parachute.
"So that was his thought," Woolnough said. "But he really thoroughly enjoyed it. He's excited. He says, 'Yeah, I'll do it every summer.'"
Woolnough developed a passion for skydiving in his early 20s, having made his first jump at 21 when he decided it was then or never. He made 26 jumps over a two-year period before he was married and the young couple soon expected their first child.
"While I think there's minimal risk, it was some degree more (risky) than I was comfortable with," Woolnough said of his decision to hang up his parachute. "Plus, as a young teacher, money was tight and parachuting seemed a little bit frivolous. So I made 26 jumps and then stopped. And 48 years later, it was like, 'Time to do it again.'"
In noting his love for the sport, Woolnough said it's important to know that he's deathly afraid of heights. A trip up the Seattle Space Needle means a crawl over toward the window to look out and a visit to the Empire State Building brings a flat refusal to go near the edge.
"There's a completely different sensation at 13,000 feet or 5,000 feet," said Woolnough, who also was both a glider pilot and single engine pilot. "The sensations are just different. And it's incredible to see the ground — you're not falling toward the ground, the ground appears to be rushing up at you."
Being up in the sky, maneuvering around, is a thrilling and exciting sensation, he said.
"You can spin, you can move, you can change direction," added Woolnough. "It's like for the old timers, you know what an E ticket ride at Disneyland was. It was saved for the best rides. This is like Z ticket. It's the ultimate thrill as far as I'm concerned."
All of his previous jumps were individual. This was his first tandem jump, making the experience unique for the 27-time jumper.
"I'm a firm believer in Sgt. Yukon's law of the north, that the scenery only changes for the lead dog," Woolnough said. "And it was odd having to rely … I mean, you have to rely on the person to whom you're strapped."
While Woolnough said he isn't sure he and his fellow jumper "made the most graceful exit" when they left the plane, they quickly stabilized.
"The ability to just turn by moving your hands and going in a circle is just, I mean, it's incredibly freeing," Woolnough said. "At the same time … it feels like the alien, you know — I mean you're latched on."
Being able to do the jump was cool, Woolnough said. Being able to do it with his family made it that much more cool.
"It was just incredible," Woolnough said. "And you know, how nice it was to have my son and grandsons. You know, they're my support group, they're the ones rooting me on. It would have been fun to do by myself. But only about 1/1000th as cool as it was to have family there."
While the jump was a chance to reconnect with a sport he loves and a chance to spend time with his family, Woolnough said he wanted to raise money to send young researchers to the World Parkinson Congress. He sent flyers calling for donations to more than 150 jump centers around the country asking them to spread the word. He also posted a message to his Facebook page and spread the word among his Parkinson's friends.
So far he's raised more than $500, enough to help several researchers attend the event. With everyone from Nobel Prize Laureates to doctors to those living with Parkinson's and their care partners, the congress is four days of information, presentations and a chance to learn and share ideas and information.
"Oftentimes, young researchers haven't met someone with Parkinson's so they're doing the research and this brings the humanity to it, it brings the stories," Woolnough said. "For example, most people with Parkinson's have lost their sense of smell. Well, what's the big deal? Well, it's quality of life, tasting your food, being able to smell your wife's perfume, and there's health and safety issues. Can you smell spoiled milk? Can you tell that meat's gone bad. So it's very practical."
The congress also provides an opportunity to hear about potential new therapies or drugs and, he said, everyone is equal.
"You're no longer the odd one out," Woolnough said. "You're what it's all about."
Tying all three things together — his family coming together to celebrate his birthday, his love of skydiving and a chance to raise awareness — and funds — for Parkinson's was a natural, Woolnough said.
"One of my goals is just to increase awareness that Parkinson's doesn't end your life, that the quality of life can still be high," he said. "I feel very fortunate that I'm still able to do things like this but [I want] to bring attention to Parkinson's, for the need for research."
Parkinson's is the second most common neurological disease in the United States, behind Alzheimer's, with more than a million people living with Parkinson's, Woolnough said.
"And so I wanted to show we can do almost anything. And whether it's at 71, or 51, with early onset Parkinson's, I just want the world to know that we're just like you only we may have tremors, or we may stumble occasionally, or we may have memory issues. But we're perfectly capable, and that it's important to live life."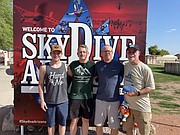 Recent Headlines
---