5A REGION 1 VOLLEYBALL: Post Falls swims on to state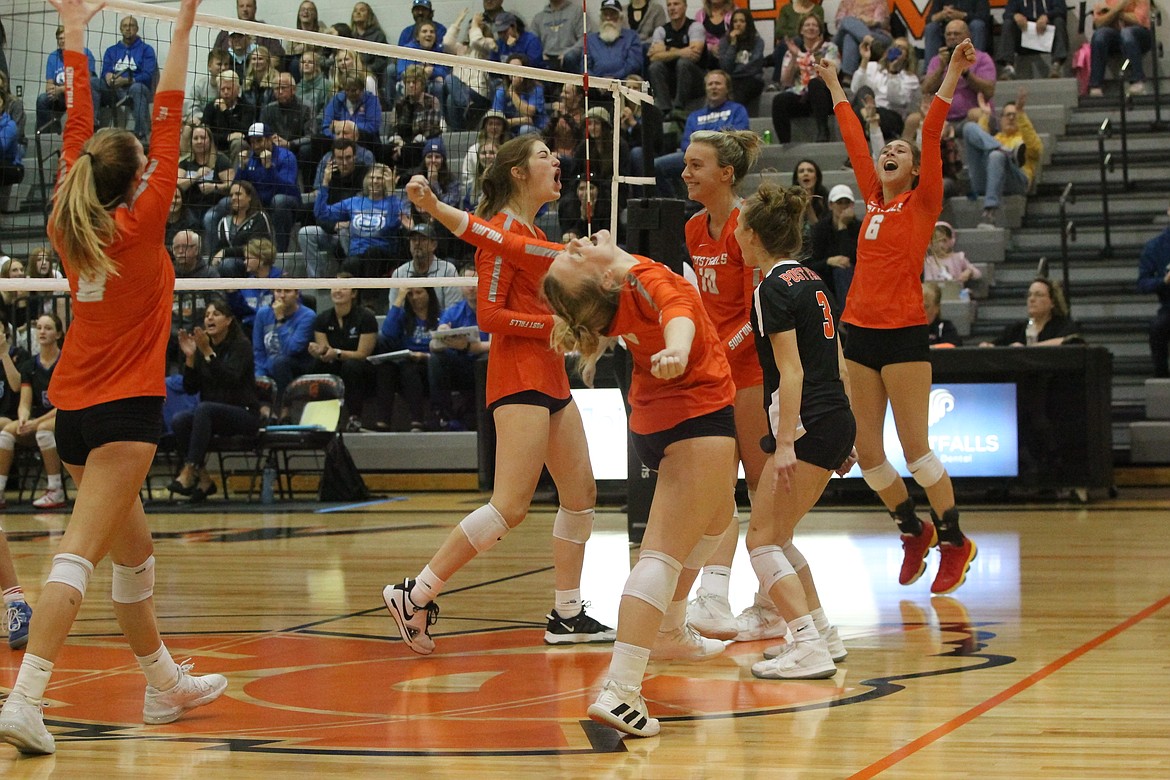 MARK NELKE/Press Post Falls players celebrate a key point late in the third set of Tuesday's 5A Region 1 volleyball championship match vs. Coeur d'Alene at The Arena at Post Falls. From left, Sarah Rogne, Rylee Hartwig, Brooke Minden, Kylee Munday, Claire Holding and Emily Johnson.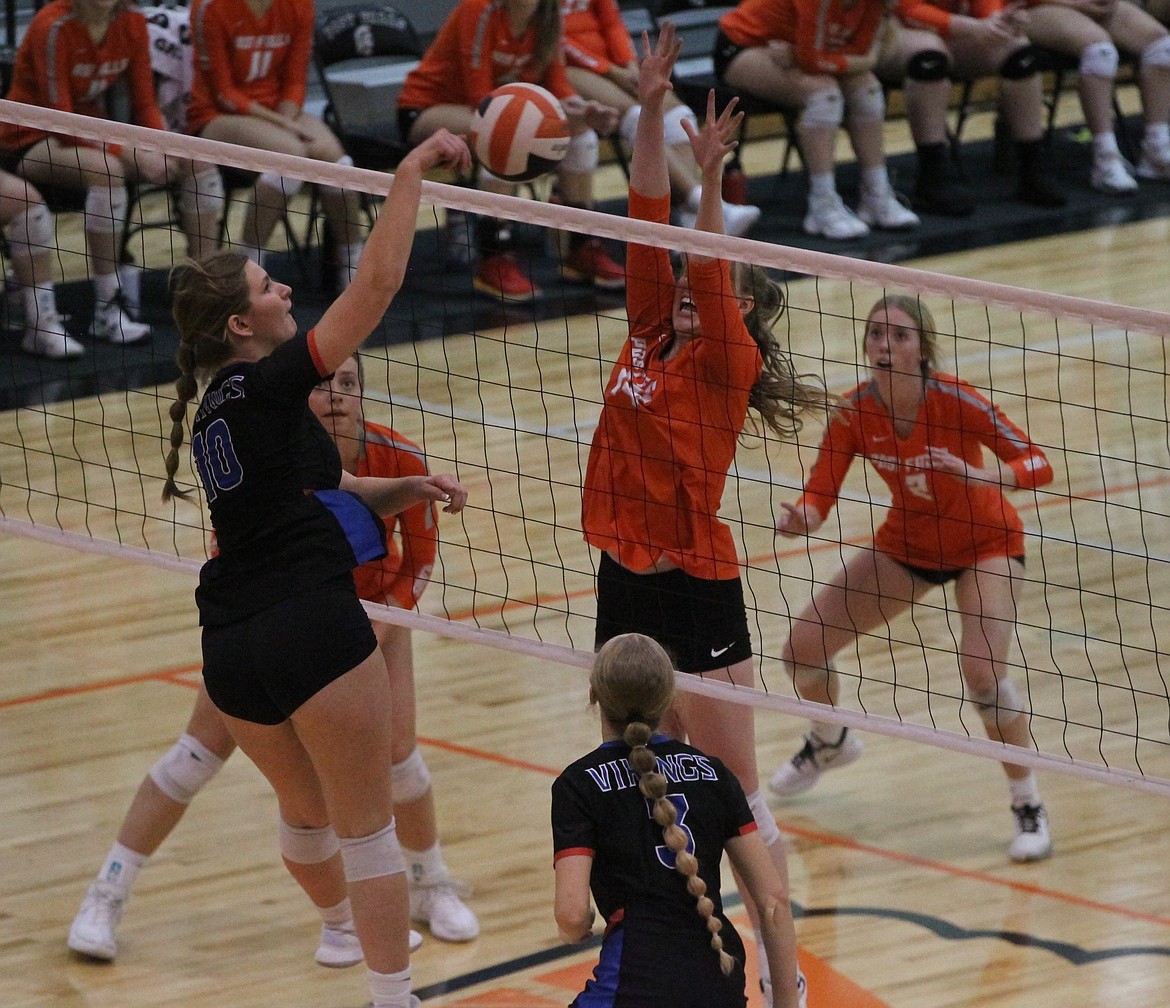 MARK NELKE/Press Lindsay Stubbs (10) of Coeur d'Alene hits against the block of Hanna Christensen of Post Falls in the 5A Region 1 volleyball championship match Tuesday night at Post Falls.
Previous
Next
|
October 20, 2021 1:30 AM
By MARK NELKE
Sports editor
POST FALLS — Thoughts of pride — and a cracker — helped carry the Post Falls Trojans to their first regional volleyball title since 2010, and their first trip to state since 2017.
Senior Rylee Hartwig slammed down a kill from the middle to cap an impressive third set as top-seeded Post Falls swept No. 3 Coeur d'Alene 25-21, 25-21, 25-13 in the 5A Region 1 championship match Tuesday night at The Arena.
"It felt great. I've been working all season and then it's like, I'm a senior; it's my last run," said Hartwig, who finished with 11 kills. "It made me excited; I wanted to make my mom (Jennifer Lund) proud, and I think I did; and I made my team proud. Hopefully, I did."
Post Falls (25-6) advanced to state Oct. 29-30, at either Coeur d'Alene High or Lake City High; depending on who doesn't qualify for state.
Coeur d'Alene (11-11), the two-time defending regional champion, will play at No. 2 Lake City (15-6) on Thursday at 6:30 p.m. in a loser-out match. The winner advances to a state play-in match Saturday in Grangeville.
In the regional final, Post Falls trailed throughout most of the first two sets, before rallying in each to win. An ace by senior Sarah Rogne capped the comeback in the second set.
"We know the game's not over until the last point," said Post Falls senior setter Kassie Gardiner, who finished with 27 assists. "We just believe in each other as a team, and we don't give up on each other. And we all know that we can do it as a team."
In the third set, the Trojans jumped out to leads of 6-0, 13-2 and 18-5.
"We talk a lot about a goldfish mentality, a goldfish face," said Trojans coach Willow Hanna, who returned in 2020 for her second stint as head coach, after four seasons away from the program. "We're just going to forget it. We know teams are going to get some points, we know we're going to make some mistakes, and we're going to play in the moment, one point at a time, one set at a time, no matter what the match is."
Goldfish?
"You know, like the cracker," Hanna said. "The goldfish mentality; always has a smile. Fish don't have very long memories; they just let it go."
Sophomore Kylie Munday had 17 kills, 10 assists, three blocks and an ace for Post Falls. Her sister Allison, who now plays at Idaho, was a senior on the last Trojan team to play at state.
"I remember getting out of school to watch her at state (at Coeur d'Alene High), and that was pretty exciting, just watching the level of play there," Kylie said. "And now it's cool that I'm there now. I'm just so proud of the team and how we've come together and made connections, and this was one of our end goals."
Rogne had 12 digs and two aces, Claire Holding nine digs for Post Falls. Hanna Christensen had five blocks, Brooke Minden one ace.
"Post Falls is a tough team; they've got a couple hitters that can dominate," Coeur d'Alene coach Carly Curtis said. "I felt we did battle the first two sets, and didn't quite finish, and the third set, I'm not sure what happened. I don't know where that team came from."
Madi Symons had 14 kills and six digs for Coeur d'Alene, which lost a good chunk of the team that won the last two regional titles, but has shown much improvement this season. Maicy Nelson had six kills, four digs and two aces, Hailey Wuolle 22 assists and four digs, Skylar Burke two blocks, Gia Janke two blocks, Olivia Dixon four digs.
"I'm going to give Post Falls credit; they're a scrappy team, they're a good team, and they played smart and they outworked us tonight," Curtis said.
Lake City d. Lewiston: Senior Hanah Stoddard had 21 kills and six digs for the Timberwolves in a 25-17, 25-17, 25-10 win over the Bengals in a loser-out match in the 5A Region 1 tournament at Lake City High.
"Hanah was reading their defense early and our passing game gave her a little more space to make plays," Lake City coach Michelle Kleinberg said. "We were able to get her the ball in system and she was very methodical and intentional with where she was putting the ball tonight."
Senior Nellie Reese had 18 assists and six kills, junior Aubrey Stennett had seven aces and junior Allie Bowman 13 digs for Lake City (15-6), which hosts Coeur d'Alene (11-11) in the second-place match on Thursday at 6:30 p.m.
"The girls wanted to come out and have fun tonight," Lake City coach Michelle Kleinberg said. "They wanted to make the most of their postseason push. The girls were playing like it could have been our last match and I hope the momentum continues going into our match on Thursday."
Lewiston finishes 7-8.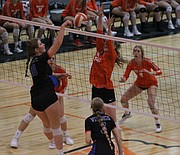 Recent Headlines
---