Get out your boots and your yardstick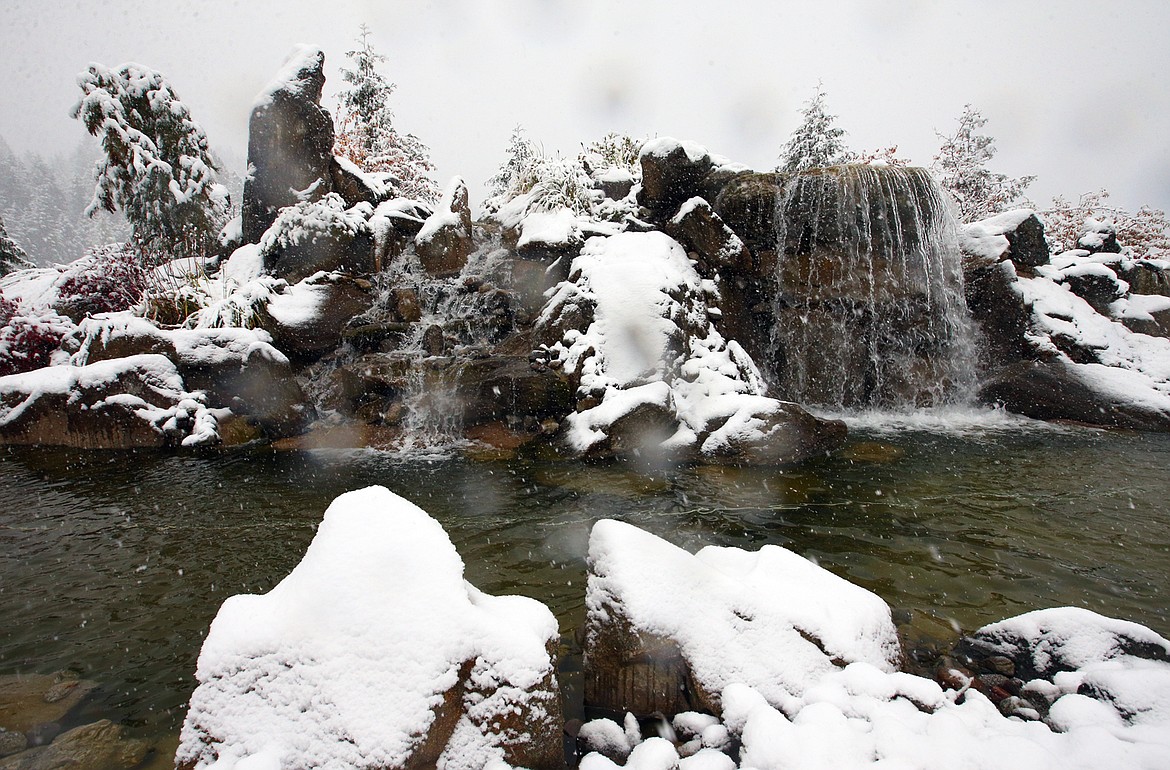 BILL BULEY/Press file Snow creates a winter-like scene at McEuen Park.
|
October 18, 2021 1:07 AM
Every year in mid-autumn, Cliff and I go out on an icy limb and issue our annual city-by-city snowfall predictions for North Idaho and surrounding areas.
We believe the upcoming snowfall season will be higher than average thanks to a developing, cooler-than-normal sea-surface temperature event, La Niña, in the waters of the south-central Pacific Ocean.
During La Niña years, the northwestern portion of the country often receives above-normal snowfall. However, despite a weak La Niña last season, our seasonal snowfall total ended up below the 69.8-inch normal for Coeur d'Alene with 58.6 inches. The previous season, 2019-20, Cliff measured 69.6 inches.
Last week, a chilly storm system dropped several inches of snow at Lookout Pass. In the lower elevations, there were reports of a few flakes mixing in with the rain in Coeur d'Alene. There was a rain and snow mix at Spokane International Airport last Wednesday.
The first half of October was one of the driest in history in Coeur d'Alene and the rest of the Inland Northwest. However, conditions are becoming more active in the Sea of Japan and storms that are forming in this region will eventually make their way toward the western U.S. Therefore, if the trends continue, we should see an increase in moisture later this week and into next week.
There's also the possibility of the air masses being cold enough toward the end of the month to produce some snowfall in the lower elevations. Even the long-range computer models are indicating an increased chance of snow in our area. It's still early in the season, so it's going to be close.
If we were to see some measurable snowfall this month, it would be a record third October in a row with snow. In 2019, Cliff measured 5.5 inches with an all-time October record of 7.9 inches in 2020. Based on the current sea-surface temperature patterns, the chances are also better than 50/50 for a white Christmas in Coeur d'Alene and surrounding regions.
For the 2021-22 season, Cliff and I estimate around 80 to 85 inches in Coeur d'Alene with healthy totals in the higher elevations.
For now, here are our projected seasonal snowfall totals for many eastern Washington and northern Idaho towns and cities. Of course, depending on what Mother Nature delivers over the next few months versus what we predict, we may have to adjust these totals.
Area ski resorts should range from approximately 225-250 inches at Mt. Spokane to around 375-400 inches at Lookout Pass and Montana's Whitefish Mountain.
Priest Lake: 95 to 100 inches.
Spirit Lake: 93 to 98 inches.
Twin Lakes: 94 to 99 inches.
Bonners Ferry: 92 to 97 inches.
Rathdrum: 90 to 95 inches.
Sandpoint: 88 to 93 inches.
Wallace: 87 to 92 inches.
Athol/Garwood: 86 to 91 inches.
Hauser Lake: 85 to 90 inches.
Kellogg (town): 85 to 90 inches.
Hayden Lake (above 2,400 feet): 84 to 89 inches.
Hayden (town): 82 to 87 inches.
Newport, Wash.: 81 to 86 inches.
NW Coeur d'Alene (Cliff's station on Player Drive): 80 to 85 inches.
Dalton Gardens: 79 to 84 inches.
Fernan Lake: 78-83 inches.
St. Maries: 77 to 82 inches.
Hope: 75 to 80 inches.
Kalispell, Mont.: 73 to 78 inches.
Coeur d'Alene (Downtown near The Coeur d'Alene Resort): 72 to 77 inches.
Post Falls: 71 to 76 inches.
Plummer: 70 to 75 inches.
Worley: 69 to 74 inches.
Harrison: 68 to 72 inches.
Missoula, Mont.: 65 to 70 inches.
Spokane (South Hill): 63 to 68 inches.
Spokane Valley: 62 to 67 inches.
Bayview: 60 to 65 inches.
Spokane International Airport: 58 to 62 inches.
• • •
Contact Randy Mann at randy@longrangeweather.com
Recent Headlines
---