Now that's a Killer Burger
by
NILS ROSDAHL/Special To The Press
|
October 17, 2021 1:07 AM
With a flavor profile driven by meticulously curated ingredients combined with culinary innovation, Killer Burger will celebrate its grand opening Monday at Prairie Shopping Center in Hayden.
Known in its 16 locations for its PBOB (peanut butter, pickle, bacon burger), the place offers inside seating for 93 customers at high and low tables and works with food delivery programs from 11 a.m. to 9 p.m. daily. Owner is Coeur d'Alene educated Wes Walterman.
Located in the location formerly occupied by Jrs. BBQ, the decor includes two large game TVs and rock-and-roll music with beer, wine and canned cocktails. Phone 208-719-8900. Check www.killerburger.com.
Cuppa Columbian Caffe opens in The Landings
Offering coffees, teas, pastries and breakfast burritos with special music and art events, Cuppa Columbian Caffe is opening in the south end of The Landings at Atlas Road and Prairie Avenue.
With inside and outside seating and curbside takeout, owner Charlene Anderson's place is open 5 a.m. to 7 p.m. weekdays and 6 a.m. to 6 p.m. Saturdays and Sundays with hours subject to change.
Phone 208-719-0445. Check www.cuppacolumbiancaffe.com.
The Point Market is at 201 N. 1st
With foods, apparel, gifts and sundries, The Pointe Market is opening soon on the main floor of the One Lakeside building at 201 N. 1st St.
General Manager Brent Reuer offers coffee, breakfast items, sandwiches, salads and beverages with inside seating and to-go options. Hours are 8 a.m. to 8 p.m. daily. Phone 208-640-1405.
Lifestyle Physical Therapy offers free day Friday
A Free Physical Therapy Day will be offered 8 a.m. to noon Friday with Lifestyle Physical Therapy now at 370 E. Kathleen Ave. (Suite 500).
Offered as a free first-come, first-served walk-in consultation, "The staff can give back to the community in a meaningful way," said owner Scott Randklev. "This consultation could be the first step to living a life without constant pain."
The team offers spine care, post-surgical care, exercise-sports and occupational rehabilitation, orthopedic care, therapeutic exercise, occupational rehabilitation, golf-specific training, women's health and vertigo-dizziness-balance training.
Phone 208-292-1372. Check www.lifestylept.net.

Now the Tidbits
Signs on Wayne Drive in Hayden say "Future home of Longwell & Trapp Architects and Blue Chip Chiropractic."
Northwest Specialty Hospital is expanding at 1551 E. Mullan in Post Falls.
Open Arms Real Choice Clinic will be at 1800 Lincoln Way.
Metro Express Car Wash is building a large new place in the northwest corner of Highway 41 and I-90.
Lone Mountain Farms & Brewery will have a new place in the Lancaster Market development at U.S. 95 and Lancaster Road.
Consign Furniture has a "coming soon" sign southwest of the U.S. 95-Lancaster Road intersection.
Renew Aesthetics & IV Hydration Bar will move from 515 Fourth St. to 1101 W. Ironwood Drive in January.
A Board & Brush place will be in Prairie Shopping Center.
Hmm. The "For Sale" sign is gone in the northeast corner of Hanley and Ramsey and surveyors were there. What's happening?

Black Lodge Brewing will open soon on Third Street downtown.
The Rebel Junk Shoppe at 2424 N. Fourth St. will expand to a street-side location.
Bruchi's quick service restaurant is planned for a new building north of the corner of Highway 41 and Mullan Avenue.
The new Dairy Queen at 513 W. Hayden Ave. (just west of Highway 95) will open in November.
The former Ugly Fish restaurant building will be a Berkshire Hathaway Realty in Riverstone.
Watch for construction of Vantage Point Brewery across from Michael D's Eatery off Coeur d'Alene Lake Drive.
Davis Donuts has closed after many years at 2520 N. Fourth St.
Pedego Electric Bikes is coming into Riverstone.
Kaffee Meister will be at 9212 Government Way.
A Sweet Lou's restaurant and a Grease Monkey auto place will be at the Crossings in Athol.
Watch for Rivers Edge Apartments to be built at 3528 W. Seltice Way.
Gathered Restaurant is new on Spokane Street in Post Falls.
The Lucille building under construction at 2605 N. Fourth St. will have five commercial suites.
TownPlace Suites by Marriott Hotel will be built where the Outback Steakhouse was in the southeast corner of I-90 and Northwest Boulevard.
Several steel storage buildings will be built at 3758 W. Hanley Ave. (off Atlas Road) for Hern Ironworks.
New places coming to Silver Lake Mall include See's Candies, Nailed It Customs Laser Engraving, All Fired Up, Crime Scene Entertainment and American Heritage.
A Sarah Hamilton Face place will be at 2120 Northwest Blvd.
Watch for something coming into the former ShopKo building ... possibly Sportsman's & Ski Haus.
A new commercial and residential building will be built at Government Way and Davidson Avenue.
Watch for major changes with the Burger Bunker and Bunker Bar off Spokane Street in Post Falls.
A new building for Linden Coffee Co. is under construction at 1502 N. Third.
A new gas station-convenience store will be in the northeast corner of Atlas at Seltice.
Truck manufacturing company Kenworth plans a large building for 4374 W. Expo Parkway west of Post Falls.
A large storage complex and new corporate office for Steel Structures of America is being built off Highway 41.
The Den will be a new tavern at 761 N. Idaho St. in Post Falls.
My Nails & Spa will be off Canfield Avenue.
The Coeur d'Alene Corner Store is adding a kitchen and tables downtown.
Takara restaurant will be downtown.
Schmidty's Burgers will be at 1524 E. Sherman.
Napa Auto & Truck is building a new location in Rathdrum.
Coeur d'Alene Nissan will have a major addition to its building off U.S. 95.
Watch for a new apartment building at 128 W. Neider (across from Safeway).
Mountain Goat Lounge is under construction connected to the Moose Lounge downtown.
The Lake Coeur d'Alene Inn is under construction on CdA Lake Drive between Mullan Avenue and Michael D's Eatery.
The LottieShop website is www.lottieshop.co.
"Dreamt" is the only English word that ends in letters "mt."
Notice the "landscaping" rocks that are put in public locations, such as on the Higgens Point trail, and especially at the Spokane airport. They're called basicular columns or columnar basalts that result from Glacial Lake Missoula sand hardening into rocks that are six-sided.
Contact Nils Rosdahl at nrosdahl@cdapress.com.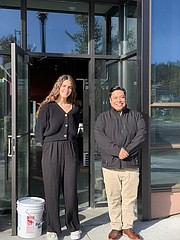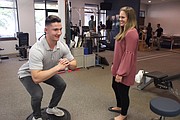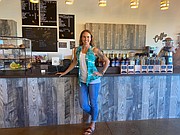 Recent Headlines
---