Not on the menu: Enough employees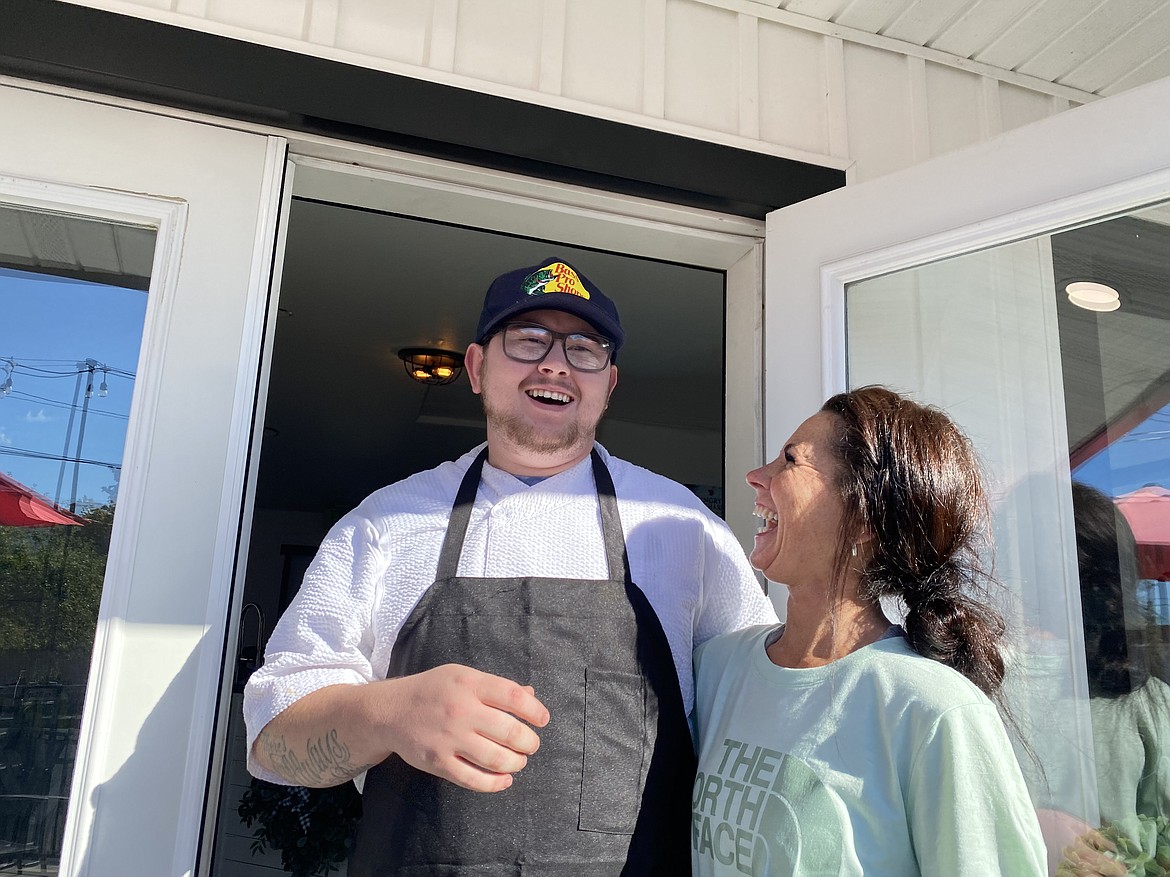 Gathered owner Stacie Ward and her son Jaemasyn smile in front of their new restaurant on Spokane Street in Post Falls. (MADISON HARDY/Press)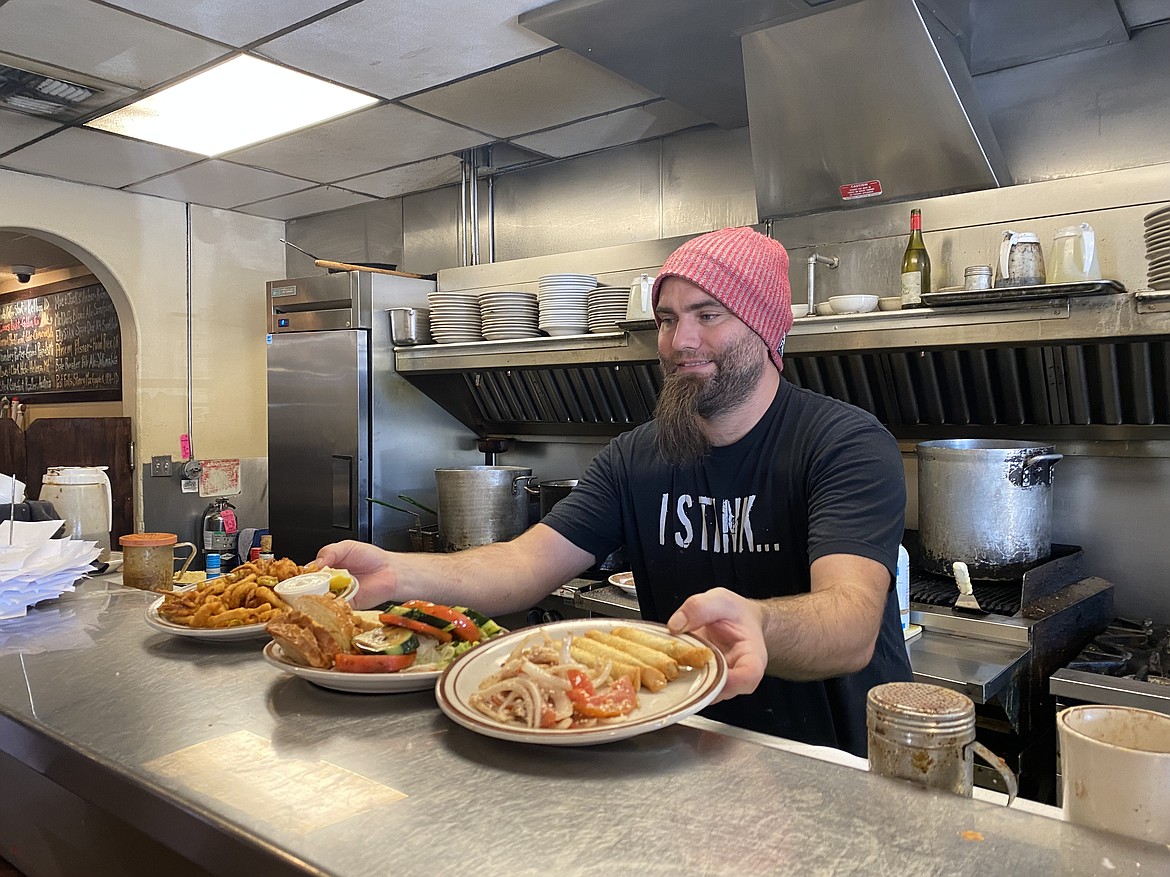 White House Grill employe Casey Becker has been with the restaurant for 20 years. (MADISON HARDY/Press)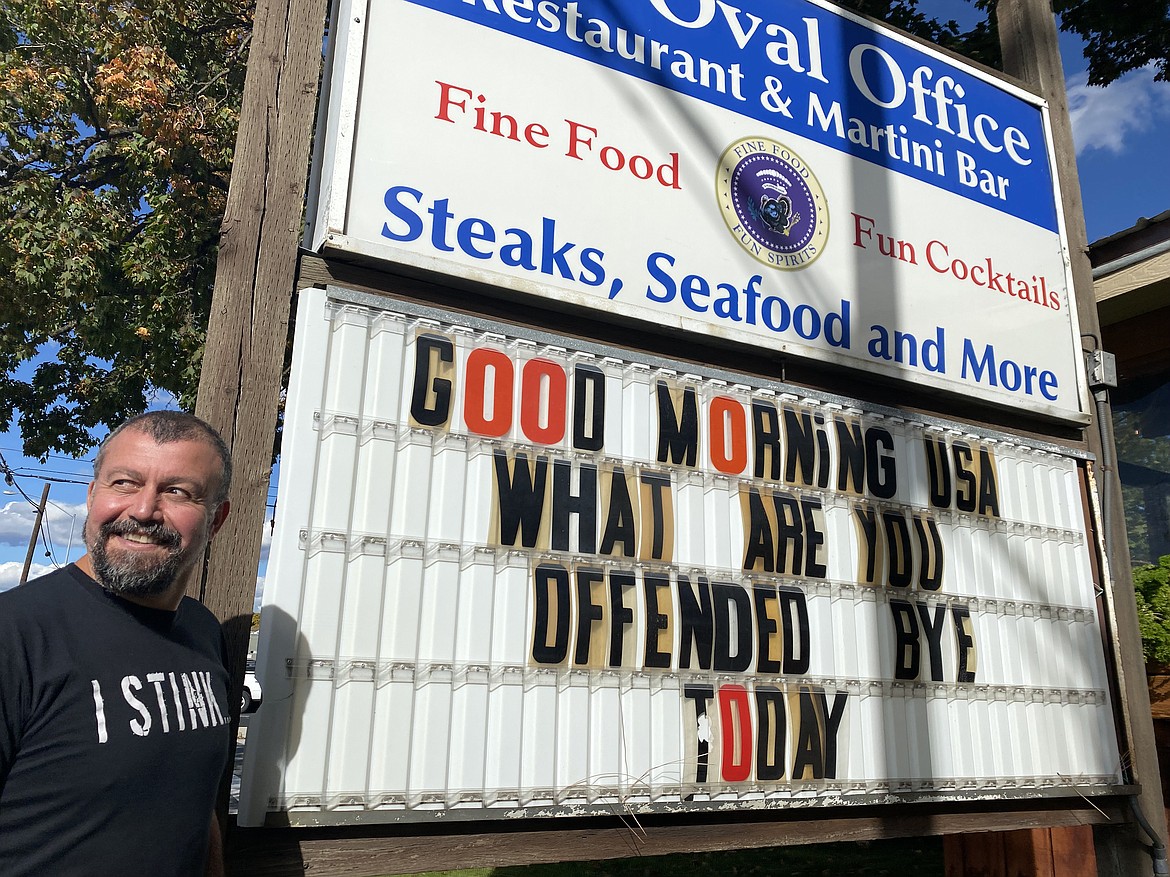 Raci Erdem, the owner of the White House Grill and the Oval Office Restaurant & Martini Bar, put up his "Good Morning USA" sign to lighten peoples spirit's during the COVID-19 pandemic. Employees and customers liked it so much, Erdem put it on a t-shirt. (MADISON HARDY/Press)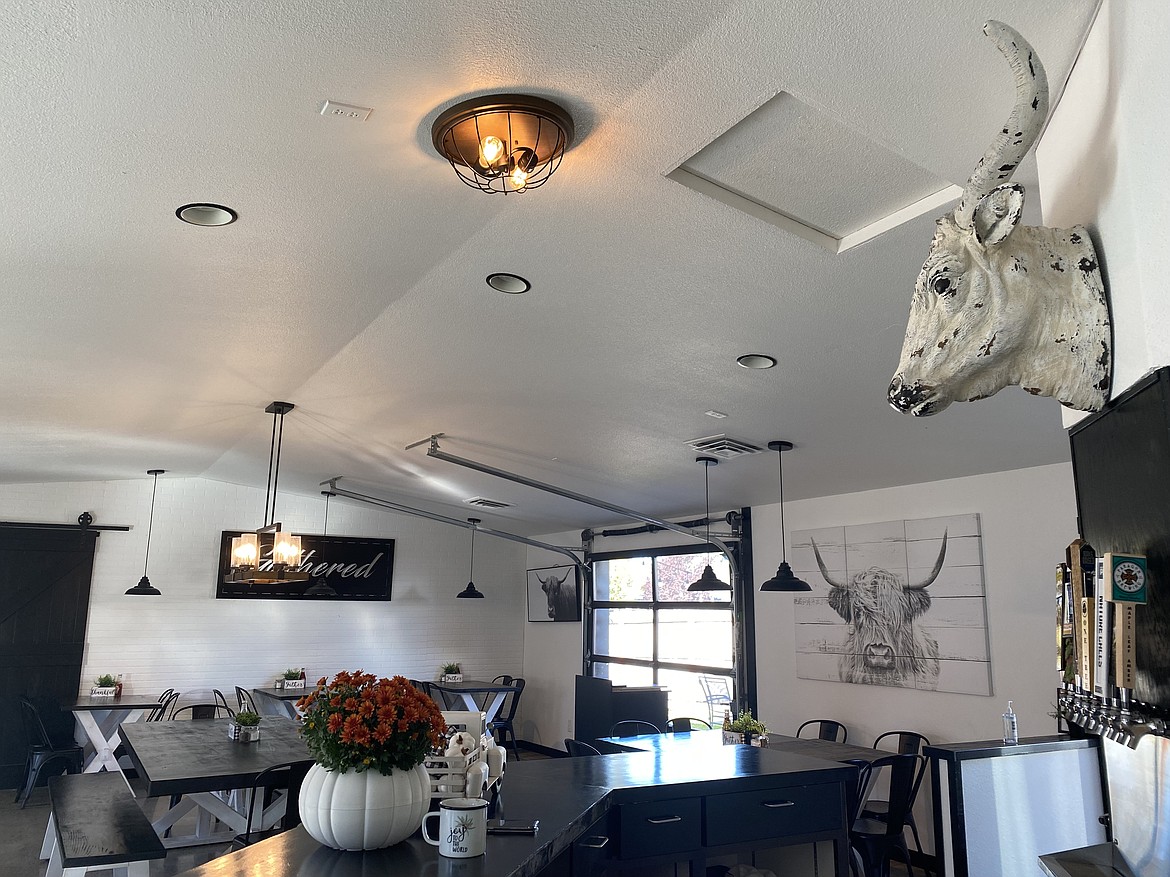 To keep costs low, the Ward family redid the entire Gathered restaurant building by hand. (MADISON HARDY/Press)
Previous
Next
by
MADISON HARDY
Staff Writer
|
October 17, 2021 1:08 AM
POST FALLS — Idaho's seasonally adjusted unemployment rate continues to fall, yet "Helped Wanted" signs in windows are as common as pumpkins on porches.
As Kootenai County heads into its slow post-summer tourist season, how business owners handle staffing needs is varied.
In September, the Idaho Department of Labor reported that the state unemployment rate has remained below 3% for two months. That's a huge departure from the 11.6% rate of COVID-19 unemployment in April 2020. 
So why is help wanted seemingly everywhere? 
According to a Labor report, while specific industries are rebounding, others are not. Some of the most significant job losses are in the accommodations, retail and foodservice industries.  
Finding employees has been hit-and-miss for Post Falls restaurant owner Stacie Ward. 
Ward and her family run three businesses: Stacie's Cakes, Purple Onion Catering, and Gathered. All three exemplify the phrase "family-owned and -operated." 
Ward, her husband and six children work at the three establishments, making up most of the staff. Since opening Gathered in July, Ward has been starting her day at 4 a.m. to bake cakes. She switches to serving through lunch and dinner. 
Her son and husband are Cordon Bleu chefs, so they handle the kitchen. Her daughters switch between the cake shop, catering businesses and Gathered. 
There's more.
"My daughter-in-law helps with the cake shop, serves and does catering," Ward said. "You'll always see her running around here with a baby on her hip."
The Ward family likes the work, but there's another reason customers see them rushing to and fro. 
"We can't find anyone," Ward said. "Everyone you see here besides maybe one or two is all family." 
Those "one or two" have been with the family for years, some starting at the cake shop when it opened 14 years ago. The catering business has also been operational for a decade and offers an entirely different menu than Gathered, Ward said.
Gathered is described as an "upscale American comfort food" restaurant with 100% organic, fresh, never frozen ingredients. Almost everything is handmade, including the tortilla chips, dressings and pico de gallo — which combined make Gathered's signature tin-can nachos. 
Unveiling Gathered in July, the middle of Ward's busiest catering season, was challenging, she said. Timing and staffing limited the hours they could keep Gathered open.  
"People kept saying, 'Why are they closed?'" Ward said. "Well, we are family-run, and I have two gals that help out that are not family and have been with me forever."
Ward said they're always looking for people, but the pool of available hires isn't all too promising. For servers at Gathered, Ward pays $8 an hour and tips, and hosts are $10 an hour with a tip share.
"Nobody shows up. That's the problem," Ward said. "I pay well, so that's not the reason. I don't know what's wrong with people." 
In the restaurant biz, positions of all kinds are wanted, from chefs to washers and servers. In August, the National Restaurant Association reported that employment at eating and drinking establishments was still 1 million jobs below the pre-pandemic level of 12.3 million workers. 
Since 2019, Idaho is estimated to have lost 5,580 food preparation and serving-related jobs, according to the U.S. Bureau of Labor Statistics. 
Most days, the Ward family has things under control. But when Ward's 17-year-old son is out sick, her daughter-in-law is at home with the baby, and another daughter is out catering, resources are stretched. 
"I'm literally the only one in here. I'll just be hosting and serving and bussing," she said. "What do you do? I can't close it, and it's not cheap to run a restaurant." 
Ideally, Ward said, two good servers and a host would be all she needs to keep the Gathered ship on track. None of the Ward family complains about the extra work, and most of them are never without a smile. 
"I'm having a lot of fun. We wanted to do a restaurant for a long time," Ward said, smiling ear to ear. "The only problem I have with this whole thing is employees." 
Any frequenter of the White House Grill in Post Falls knows two truths — it's always busy, and you can really smell garlic. Oh, there's another thing: The staff is working on overdrive.
The secret to keeping it that way is twofold, owner Raci Erdem said. 
"From day one, I have seen the restaurant business as a marathon, not a 100-meter run," he said. 
The second secret? Never burn out. 
"Lots of business owners will be scared of teaching, especially chefs who are scared of teaching employees their secrets," Erdem said. "Me, I have awesome people that are with me that we are never worried about teaching them everything that we know." 
Between Erdem's three businesses, the White House, the Oval Office, and the Pentagon Bistro and Martini Bar, there's a combined 37 years of restaurant ownership. Erdem manages about 100 employees, and most are trained to work at two or more establishments. 
He said the White House Grill was his first, starting 24 years ago. Some of his original crew have been there since day one, and others have been on the payroll for more than a decade.
"My people stick with me, always," he said. 
Even COVID had its limitations for Erdem, who was previously planning on opening a fourth restaurant that is now on hold. 
"Every type of industry is hurting from the lack of people because you just don't have people that you trust," he said.
The National Restaurant Association represents food services from high-end to fast food. In a survey of restaurant operators, 72% said recruitment and retention of workers is their top challenge.
When the pandemic hit, Erdem didn't lose many of his "core" employees, but the others got lost in the "daily restaurant grind."
"It's really hard to replace them, and that's the biggest problem right now," he said. 
A one-time incentive implemented before the pandemic was a "paid vacation every six months" for cooks.  
"We always try to keep our employees with us, and the extra perks helped. So when things started happening, we kept a lot of our employees," Erdem said. 
If labor shortages persist at current levels, the late Labor Department Regional Economist Kathryn Tacke said in a June article said it "could hamper economic growth." 
"Many employers already are raising wages and expanding benefits as they bid for workers," Tacke wrote. "Most employers will be forced to spend more time and resources — attracting new workers and keeping existing workers."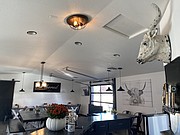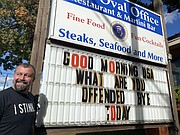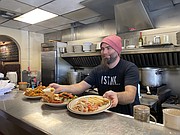 Recent Headlines
---