Can't stop anything: Idaho gives up 837 yards in rout by Barriere-led EWU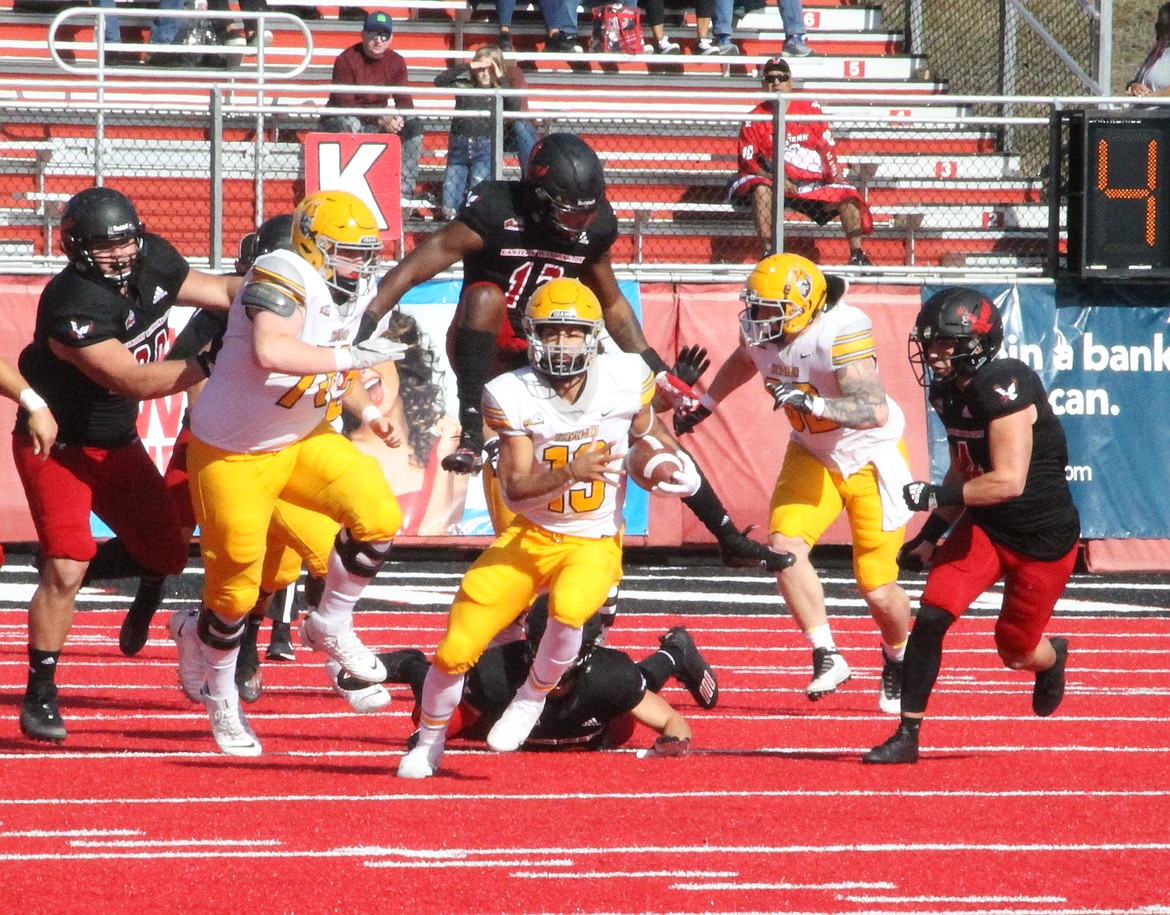 MARK NELKE/Press Idaho quarterback Zach Borisch breaks a 75-yard touchdown run in the first quarter against Eastern Washington on Saturday at Roos Field in Cheney.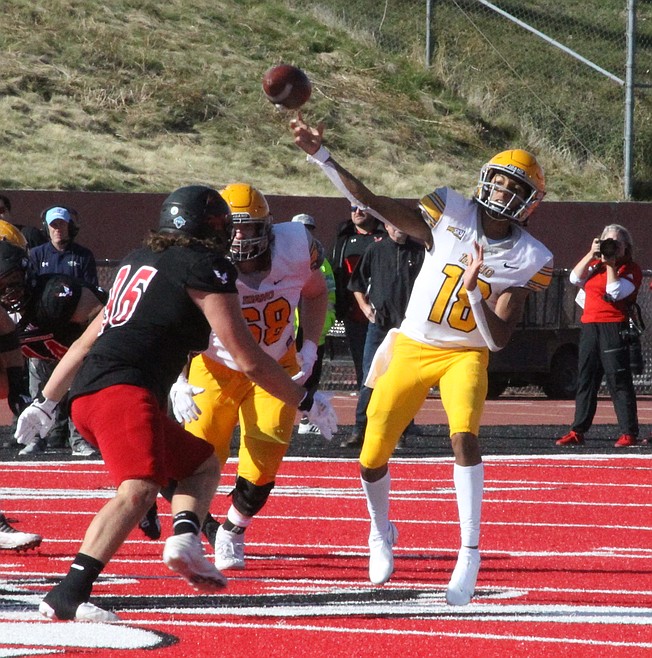 MARK NELKE/Press Idaho freshman Gevani McCoy completed 7 of 14 passes for 82 yards in his Vandal debut Saturday vs. Eastern Washington in Cheney.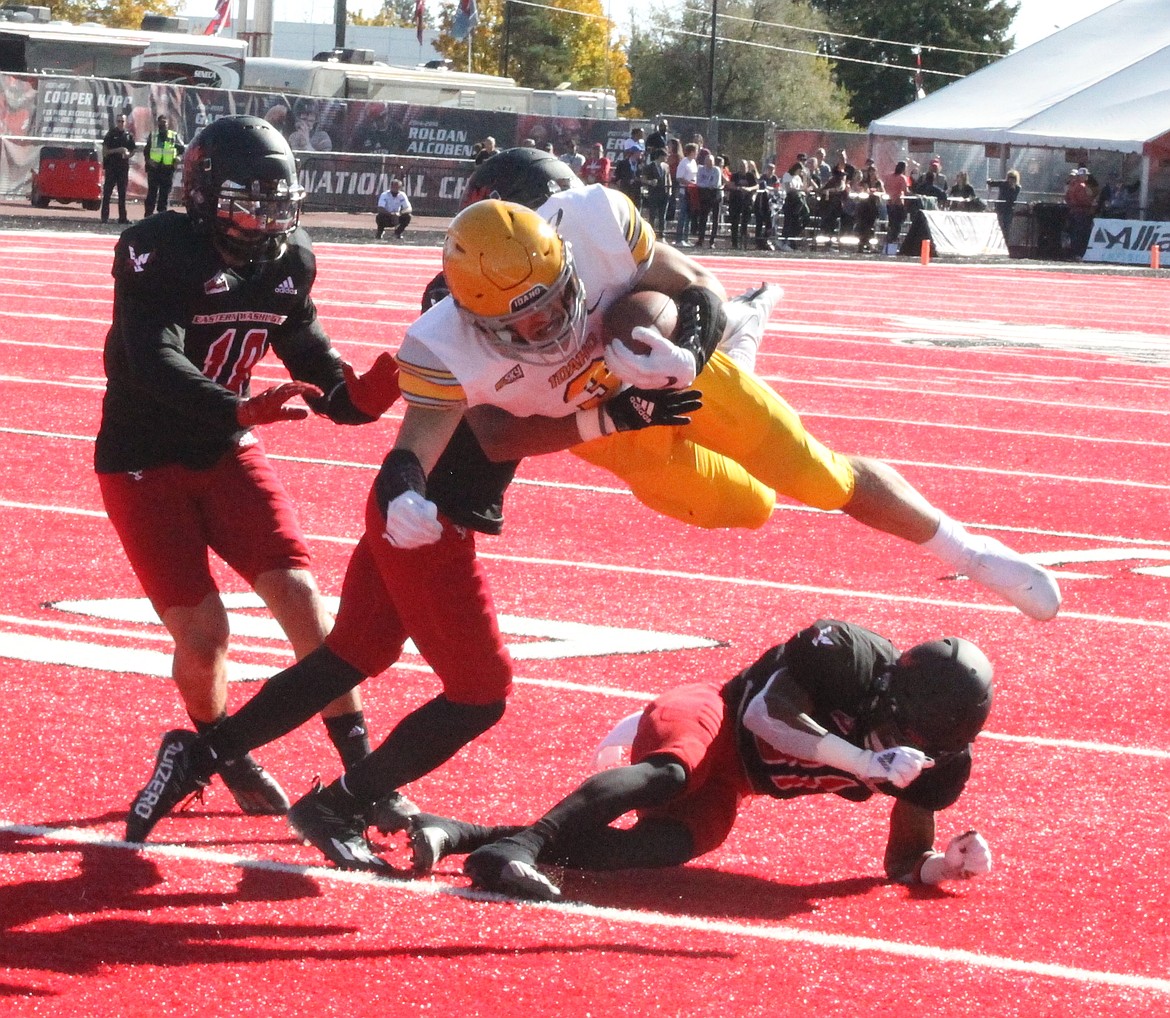 MARK NELKE/Press Idaho's Nick Romano is upended as he tries to score in the first half against Eastern Washington on Saturday in Cheney.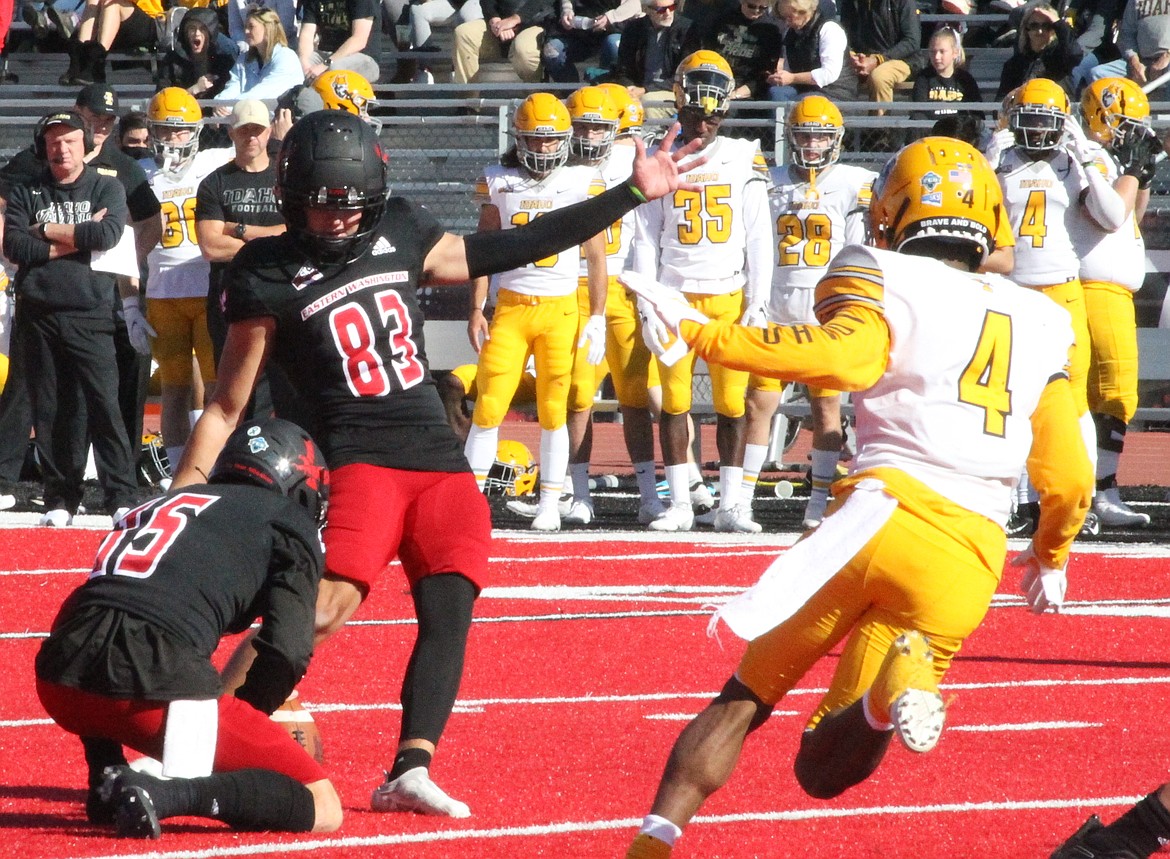 MARK NELKE/Press Eastern Washington's Seth Harrison, a sophomore from Coeur d'Alene High, was busy on Saturday, kicking nine extra points in nine tries vs. Idaho at Roos Field in Cheney.
MARK NELKE/Press Idaho's Nate DeGraw, a junior from Post Falls, has Eastern Washington quarterback Eric Barriere by the ankle in the second half on Saturday. Barriere was still able to get off his pass, though it fell incomplete.
Previous
Next
|
October 17, 2021 1:30 AM
By MARK NELKE
Sports writer
CHENEY — It wasn't a question of the Idaho Vandals not being able to keep Eric Barriere, Eastern Washington's electrifying quarterback, off the field.
Spoiler alert — they couldn't.
The Vandals couldn't stop running back Dennis Merritt either.
Or wide receivers Freddie Roberson or Andrew Boston.
Or a fired-up Eagles defense.
Barriere had another record-setting day in a career of record-setting days, and Eastern amassed an ungodly 837 yards of total offense in a 71-21 blistering of Idaho in Big Sky Conference football play Saturday afternoon at Roos Field.
"They kicked our butt," Idaho coach Paul Petrino said. "They've got a great quarterback. They've got a really good team, and they outplayed us and outcoached us in every way possible."
Barriere passed for a school-record 600 yards (on 26 of 35 passing), and tied his own school record with seven touchdown passes. He also ran for one TD, and his total of eight touchdowns accounted for is another record.
He passed for 397 yards and four touchdowns IN THE FIRST HALF. EWU (7-0, 4-0 Big Sky), which scored on all six of its possessions in the first half, and never punted in the game, led 43-17 at halftime.
Idaho (2-4, 1-2) managed to sack Barriere four times — no small feat in itself. But just as often, he escaped the rush and hit open receivers for big plays.
"He's a real good player — but I think he was an even better player today," Petrino said.
"He controlled the game," Eastern coach Aaron Best said.
Eastern, ranked No. 2 in the FCS, won for the 20th straight time on Roos Field.
Meanwhile, Idaho went into the game without its top two quarterbacks. The Vandals knew going in they would be missing CJ Jordan (shoulder), but also played Saturday without Mike Beaudry, who suffered a shoulder injury last week vs. Portland State.
Enter Zach Borisch, the converted running back, who had a big day against EWU last spring when pushed into service because the four Vandal quarterbacks were in COVID-19 quarantine.
This time, Eastern was ready.
Borisch did break a 75-yard TD run in the first quarter to cut EWU's lead to 15-7, and had 154 gross yards on the ground for the game. The Eagles sacked him four times, and he threw only seven times, completing four for 58 yards.
Best said EWU was better prepared this time, knowing what was coming.
"And he doesn't throw the ball," Best added. "At the end of the day, we didn't know what to expect from him in the spring ... when you can minimize the quarterback run game, and force someone to do something that the coaches don't want him to do, you're in a pretty good situation."
True freshman Gevani McCoy also saw action at quarterback, and on his first pass as a Vandal, connected with Mekhi Stevenson down the right sideline for 35 yards.
McCoy finished 7 of 14 for 82 yards and two interceptions, and was sacked twice.
"He's tough," Petrino said of McCoy. "And that's usually the first quality of being a good quarterback, so I was super proud of him. He showed some toughness; he got whacked a couple times, jumped right back up. He can really spin it; he's got a lot of upside.
"Obviously their quarterback was unbelievable, but our quarterbacks competed their butts off, too," Petrino said. "Zach ran hard, did some good things. It wasn't as easy as last year because it wasn't a surprise, but he's a little more banged up now, so you've got to use somebody else with Zach right now, because he's taking more hits. And Gevani competed; he made a couple good throws and a couple he'd like to have back."
EWU led 29-7 when McCoy made his debut. His long completion took the ball to the Eagle 40. Idaho planned to go for it on fourth and 6 from the EWU 36, but an illegal substitution penalty pushed the Vandals back 5 yards, and they opted to punt instead.
While Eastern's punter got the day off, Eagle kicker Seth Harrison was busy. The sophomore from Coeur d'Alene High was 9 of 9 on extra points, though he did miss a 31-yard field goal try in the third quarter.
Merritt ran for 77 yards and caught four passes for 102 yards and a score. One of his catches went for 39 yards on third and 34.
Roberson had nine catches for 192 yards and two touchdowns, and Boston caught five for 175 yards and a score.
Aundre Carter scored on a pair of short touchdown runs for Idaho, which totaled 322 yards.
Next Saturday, EWU is home vs. Weber State, and Idaho plays host to Montana, which beat Washington earlier in the season, but was upset 28-21 by Sacramento State on Saturday.
"Now we'll find out what we're made of," Petrino said. "You get your butt kicked like that, now we've got to come back and play Montana. But we've got our next three games at home; hopefully we'll get a couple guys healed up. But regardless, we'll find out what our character's all about. You get knocked down, how are you going to respond ... and I like our guys. I love our players. I think they work hard, I think they're good kids, and I think they'll respond well. We've just got to go back to work."
Recent Headlines
---