The war on drugs in Idaho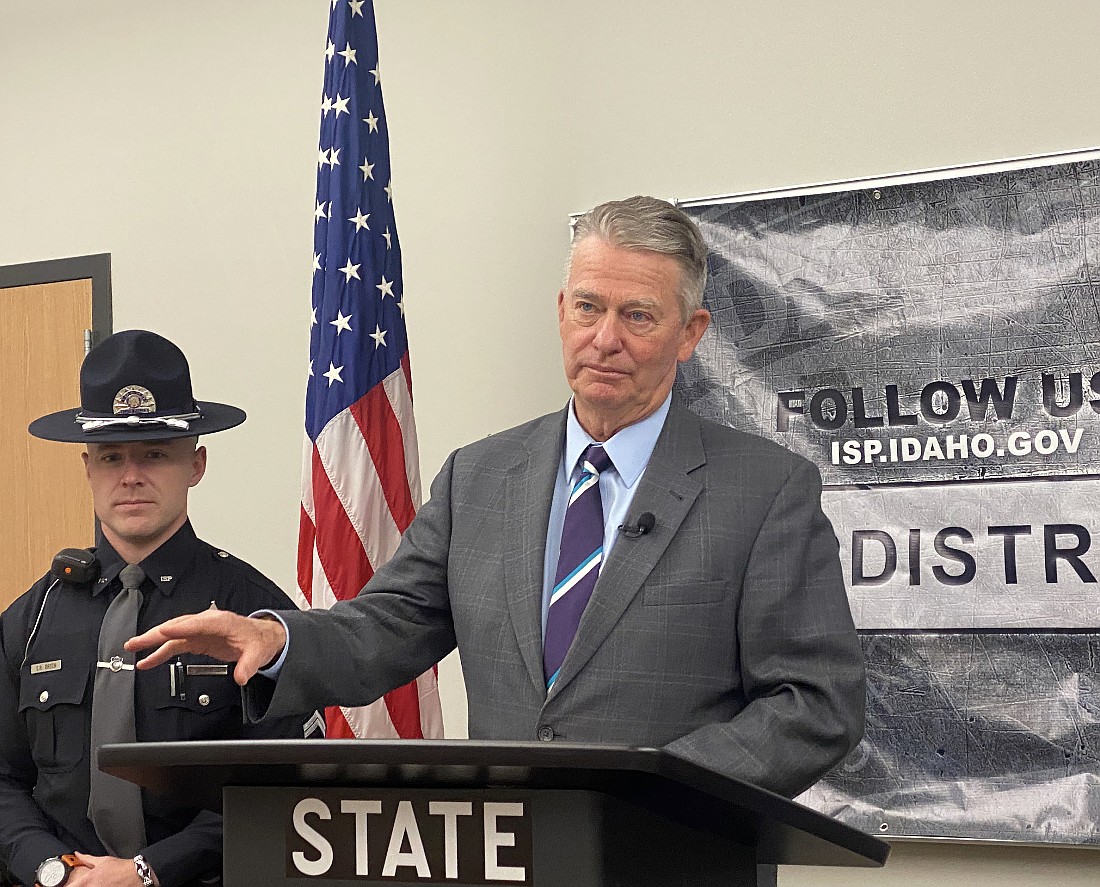 Gov. Brad Little, right, was joined by several Idaho State Police troopers on Friday to discuss his experience at the U.S.-Mexico border earlier this month. (MADISON HARDY/Press)
by
MADISON HARDY
Staff Writer
|
October 16, 2021 1:09 AM
Gov. Brad Little took a stand against the rise of meth and fentanyl trafficking in Idaho on Friday, which he said directly resulted from a "loose" U.S.-Mexican border. 
Last week, Little and nine other Republican governors visited the U.S.-Mexico border after receiving a letter from the Texas and Arizona governors requesting extra staffing. 
Reflecting on the trip, Little said the most "eye-opening" realization was witnessing the "control of the cartels." Referencing a U.S. Department of Justice public safety alert, Little said the American law enforcement agencies had reported a 430% increase in the tracking of fentanyl opioid pills in the last two years. 
"This is not Joe, the drug dealer, and these are very powerful cartels who control the border," he said. "They control that border, and they're using migration of whether it be Latin Americans, South Americans or Haitians as a distraction to get these drugs across." 
Little's trip led to a five-person team of Idaho law enforcement participating in a 21-day mission to assist the Arizona State Police in drug interdiction.
"I learned quite a bit down there about the direct relationship between the loose board and the current narcotic problem we've got today," Little said. 
On Friday, three Idaho State Police troopers joined the governor who participated in the 21-day mission, including ISP Sgt. Curt Sproat. The official described fentanyl as "more addictive and dangerous than any drug (he had) seen in nearly a decade." Fentanyl, Sproat explained, is an opiate that started as a substitute for heroin but is "100 times more powerful."
Between 2020 to 2021, ISP reported a 562% increase in fentanyl seizures, from 19,000 pills to over 125,000 in one year. Kootenai County is one of four counties deemed a High-Intensity Drug Trafficking Area (HIDTA), Sproat said. The other three counties are Bannock, Ada and Canyon.
"Meth and fentanyl are the most serious growing drug threats in Idaho," Little said. "Of the drug trafficking organizations investigated last year, 96% identified Mexico as a source for drugs trafficked into the region."
Through their experience at the border, Sproat said ISP troopers are learning new techniques and undergoing training to equip themselves against the war on these drugs. 
"We are more motivated than ever to do all we can to keep the flood of fentanyl and meth out of our Idaho communities," Sproat said. "Traffickers know Idaho is tough on illegal drugs."
ISP Commander John Kempf said the agency has a robust multiagency drug task force in North Idaho committed to cracking down on fentanyl cases. Moving forward, Kempf said ISP plans to expand its drug enforcement and education programs. 
"Just this morning, I received statistics from Panhandle Health (District). In September, we had 14 fatal drug overdoses," Kempf said. "That's 14 families that are now missing a child, a parent, an aunt or uncle that are no longer here because of a drug overdose."
Kempf said that part of the education program includes presenting "drug" and "safety talks" in schools throughout North Idaho. He advised families to educate themselves on the signs of drug abuse and how social media can be a vehicle for drug dealers to reach teens. 
ISP is also partnering with Panhandle Health District to address overdose frequency in the region. 
"We are tracking these drug dealers down, and we are charging them with the overdose deaths that they cause," Kempf said. "They know the pills they sell kill people … and they sell them anyway."
A local North Idaho ISP trooper, Cpl. Seth Green, said their team is doing "the best we can" every day. He added that dealers try to avoid Kootenai County, nicknamed "the iron curtain" or the "fatal funnel," due to officers' hard-on-crime enforcement. 
The 10 "concrete solutions" Little and fellow governors believe would "immediately alleviate the problem" and do not "require an act of Congress" were:
Continue Title 42 public health restrictions
Fully reinstate the Migrant Protection Protocols
Finish securing the border
End catch and release
Clear the judicial backlog
Resume the deportation of all criminals
Dedicate federal resources to eradicate human trafficking and drug trafficking
Reenter all agreements with our Northern Triangle partners and Mexico
Send a clear message to potential migrants
Deploy more federal law enforcement officers 
"All of these factors helped reinforce my decision to send a team of five Idaho State Troopers to the U.S. Mexico border to assist the state of Arizona and their drug interdiction efforts," Little said.
Recent Headlines
---