Food banks on roller-coaster ride, too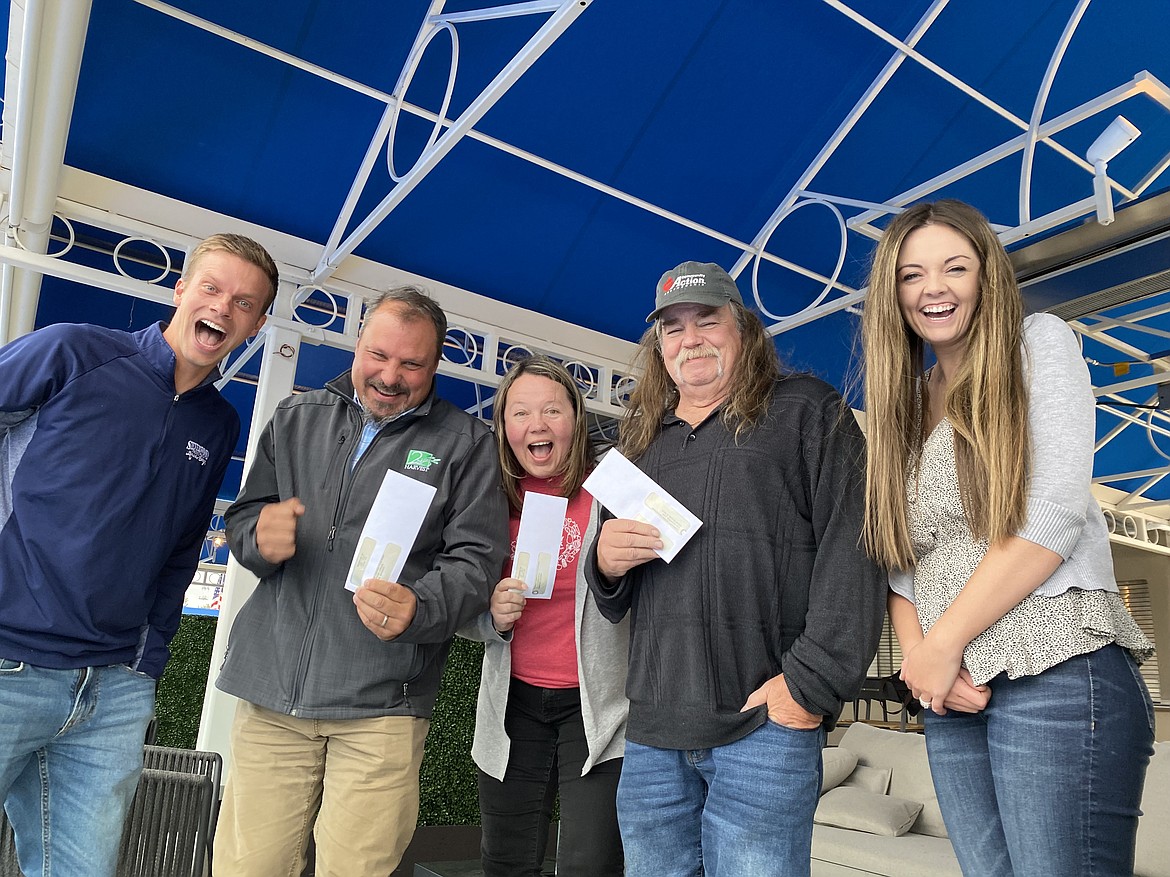 Representatives of three local food banks show a big grin after receiving a charitable donation from Silverwood Theme Park. From left, Silverwood Director of Marketing Jordan Carter, Second Harvest Philanthropy Manager Tony Cook, Bonner Community Food Bank Executive Director Debbie Love, Community Action Partnership Program Manager Darrell Rickard, Silverwood Public Relations Manager Stephanie Sampson. (MADISON HARDY/Press)
by
MADISON HARDY
Staff Writer
|
October 16, 2021 1:06 AM
Riding roller-coasters and scaring Halloween visitors is serious fun.
The fight against hunger is just plain serious. It's a fight Silverwood Theme Park takes on annually.
For over a decade, Silverwood has hosted community appreciation weekends in September to raise money for local food banks. For each ticket sold, the park allocates $4 back into a donation split between five organizations — the Bonner Community Food Bank, Post Falls Food Bank, Community Action Partnership, Second Harvest and the Athol Food Bank. 
This year ticket sales raised $27,158. 
"You have to have food," said Silverwood director of marketing Jordan Carter. "Anything that we can do to help boost the morale of the area and give people that assurance that there will be food somewhere is why we enjoy giving this money away." 
On Wednesday, Carter and Silverwood Public Relations manager Stephanie Sampson presented representatives of the nonprofits their piece of the charitable pie. 
Before the food banks received their checks, each painted a picture of how the approaching holiday season will be more complicated than in past years. 
Pandemic shutdowns and shortages have disrupted food distribution around the United States, Second Harvest Philanthropy Manager Tony Cook said. Based on information from food suppliers and transporters, Cook said the organization anticipates production could take several years to recover. 
"We've run into some challenges where we can maybe get hams, but there's not enough trailers to ship them," Cook said. "We've been scrambling and trying to get an adequate number of trailers to be able to get the food from point A to point B, and we're crossing our fingers."
Community Action Partnership program manager Darrell Rickard added that since the pandemic started, his organization has seen an uptick in customers. 
"I'm anticipating it to get bad here. A lot of programs are ending, and things like stimulus checks and benefits have stopped," he said. 
Now halfway through October, food banks are preparing for the holiday season. Due to supply shortages, the dinners they provide could look a little different. 
"We can't get turkeys this year," Bonner Community Food Bank executive director Debbie Love said. "Our distributors said they couldn't give us turkeys. This will be the first time in 41 years of operation that we will not be able to (do that)."
Love said the Bonner Community Food Bank is working with local stores and food distributors to collect as much food as possible. She's also hopeful the community will help through donations. 
"I've had to step up and contact distributors. We're getting food by the pallets now, and we're helping the little pantries in Bonner County and even Bonners Ferry," Love said. "What we're receiving is once a month from Second Harvest, and it's just not enough to last. We love Second Harvest, but that's the reality." 
The organizations said that what would help most is both financial and food donations from individuals, businesses and other entities.
Rickard said the Community Action Partnership Program relies heavily on large food drives lost last year during COVID-19. To supplement supplies, Rickard said donations and stores have been a significant help. 
"We look at Silverwood probably a lot differently than a lot of other people," Rickard said. "They see Silverwood as this amusement park. We look at it and see people that care about the community, who are always donating something or doing something for the community."
The three representatives said community support through businesses like Silverwood have been a significant aid over the last two years. Having the support of Silverwood highlights the importance of fighting hunger in the Inland Northwest, Cook said. 
"You know the money is amazing, but also is the fact that you are driving attention to an issue in a community, and that's important," Cook said. "Silverwood has earned that honor as an influencer in the community that we're grateful for, and it shows that you guys understand the responsibilities associated with a benign community, and we're very appreciative." 
Recent Headlines
---