Rupert Rush, 94
|
October 16, 2021 1:00 AM
"Our beloved Cowboy daddy" Rupert Day Rush Jr.
Rupert passed away peacefully at the age of 94 on Sept. 27, 2021, surrounded by his Idaho family. He was born Sept. 20, 1927, to Vera and Rupert Day Rush Sr. in Goodland, Kan.
He was the oldest of three boys. The family moved to California in 1942. Rupert registered for the draft in 1945 and served in the army through the end of World War II. After his army career he worked for an aerospace manufacturing company based in Chula Vista, Calif., as a parts supervisor. He retired after 43 years of service and raised his deceased adopted daughter Vicki's five children.
He is a direct descendant of Benjamin Rush, one of the founding fathers who signed the Declaration of Independence. He was a man who lived by his faith. He loved hunting, fishing and camping. He enjoyed his gun collection and playing harmonica and his electric guitar. But most of all, he loved God, his family, his county and was a true patriot.
He moved to Idaho in 2011 to be near his daughter Nancy, his son Alan, and all their children and grandchildren. He loved to drive his 1952 MG TD replica kit car from his bachelor pad, around the town of Sandpoint, and would commute in his Toyota to the Cowboy Church in Cocolalla every Sunday.
With his daughter Nancy, he would go to the convalescent homes in Sandpoint and Coeur d'Alene as the "Singing Chaplains" bringing gospel music and spiritual uplifting to all of the residents. He would wheel in the sound equipment on his walker, help set up and sang backup. He may have been the world's oldest roadie.
In his final few years he lived in his little cabin in the woods in Cocolalla, next door to his daughter Nancy and her husband Tony.
Rupert was a family man, married twice with six children. He was preceded by his first wife Kathryn (mother to Nancy and Alan), his second wife Twila Maxine, his brother James, his daughter Vicky and his youngest son, Steven.
He is survived by his daughters Nancy and Juanita, his sons Alan and Eldon, 19 grandchildren, 14 great grandchildren, and 7 great-great-grandchildren.
Funeral services will be held at 2 p.m. on Oct. 23, 2021, at the Cocolalla Cowboy Church, 4281 Cocolalla Loop Road in Cocolalla, Idaho.
At the service, the color guard from Fairchild Air Force Base will be presenting the colors, playing taps and will present the flag to Rupert's oldest daughter Nancy Lorah.
His ashes will be laid to rest at Fort Rosecrans National Cemetery in Point Loma Calif., next to his beloved wife Twila Maxine.
He was dearly loved and will truly be missed.
Family and friends are invited to sign Rupert's online guest book at coffeltfuneral.com.
Arrangements are under the care of Coffelt Funeral Service.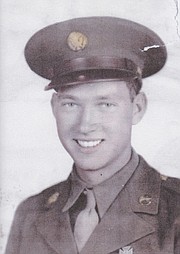 Recent Headlines
---