Rotary registers rosy record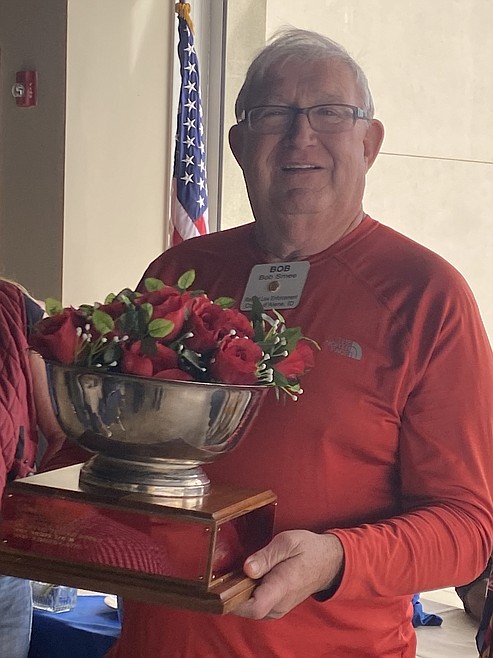 Bob Smee, a retired Border Patrol agent, along with the help of his team "Flower Power" took the top team sales award for the Rotary Rose Sale.
ELLI GOLDMAN HILBERT/Press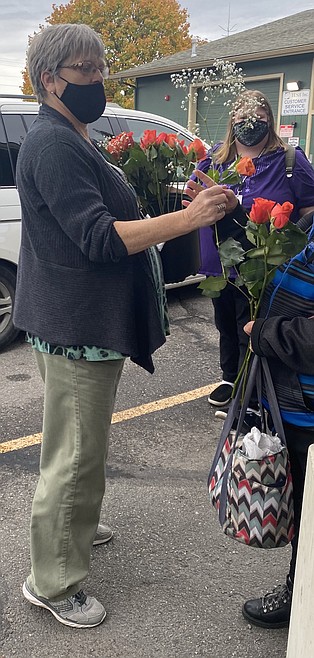 TESH teacher Kathie Gilman handed roses out Friday, as clients prepared to go home for the weekend.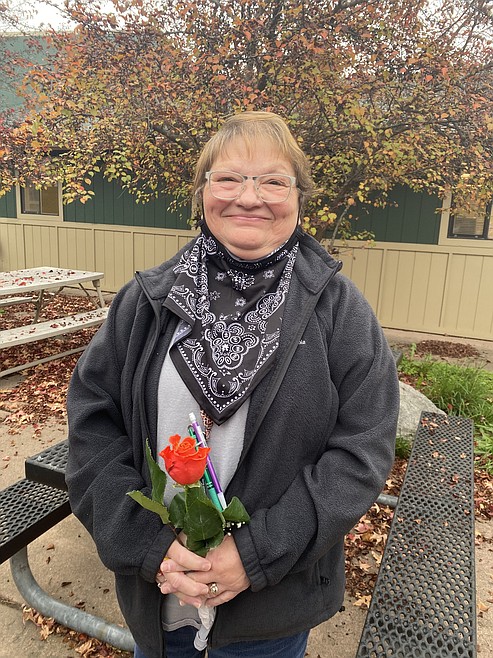 TESH client Gloria Paschal received a rose from her teacher Sandy.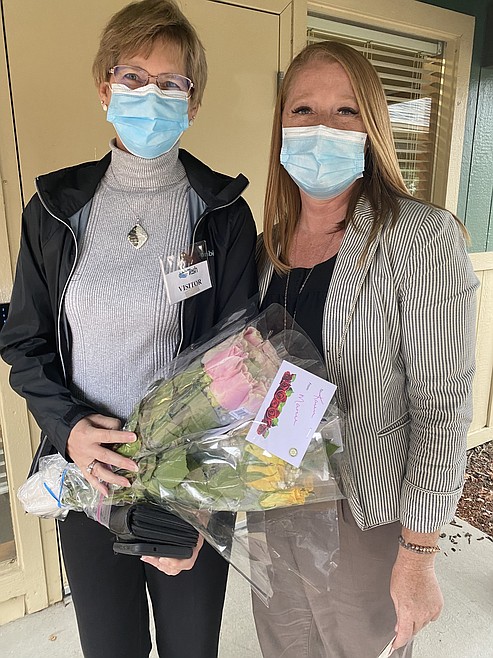 Marcee Hartzell presents roses to her board chair Karen Alberts. Many board members have had to step back because of COVID's effect on other areas of life, Hartzell said.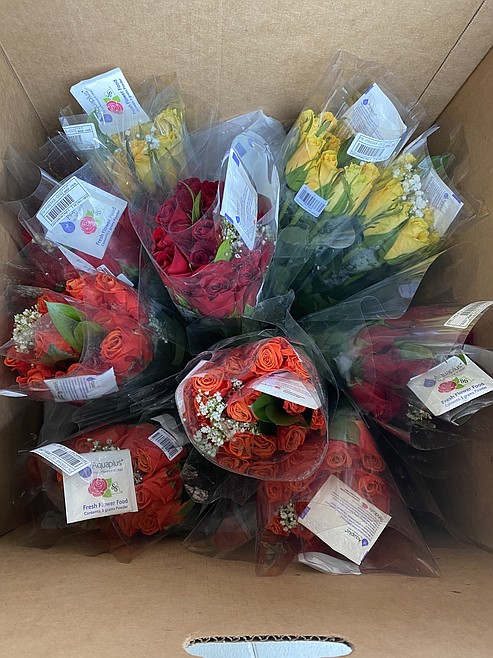 Boxes full of multi-colored blooms awaited eager Rotarians Friday morning.
Katie Hunt's Rose Sale team unfortunately came in last place but they were recognized with hearty smiles and laughs, nonetheless.
Previous
Next
by
ELLI GOLDMAN HILBERT
Staff Writer
|
October 16, 2021 1:07 AM
COEUR d'ALENE—The Rotarians outdid themselves this year.
Smashing sales records for the annual Rose Sale, Rotarians sold 1,463 dozen roses during this year's campaign.
That $54,223 brings the total raised over the past 31 years to $1,021,114.
"This has been a year to remember," said Lucinda Ade, co-chair for the Rose Sale. "We're learning flexibility and how to have grace under pressure."
Some buy roses for their loved ones or friends, while many Rotarians purchase roses they plan to donate.
Teams are created and prizes awarded for the top - and bottom -sellers. Bob Smee, whose team Flower Power won top honors, sold 61 dozen.
Katie Roney Hunt's team sold the least and received "the loser trophy," which was presented with laughter and smiles.
"But every dozen sold is great for our community," said Doug Rupiper, the other co-chair.
Kim Edmondson was top seller, singlehandedly unloading 44 dozen and bringing in a new patronage.
Nonprofit and other organizations receiving donated roses include: CASA, Hospice, Community Action Partnership Food Pantry, Post Falls Food Bank, Safe Passage, St Vincent de Paul, TESH, Union Gospel Mission, Village at Orchard Ridge and Kootenai Health.
Marcee Hartzell, the CEO of TESH, purchased several dozen to present to employees and clients.
"I am super appreciative for everything my employees and board do for us," said Hartzell.
A lot of nonprofits are struggling as COVID takes a toll on family and personal lives, Hartzell said. Many of her staff are working extra hours or shifts just to keep the program running while many have been out sick.
As clients streamed out of TESH Friday, teachers like Kathie Gilman handed out roses to students. Like roses, there were smiles by the dozen.
Ade and Rupiper were on hand with a team at the Hagadone Event Center early Friday organizing boxes filled with floral bunches of all colors.
"We were set up ahead of schedule for the first time ever," Ade said as Rotarians began to drive through to load up the bounty.
The roses take quite a trip before making their way to the CDA Friday Rotary. Grown in Ecuador, a pre-order is placed very early in the year, said Ade. The grower sets aside several fields for the club.
From there, the roses are flown to Miami and then to a Spokane wholesaler, where they're bundled and placed in boxes according to each person's order, Ade said.
Recent Headlines
---