PREP FOOTBALL: Catch of a lifetime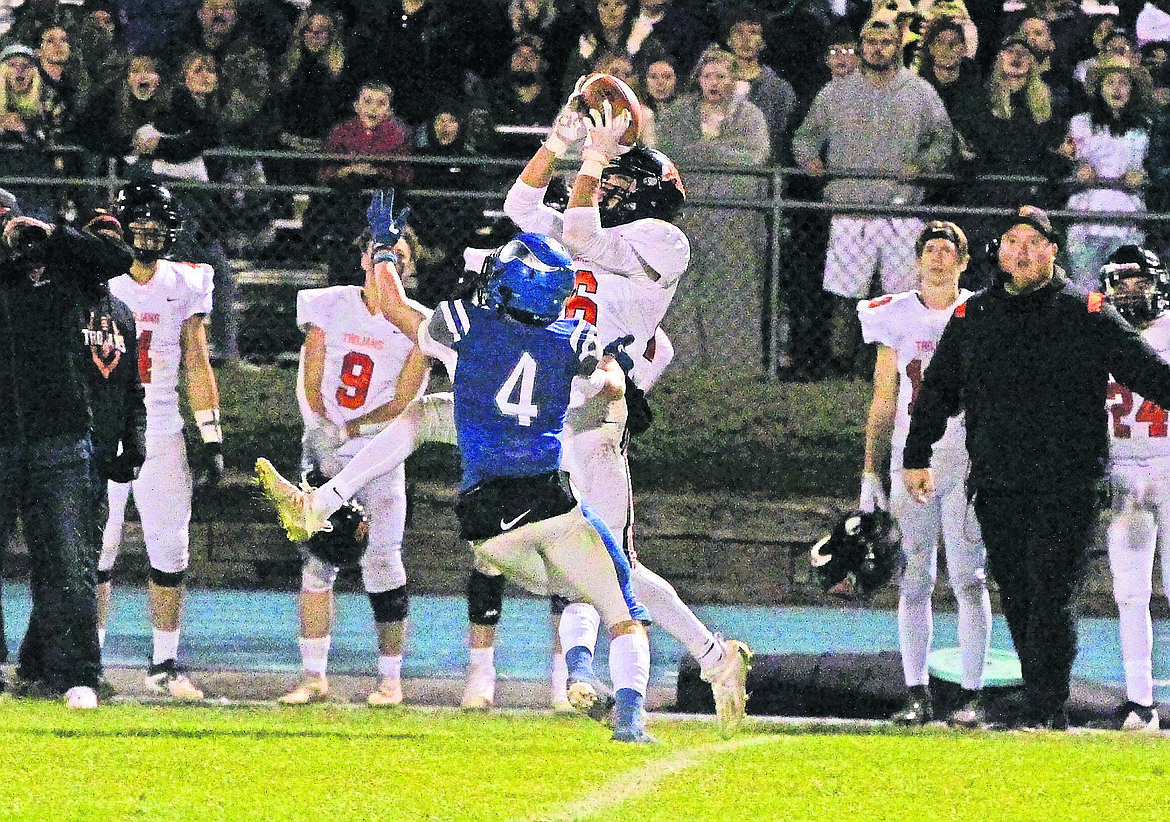 MARK NELKE/Press Zach Clark of Post Falls makes a leaping catch as Sam McLaughlin (4) of Coeur d'Alene defends late in the fourth quarter Friday night at Coeur d'Alene High. Clark's 61-yard catch-and-run set up the game-winning score in the final minute.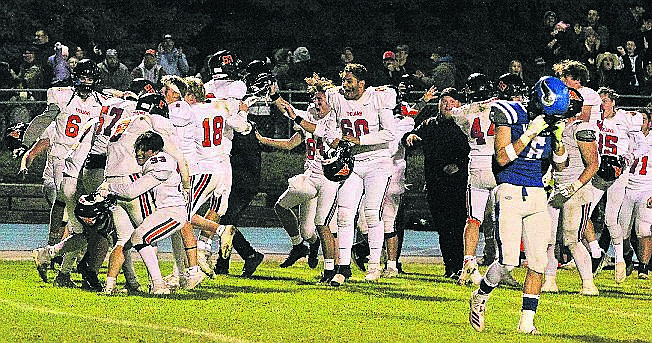 MARK NELKE/Press Post Falls players celebrate after the Trojans beat Coeur d'Alene 32-27 on Friday night at Coeur d'Alene, Post Falls' first win over the Vikings since 2015.
Previous
Next
|
October 16, 2021 1:30 AM
By MARK NELKE
Sports editor
COEUR d'ALENE — The Post Falls Trojans took each shot from the Coeur d'Alene Vikings and answered right back.
Coeur d'Alene scored first, and led three other times during the game, but could never put Post Falls away.
After the Vikings took their last lead with 5:20 left, the Trojans drove 80 yards for the winning score, set up by a 61-yard completion from Jaxon Anderson to Zach Clark that put the ball on the Viking 2.
Two plays later, Jacob Sullivan scored from a yard out with 24.1 seconds left, and Post Falls successfully defended a last-gasp Coeur d'Alene pass into the end zone on the game's final play to win 32-27 in a 5A Inland Empire League clash at Viking Stadium.
"This is awesome," said Clark, better known as an interception machine as a cornerback, but was asked by coaches to also play some at receiver this season. He last played receiver in Junior Tackle. "I've never beat Coeur d'Alene, so this is one of the best things I've ever done."
Post Falls (4-4, 1-1 5A IEL) muddied up the league race by beating Coeur d'Alene (5-2, 1-1) for the first time since 2015, snapping a six-game losing streak to the Vikings.
Next week, Post Falls plays host to Lake City (2-5, 0-2), and Coeur d'Alene is home against league-leading Lewiston (7-1, 2-0).
If Post Falls and Lewiston win, both are in the state playoffs, and Coeur d'Alene would have to earn an at-large berth. If Coeur d'Alene and Post Falls win, all three would be 2-1 in league, and the tiebreaker fun would begin.
"I just thought we had to be patient," Post Falls coach Blaine Bennett said. "In the past, we played em well in the first quarter, maybe we played them well for the first half, but we hadn't put four quarters together in a long time against Coeur d'Alene. Finally, we put four full quarters together, and certainly that last drive was a big drive for us."
Coeur d'Alene lost a league game for the first time since 2016, and three turnovers were a main reason why. Post Falls turned an interception by Devin Myers, and then a fumble recovery by Myers, into touchdowns in the third quarter. The Trojans also scored a TD after Chase Berg's interception in the first half.
"Post Falls deserved that win; they played better than us," Coeur d'Alene coach Shawn Amos said. "Hats off to them. When you play better and better teams, you have to make fewer and fewer mistakes. We're in a desperation mode now. Next week is all or nothing, so we have to make sure we do our job next week."
Post Falls outgained Coeur d'Alene 357-307, and its defense constantly put pressure on the Vikings and quarterback Brayden Bengtson.
"I thought our defensive staff did a great job," Bennett said. "Justin Farnsworth and the defensive guys did a great job, and offensively we were able to put one together there at the end. We didn't want to leave them any time (after that go-ahead score)."
Jaxon Anderson passed for 216 yards for the Trojans, including a 73-yard score to a wide-open Jordan Summers three plays after Myers' interception to pull Post Falls within 20-19.
Anderson also ran for 81 yards and two scores, including a 28-yard scamper in the second quarter on third-and-1.
Robert Collier's second TD of the game, a 5-yard run around right end, put Coeur d'Alene up 27-26 with 5:20 left.
On Post Falls' final drive, the Trojans overcame a holding penalty when the Vikings were called for pass interference.
A 3-yard loss and an illegal procedure penalty made for a second-and-18 play from the 37, and Clark got past the Viking defensive back down the left sideline for a catch-and-run in front of the Trojan bench.
Sullivan thought he'd scored from the 2, but was ruled short, which actually helped Post Falls run more time off the clock.
On the first play after the kickoff, Gunner Giulio took a short pass from Bengtson and broke free down the left sideline for 36 yards to the Post Falls 22 with 8.8 seconds left.
Bengtson threw incomplete on the next play, leaving 2.9 seconds left. On the final play, the Vikings flanked 6-foot-5 Cameren Cope to the right side and tried to throw a jump ball to him in the end zone, but he was tightly covered by Maesen Allen and Jack Sciortino, and the pass fell incomplete.
"I think we've gotten better each week," Post Falls coach Bennett said. "We played pretty good against Lewiston, and came up a little bit short. And I thought we got better this week."
Post Falls 6 7 13 6 — 32
Coeur d'Alene 7 13 0 7 — 27
First quarter
Cd'A — Jake Wuolle 13 pass from Brayden Bengtson (Bengtson kick), 7:21
PF — Carson Tucker 7 pass from Jaxon Anderson (PAT failed), 1:04
Second quarter
Cd'A — Robert Collier 10 run (Bengtson kick), 11:57
PF — Anderson 28 run (Alex Luna kick), 6:49
Cd'A — Gunner Giulio 2 run (pass failed), 2:24
PF — Jordan Summers 73 pass from Anderson (kick failed), 9:41
PF — Anderson 3 run (Luna kick), 7:41
Fourth quarter
Cd'A — Collier 5 run (Bengtson kick), 5:20
PF — Jacob Sullivan 1 run (run failed), 24.1
INDIVIDUAL STATISTICS
RUSHING — PF, Bustamante 11-31, Anderson 14-81, Sullivan 11-29. Cd'A, Giulio 11-40, Bengtson 5-13, Collier 9-35, Potter 1-(minus 4).
PASSING — PF, Anderson 9-16-1-216. Cd'A, Bengtson 17-27-2-223.
RECEIVING — PF, Myers 3-24, Sessions 1-26, Tucker 2-9, Summers 1-73, Bustamante 1-23, Clark 1-61. Cd'A, Griffin 2-24, Wuolle 5-76, Mallory 1-15, Collier 3-25, Cope 1-9, Farrar 1-13, Entzi 1-6, Elliott 1-13, D'Agostino 1-6, Giulio 1-36.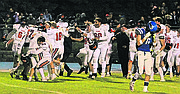 Recent Headlines
---