Oh, Great Pumpkin
by
BILL BULEY
Staff Writer
|
October 16, 2021 1:08 AM
COEUR d'ALENE — The lineup of cars at City Hall on a chilly, fall Friday morning, and an assembly of city employees, some in Halloween outfits, could mean only one thing: Free pumpkins.
Indeed. It was that time.
There were hundreds, too, all shades and sizes of orange and green, courtesy of the city's Wastewater Department. That crew grew a huge crop of pumpkins with their special Coeur d'Green Compost and then let Coeur d'Alene Public Library give them away.
Library clerk Loren Roberts wore a facemark that said "Boo!" and a black and white costume from the movie, "The Nightmare Before Christmas."
She held a pumpkin that must have weighed 25 pounds while waiting to place it in one of the many cars.
"It's pretty heavy and I've been holding it for a while, too," she said, laughing.
Shelley Hurtado missed out on the great pumpkin giveaway last year, but not this time.
Still, she wished she'd arrived sooner to avoid the lineup that began well before the 9 a.m. opening.
"I didn't get here early enough," she said.
Hurtado left with a smile and some perfect pumpkins in the back of her SUV.
"I think it's wonderful they do this," she said.
Delaney Daly, children's librarian, said the drive-through pumpkin pickup was progressing safely. Drivers remained in their vehicles as wastewater and library staff handed out the gorgeous gourds.
She said they gave out about 100 pumpkins in the first hour and adults and kids were still coming for more. Some stopped their car and kids emerged to make the selection.
"The families are fully enjoying it," she said.
Bagged decorating supplies were also given away.
Patrons are invited to use the pumpkins, or their own, for the city's Pumpkin Decorating Contest. To enter the contest, participants are asked to submit a photo of their decorated pumpkins to bit.ly/3p8qAuc by Oct. 22. Unlike previous years, the pumpkins can be carved.
Dustin Stetson gave a hand to son Jack as they carried a monster pumpkin to the side after carefully considering their many choices.
"Pumpkins!" Dustin said when asked what brought them out.
Young Jack went back and alone, carried away a smaller pumpkin of his own.
Back home, dad knows what's next, the best part of the great pumpkin giveaway.
"Carve 'em!" Dustin said.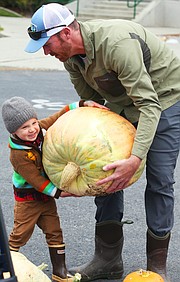 Recent Headlines
---