PREP FOOTBALL: Not quite enough for T-Wolves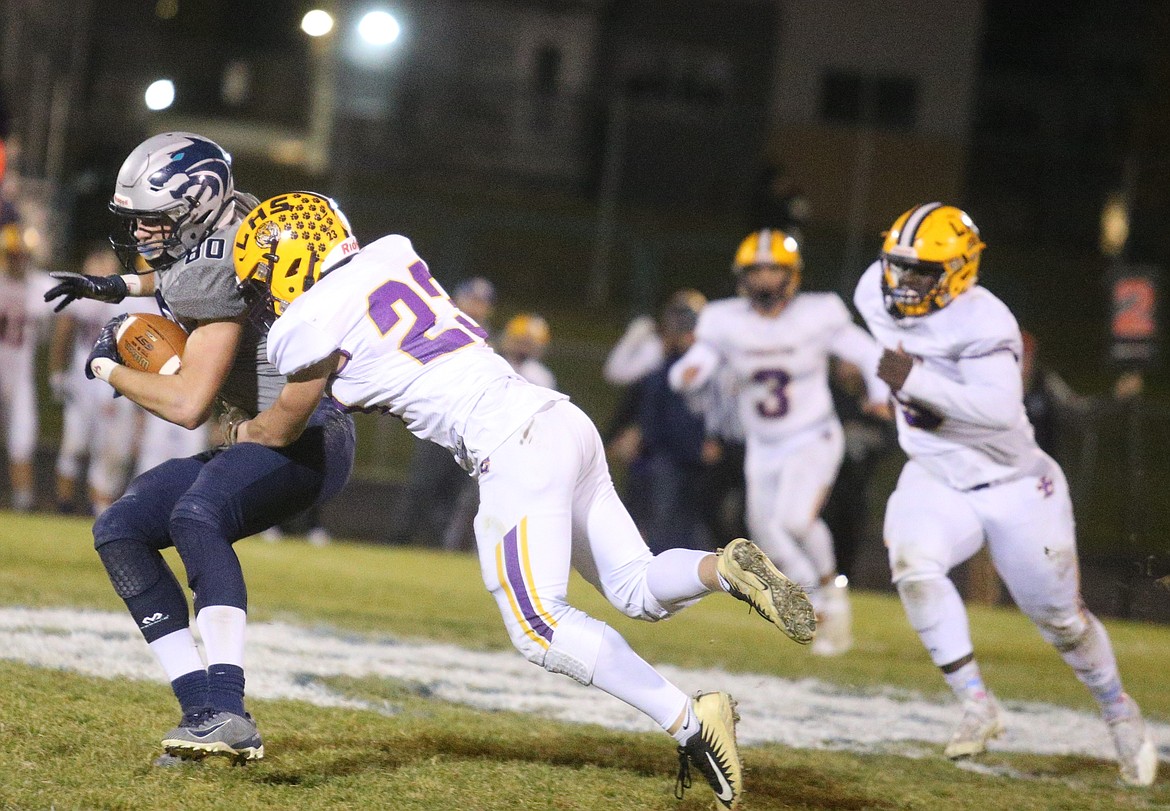 JASON ELLIOTT/Press Lake City junior wide receiver Zach Johnson (80) breaks the tackle of Lewiston defensive back Jackson Lathen during the first quarter of Friday's game at Lake City High.
|
October 16, 2021 1:20 AM
By JASON ELLIOTT
Sports writer
COEUR d'ALENE — Lake City did almost everything it could to give itself a shot on Friday night.
The Timberwolves were explosive on offense.
And, at times, the defense made the plays when it needed them.
But it was a few empty trips to the red zone that cost the Timberwolves on Friday, as Lake City fell 35-28 to the Lewiston Bengals in a 5A Inland Empire League game at Lake City High.
After Lewiston scored on a 29-yard touchdown pass from Jace McKarcher to Brayden Rice, Lake City scored on its first play from scrimmage on a 63-yard touchdown pass from Jackson Pettit to Zach Johnson.
"That's what we were scheming up all week," Johnson said. "We noticed that they didn't have anyone over the top of the linebackers. We executed and scored on the first play."
Johnson finished with six receptions for 138 yards, most coming in the first half. Pettit threw for 218 yards and two touchdowns.
"The entire season, we've been waiting on a breakout offensive game," Johnson said.
And tonight might have been it. I think we did a good job on offense and hopefully we can keep that going forward."
"We had a tough time with No. 80 (Johnson)," Lewiston coach Matt Pancheri said. "He's a heck of a football player. They were doing a good job of finding ways to get him the ball, and we couldn't tackle him at all. I thought Lake City had a good game plan tonight. We're going to have to go back to the drawing board and make sure we're working on the things we need to work on defensively and offensively to put together the best game we can next week against Coeur d'Alene."
Lake City led 14-7 after the first quarter on Johnson's second touchdown reception of the game, a 13-yard pass from Pettit with six minutes remaining in the quarter.
Lewiston tied the game at 21-21 with 4:53 remaining in the half. Lake City drove to the Lewiston 6-yard line to open the third quarter, but an incomplete pass forced a turnover on downs.
Lewiston took the lead for good on an 3-yard touchdown run by McKarcher with 8:20 remaining. Lake City drove to the Lewiston side of the field twice in the final five minutes, but a last-second Hail Mary was intercepted at the 10-yard line.
"We just had some untimely mistakes," Johnson said. "We were close, and it was a good battle. When it came down to it, we had some mistakes that were crucial because of the timing of it."
"We made a couple of really crucial mistakes at bad times," Lake City coach Brian Fulp said. "A couple of bad snaps on fourth down and some penalties. We couldn't stop them on offense. McKarcher is really tough and a good option quarterback that's a good runner. We just didn't do enough at the end, but our kids played really well. I'm proud of my guys. It's just too little."
Lake City alternated Pettit and Josiah Weaver, who started the season at quarterback, in the second half, with Weaver finishing with 38 yards passing and two touchdowns.
"Jackson moved the ball really well," Fulp said. "They both played well and moved the ball. They both had some good plays and some negative plays."
Lake City (2-5, 0-2 5A IEL) visits Post Falls next Friday.
"We just need to finish the game," Fulp said. "We had a couple of tweaks that we looked at this week. We missed a couple of throws and missed a couple of throws on speed options. We had a couple of untimely penalties, especially in the red zone. And it's hard to overcome those."
Lewiston (7-1, 2-0) travels to Coeur d'Alene next Friday.
Lewiston 7 14 7 7 — 35
Lake City 14 7 7 0 — 28
First quarter
Lew — Brayden Rice 29 pass from Jace McKarcher (Thor Kessinger kick), 10:11
LC — Zach Johnson 63 pass from Jackson Pettit (Kyrus Condon kick), 9:40
LC — Johnson 13 pass from Pettit (Condon kick), 6:00
Second quarter
Lew — McKarcher 8 run (Kessinger kick), 9:28
LC — Zach Adkinson 14 pass from Josiah Weaver (Condon kick), 6:00
Lew — Jared Jelinek 17 pass from McKarcher (Kessinger kick), 4:53
Third quarter
Lew — McKarcher 1 run (Kessinger kick), 4:47
LC — Charles Ruggiero 6 pass from Weaver (Condon kick), :56
Fourth quarter
Lew — McKarcher 3 run (Kessinger kick), 8:20
INDIVIDUAL STATISTICS
RUSHING — Lew, McKarcher 23-147, Jelinek 1-9, Shaw 8-53, Hepburn 3-11, Taylor 11-51. LC, Ross 11-31, Stephens 3-9, Weaver 4-23, Johnson 6-12, Pettit 1-2, Adkinson 1-3, Condon 2-11.
PASSING — Lew, McKarcher, 9-12-0-142. LC, Pettit, 8-12-0-218, Weaver, 3-10-2-38.
RECEIVING — Lew, Shaw 4-50, Rice 1-29, Lawrence 1-11, Jelinek 3-25, Hibbard 1-35. LC, Johnson 6-139, Ross 3-63, Stephens 2-57, Condon 1-29, Adkinson 1-14, Ruggiero 1-6.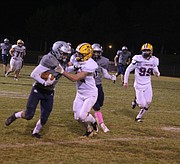 Recent Headlines
---