New group raises money for candidates at 'auction'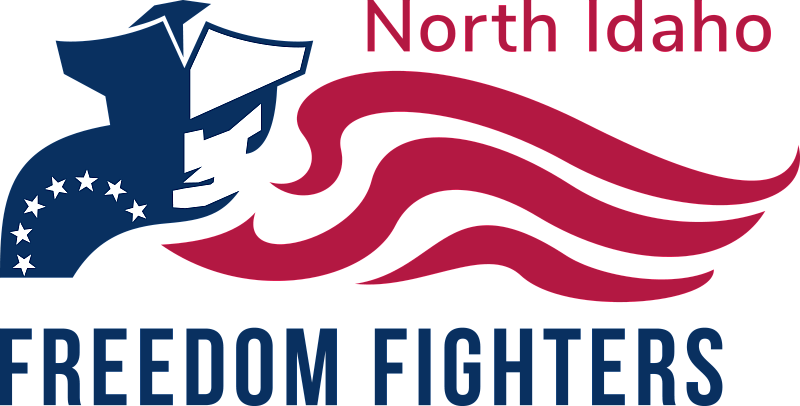 by
MADISON HARDY
Staff Writer
|
October 15, 2021 1:07 AM
COEUR d'ALENE - Winning a political race relies on two central support systems: Getting people to vote for you, but first, getting people to hand over some of their hard-earned cash.
Campaign funding comes from many sources. Sometimes it's out of candidates' pocket in the form of loans, and frequently it comes from individuals, businesses, groups, and organizations. 
The need was apparent to Amy Mccamly, organizer of a group called the North Idaho Freedom Fighters. NIFF hosted an "Election Auction Solution" fundraiser over the weekend, resulting in nearly $40,000 of individual donations to give its preferred candidates a boost. 
"It takes so much more work than just voting on Nov. 2," Mccamly said Thursday. "It takes the community coming together behind them." 
NIFF, Mccamly said, formed early this year because they "wanted to make a difference." For Mccamly, NIFF isn't "about any particular party" so much as aligning with "elected officials that believe in the Constitution and freedom."
More than 200 people attended the NIFF auction, which featured speeches from 20 local candidates - all endorsed by the Kootenai County Republican Central Committee.
Each candidate was given two minutes to speak and explain what financial support they needed before opening up the floor for attendee donations, Mccamly explained. 
"We chose to have candidates vetted by the (KCRCC) because they share the value system I have as far as candidates to support in North Idaho," she said. "The purpose was just to hear each candidate and have people be responsible citizens and know who they are voting for." 
NIFF members paid for the event. Blanchard Rep. Heather Scott, Idaho Attorney General candidate Colton Boyles, Northwest Property Owners Alliance board member Jeff Tyler and Dan Bell were also speakers. 
Mccamly said candidates were asked to tell attendees specific items they needed contributions for, like yard signs and mailers. That way, she said, there was more transparency in how they would use the money. 
All candidates running for local or state offices must file monthly reports of campaign contributions and expenditures during the election year. That data is available to the public at the Idaho Secretary of State's website and can be searched by candidate, contributor, political committee or expenditure.
Mccamly said attendees made all contributions, and NIFF doesn't regulate the donations process. NIFF isn't a registered campaign contributor through the Idaho SOS office. 
"It's not necessary for me to decide where the money goes. It should go straight to the candidate campaign that each person supports," Mccamly said. "If I were to divide it up, that is more of a socialist way to do things, and I don't believe in that."
Mccamly moved to North Idaho from Orange County, Calif., last year. She felt the Golden State was moving in an opposite direction to her beliefs. Top of her list is anything that seems to "infringe upon our freedoms, goes against the constitution" and "elections."
"I saw what happens when bad people get elected," she said, referring to California officials. "At the end of the day, I want each person to be responsible and make the right choice for candidates that will benefit the community." 
In 2010, the U.S. Supreme Court ruled in Citizens United v. Federal Election Commission that limitations on "independent political spending" would go against the right to free speech guaranteed through the First Amendment.
To maintain transparency about where the political funding is coming from and going to, Idaho regulates campaign finances through disclosure regulations found in Idaho Code Title 67, Chapter 66 — better known as the Sunshine Laws. 
"The argument for (finance disclosure laws) is for transparency in how campaigns are run and who is supporting what candidates," Chief Deputy Secretary of State Chad Houck said Thursday. 
Over the years, Houck said, there has been demonstrated interest from the public in tracking campaign finances. With the "evolving practice" of technology, Houck said, campaign finances have become "incredibly complex" as participation from nonprofits, businesses, political committees and individuals involved in elections grows. 
"Campaign finance laws attempt to bring transparency, and that's why they are called Sunshine Laws," Houck said. "They attempt to bring transparency or light to those contributions in a fair manner." 
According to elections.sos.idaho.gov, the top five recipient campaigns for 2021 as of Thursday are:
Reclaim Idaho - $300,279.76
Kootenai County Republican Central Committee - $194,342.44
Bonneville County Republican Party - $124,231.70
Ada County Republican Central Committee - $104,495.48
Luke Malek, a Coeur d'Alene attorney who is running for lieutenant governor - $92,563
Recent Headlines
---