ITD takes title at national Snow & Ice Conference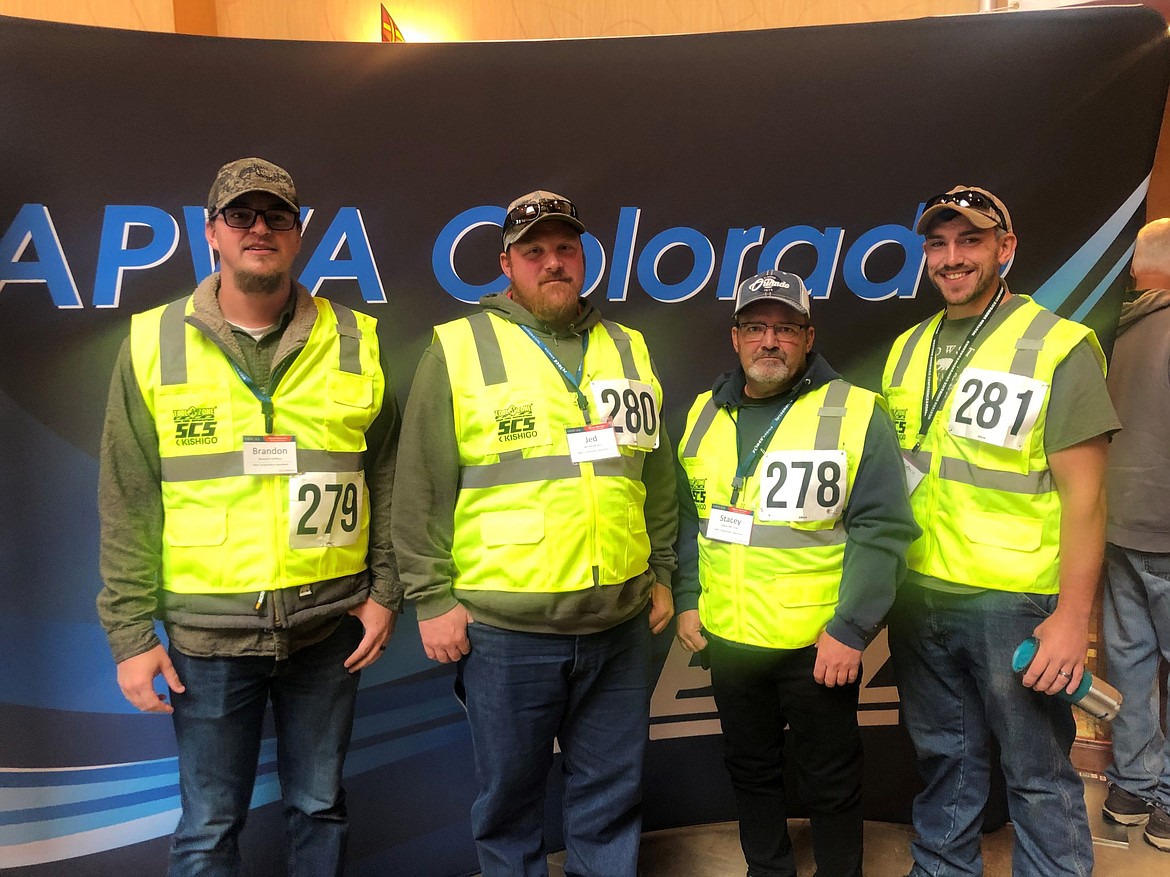 Jed Henderson and his team at the 2021 Western Snow & Ice Conference in Colorado. From left: Brandon Steffens of Southeast Idaho, Jed Henderson of North Idaho, Stacey McCurdy of East Idaho and Dakota Morgan representing South-Central Idaho.
Photo courtesy of the IDAHO TRANSPORTATION DEPARTMENT
by
CHELSEA NEWBY and CHANSE WATSON, Hagadone News Network
|
October 15, 2021 6:00 AM
The Idaho Transportation Department (ITD) team finished on top at the The 2021 Western Snow & Ice Conference last month in Colorado with a District No. 1 employee gracing the title-clinching roster.
The competition brings in the top competitors from surrounding regions and states to compete in a multitude of driving simulation events including snow plow and heavy equipment operations. Each national team consists of various state winners who compete in team and individual competitions. Scores are then compiled from each event and the team with the highest combined score is deemed champion.
Among the four-person team representing Idaho this year was local North Idaho Transportation Technician Jed Henderson, who works at ITD's Cedar Shed facility, located at the eastern base of Fourth of July Pass on I-90.
"It was really interesting to compete with teammates from other districts. Basically, I didn't really know these guys other than competing against them at state," Henderson said. "Our team came together really well, and it was a lot of fun. The competition was stiff. The course was really tight compared to what our state course is."
Team Idaho also received praise from ITD's top official, who was pleased with how the team represented the Gem State.
"We are very proud of our successful top ITD Equipment Roadeo leaders representing Idaho successfully this year in the Western States annual event," said ITD's Chief Operations Officer Dan McElhinney. "All of us thank them for their commitment to safety and skills excellence."
Along with Idaho's first national team title, there were a number of top 10 finishes by the participants, adding to ITD's history in the event.
Henderson, who has worked for ITD for the past decade, said that while he came to the company with heavy equipment experience, he credits ITD for refining his abilities, as well as teaching him new skills, such as driving a snow plow.
According to Megan Jahns, ITD public information officer, the department offers on-the-job training, including CDL certification and equipment operator certification programs.
"If people are interested in working with ITD, you don't need to come with a CDL and other equipment background to get started," Jans said.
To learn more about job openings with the Idaho Department of Transportation, visit https://itd.idaho.gov/careers.
Recent Headlines
---