CDA skaters never had a better friend
by
D.F. "DAVE" OLIVERIA
|
October 15, 2021 1:00 AM
Woody McEvers Skate Park is a roaring success today. But there was a time when Coeur d'Alene residents, especially downtown merchants, viewed skaters as vandals on wheels.
Business owners feared that a Wheeler would run down a Little Old Lady on a sidewalk. Such was their concern that Mayor Ray Stone ordered rec director Steve Anthony to do something.
And he did.
The skaters wanted to be downtown and seen. The merchants wanted them out of sight. The city cleared off a space paralleling the first baseline of Memorial Field. And skaters and patrons, like Nancy Heffter of Coeur d'Alene, went to work building makeshift jumps and fundraising.
But the location wasn't far enough away for all concerned. A church softball coach complained about bad language coming from the make-do park. And the city moved it behind the right field fence.
That was a start. But more was needed to build a top-notch park.
A break came when an impact fee was declared illegal, and the city was ordered to refund money.
Seizing on the ruling, Anthony sweet-talked my former boss, Stacey Cowles of The Spokesman-Review, into donating his $5,000 refund to the park. Then, John Robideaux and other car dealers chipped in their refunds. The city added $15,000. And the Sunrise Rotary Club adopted the park as a project.
Enter Woody McEvers.
In 2002, McEvers, a former skater and surfer dude, won his first of several City Council elections. Anthony introduced him to the local skaters. Woody and the kids hit it off. And the rest is history.
"Sometimes," Anthony said, "all you need is one person to carry the dream."
Humble beginning
You may know that Mayor Steve Widmyer once worked as controller of the late Duane Hagadone's Coeur d'Alene Resort. But did you know he also delivered newspapers for Duane's Press?
In a two-page house ad honoring National Newspaper Boys Day 50 years ago today (Oct. 15, 1971), the Press published dozens of photos of its newsboys. If you look closely at the boy from Route 302, with a newspaper bag slung over a shoulder, you'll find our town's future mayor.
"I delivered 70 papers between Miller Avenue and the courthouse on Government Way and A Street," Steve told Huckleberries. "I did it for about two years. It basically taught me how to run a business."
Steve still recalls an angry dog on A Street that bit his calf more than once.
The paper sold for $2.50 a month, and the newsboys kept 50 cents. "Thirty-five dollars a month for an 11-year-old was a lot of money," Steve said. "Great memories."
Huckleberries
• Poet's Corner: Oh comely pizza, hot and cheesy,/thy most alluring fragrance greasy/bewitches like a siren's call —/I curseth my cholesterol – The Bard of Sherman Avenue ("Pleasures Now Forbidden").
• Bumpersnicker (on a red pickup at the Coeur d'Alene Public Library on Monday) offered a fun knockoff on an old 1960s theme: "Make Tea, Not War."
• As former schools super David Rawls describes it, he and wife Hazel were packed up for a trip to Arizona on Tuesday when his appendix said, "No way." The ornery organ, according to David, went on to say: "I protest and am staying here with surgeon Dr. Mike May." And it did. But that didn't prevent David and Hazel from heading for the sunshine.
• Did you hear the one about the St. Maries mayor and six councilmen surrendering their salaries to balance the budget? OK, it was Oct. 16, 1951, and Mayor B.E. Lewis and the councilors didn't give up that much — $35 and $30 per month, respectively. Increased costs and summer repair had left St. Maries with $14,000 to run the town until May 1. But it's the thought that counts.
• Friendly pol or political foe, Florine Dooley of CdA has no use for candidates who put signs in her yard without asking. She has a prime spot with high visibility. Recently, she removed two signs placed by individuals she supports. But they didn't ask permission. "I limit the number because otherwise the names aren't see-able to passing motorists." Less is sometimes more.
Parting Shot
Chad Schobert of Sandpoint didn't want to make a fool of himself Wednesday as he underwent anesthesia for a medical procedure. "It's hazy," he said of drifting in and out of consciousness. But he does remember discussing the color of his underwear. "So, mission failed apparently," laments Chad. (And for inquiring minds out there, the answer is: "Neon green.")
• • •
D.F. "Dave" Oliveria can be contacted at dfo@cdapress.com.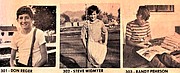 Recent Headlines
---