Gridiron Guesses: Playoff berths can be locked up tonight ... or not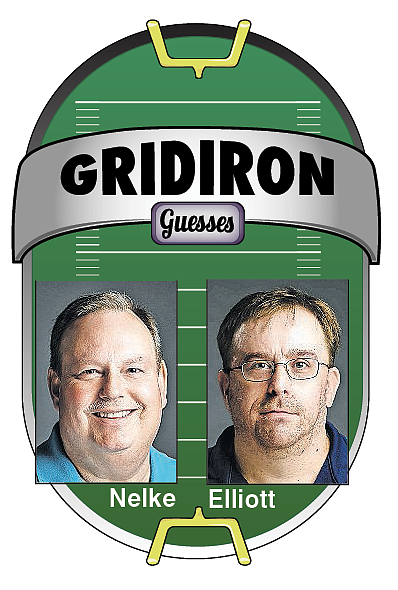 |
October 15, 2021 1:30 AM
By MARK NELKE
and JASON ELLIOTT
Sports writers
League titles won't be totally decided this week, but some playoff berths on the gridiron can be clinched.
Coeur d'Alene and Lewiston can clinch state 5A playoff berths if both win tonight — Coeur d'Alene at home vs. Post Falls, and Lewiston at Lake City.
And wins by the Vikings and Bengals would set up a showdown for the 5A Inland Empire League title next week at Coeur d'Alene.
Wins by Post Falls and/or Lake City would jumble up the playoff race. Even if both lose tonight, next week's matchup at Post Falls could be for an at-large playoff berth.
In last year's league game, Coeur d'Alene won 30-14 in 7 inches of snow at Post Falls in the game that determined the IEL champion.
Coeur d'Alene has won the last six meetings.
"I don't think there's any team that has improved more than them," Coeur d'Alene coach Shawn Amos said of Post Falls. "I think we've improved each week, but Post Falls, from Week 1 to now, they've made huge strides."
"Every week we've gotten better," Post Falls coach Blaine Bennett said. "Coeur d'Alene's good all the time. Obviously we've got a lot riding on this game."
Lake City is out to show it's a better team that the one which was whipped 38-0 by Coeur d'Alene last week.
Lewiston's Cruz Hepburn has already topped the 1,000-yard mark on the ground this season, and quarterback Jace McKarcher is one of the top rushers in the state as well.
"We got two weeks left, and I feel really good about those games," Lake City coach Brian Fulp said. "We've got two weeks guaranteed."
In a game that will likely decide the Intermountain League title, Timberlake plays host to Kellogg tonight.
Timberlake has won 11 of the last 12 IML titles, the only blemish coming when Kellogg won the IML in 2017.
Last week, Kellogg edged Bonners Ferry 18-13 while Timberlake routed Priest River 61-0.
Three local teams have byes this week.
Lakeland (5-3, 1-0 4A Inland Empire League) is idle this week, and travels to Sandpoint next week with the league title on the line. Sandpoint (3-2, 0-0) plays at Moscow (3-4, 0-1) tonight. Lakeland crushed Moscow 59-0 at home last week.
St. Maries, its sports programs sidelined the last three weeks due to COVID-19 precautions, has a pre-scheduled bye this week, then returns to action next Friday at Orofino in a Central Idaho League game.
Lakeside has a bye this week, then plays host to Wallace next Friday with a chance to wrap up the Scenic Idaho Conference title.
As for the picks, Jason went 5-0, Mark 4-1. For the season, Mark is 29-12, Jason 26-15.
HIGH SCHOOLS
Tonight's Games
All 7 p.m.
Post Falls (3-4, 0-1 5A IEL) at Coeur d'Alene (5-1, 1-0 5A IEL)
NELKE: Coeur d'Alene has won five straight, the last two by shutout. How will Post Falls bounce back from that 30-29 loss at Lewiston last week?
Coeur d'Alene, 30-14
ELLIOTT: Coeur d'Alene will be tested quite a bit from a Post Falls team that has played a lot better in recent weeks.
But ...
Coeur d'Alene, 33-22
Lewiston (6-1, 1-0 5A IEL) at Lake City (2-4, 0-1 5A IEL)
NELKE: You figure Lake City will come out inspired tonight, hoping to make up for last week. Now if that inspiration helps the T-Wolves stop the run ...
Lewiston, 26-20
ELLIOTT: If Lake City can't get inspired for this game, then maybe this helps.
Lewiston, 33-28
Kellogg (5-1, 1-0 Intermountain League) at Timberlake (4-2, 1-0 IML)
NELKE: Wonder what Timberlake thinks about Kellogg being ranked above it for much of the season?
Timberlake, 34-18
ELLIOTT: Timberlake seems to be making all the right moves at this point in the season. How often have you heard of a fullback stepping in at guard and things keep rolling along?
Timberlake, 30-20
Saturday's Game
Kootenai (0-5, 0-1 North Star League) at Clark Fork (4-2, 0-2 NSL), 11:30 a.m.
NELKE: Clark Fork's only two losses have come at the hands of the Mullan/St. Regis Tigers/Tigers, who have already clinched a berth in the state 1A Division II playoffs.
Clark Fork, 64-32
ELLIOTT: Kootenai is getting better as the season goes on. Clark Fork might be just a little further ahead.
Clark Fork, 48-34
Recent Headlines
---