Alternative governments are out there — and thriving
Optional Forms of Government Study Commissioner Kristen Wing and Dave Childs spoke on the popularity of county managers across the United States Wednesday night. Photo courtesy Kootenai County.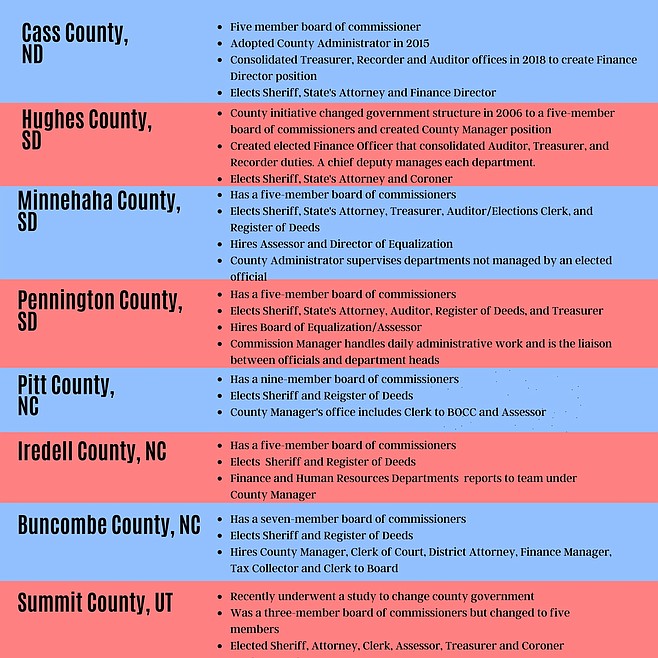 Optional Forms of Government Study Commissioner Kristen Wing reported data from several counties in the United States that have an alternative structure to Kootenai County.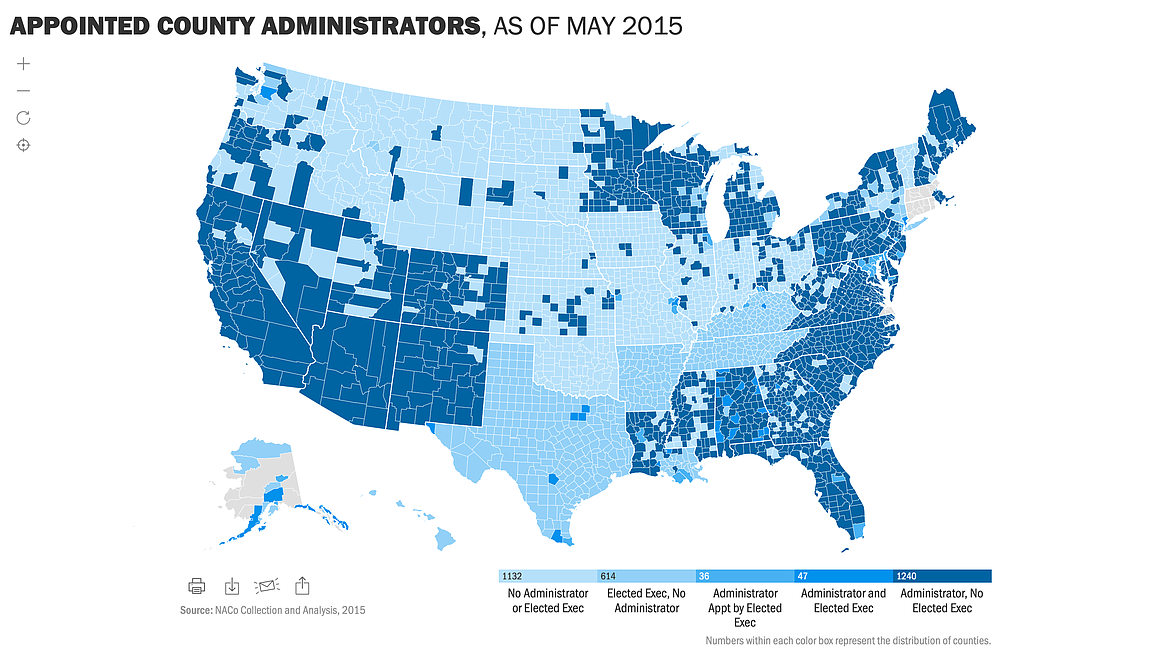 According to the National Association of Counties interactive database, 43% of U.S. counties have an administrator figure and 63%, had either an administrator or elected executive. Photo courtesy NACo.
Previous
Next
by
MADISON HARDY
Staff Writer
|
October 15, 2021 1:08 AM
COEUR d'ALENE — The county manager form of government is alive and well in two-thirds of the United States.
Speakers Wednesday night said it could work in Kootenai County, too.
The Optional Forms of Government Study Commission has spent five months collecting data on the pros and cons of Kootenai County governmental structure. Wednesday marked the last night of research interviews and the beginning of a deliberation process that will recommend whether the current structure should stay or if it's time for a change. 
Any proposed change would be decided by Kootenai County voters.
As part of the commission's investigation, three members, Kristen Wing, Bob Fish and Phil Ward formed a subcommittee to research how other entities differ in governing style. Using the National Association of Counties interactive database, the subcommittee contacted several agencies with similar characteristics to Kootenai County. 
The subcommittee found that 43% of the approximately 3,000 U.S. counties have an administrator figure but no elected executive. Nearly 2,000, or 63%, have either an administrator or elected executive, Wing said. 
"I think that a number has been thrown around that there are fewer counties in the U.S. that have an executive component than those that do not," Wing said. "I want to be clear that the executive or administrator form of county government is actually in the majority." 
Kootenai County has three county commissioners but no manager or administrator.
The commission-manager and commission-executive are two forms of government permitted under Idaho Code 31-5001. Though their duties are similar in function, the manager is an appointed — or hired — role by the board of commissioners, while the public elects an executive. An executive also has veto power on any ordinance or budget resolution. 
Wing said the subcommittee contacted counties based on their similarity to Kootenai County's population, urban and rural land area, recreation, tourism, regional significance, and politically conservative values.
The counties she highlighted Wednesday were:
North Dakota — Cass County
South Dakota — Hughes, Minnehaha, and Pennington counties
North Carolina — Pitt, Iredell, and Buncombe counties
Utah — Summit County 
All eight counties Wing described had five or more members on the BOCC and a county manager figure. When asked why those entities expanded the number of commissioners, Wing said the officials felt it increased the "talent pool" of potential candidates and supported research subcommittees to facilitate long-range planning.   
"It's actually encouraged for the commissioners who have a particular interest or area of expertise to work together on something, and then they take it back to the board for full approval," Wing said, referring to a conversation with a Pennington County official. 
A manager provides the elected officials with professional expertise and allows the BOCC to "concentrate on policy," she added.
"The comment was that with a long-term professional manager, they can plan financially," said Wing, quoting a Buncombe County official. "They plan for business continuity and have a robust emergency plan ... She also stated that the county government is not a business, but it should have a business mindset." 
Before moving to Kootenai County eight years ago, Dave Childs served in seven city manager positions, was an assistant county manager, and today works with the International City/County Management Association (ICMA). Based on his experience, Childs said he favors a five-member BOCC with a county manager. 
"One of the things Kootenai County could do better, in my mind, with what I've heard from the presentations, is that coordination between departments," he said. "The other part of it is creating strategic plans. What's it going to look like in one, two, five, 10 years down the road?"
Wing didn't express a preference for any government structure but relayed that the counties she spoke with described several benefits of their operating style. 
"All of them had a strategic long-range planning process with input from all departments to include budget projections, capital planning, I.T. support, reviews, and citizen contribution," Wing said. "They all describe less partisanship among the elected officials because all the electeds participated in the strategic planning and department goals were tied to the budget." 
The primary responsibility of a county manager, Childs said, is to facilitate a working relationship between departments, officials, and other administrative personnel.
"Our job is to work with the board to provide them with recommendations on policy issues and to give them options. It's not 'Well here's what you should do,' but it's to provide them with some research," he said. "When the board speaks, our job is then to take the direction of the board and that policy forward and make it succeed." 
Ward pointed out that a concern the OFGSC has heard is that a county manager could damage the level of accountability to the public or that the figure "might have too much power."
Contrary to this concern, Childs said constituents could "gain accountability" as they would provide greater insight between department operations. He added that final decision authority rests with the BOCC; the manager is there to expedite teamwork. 
"The county manager needs to have twice as many collaborative skills as the city manager," he said. "The job of the manager is how do you work with (elected officials) in a way that you can help add value to the work that they're doing in their departments and find ways to knock down the silos between departments." 
Next Wednesday, Oct. 27, the study group will begin deliberations on what recommendation they will put forth to commissioners and later the public for a vote.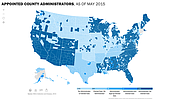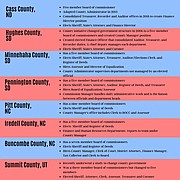 Recent Headlines
---