Virus fight toll grows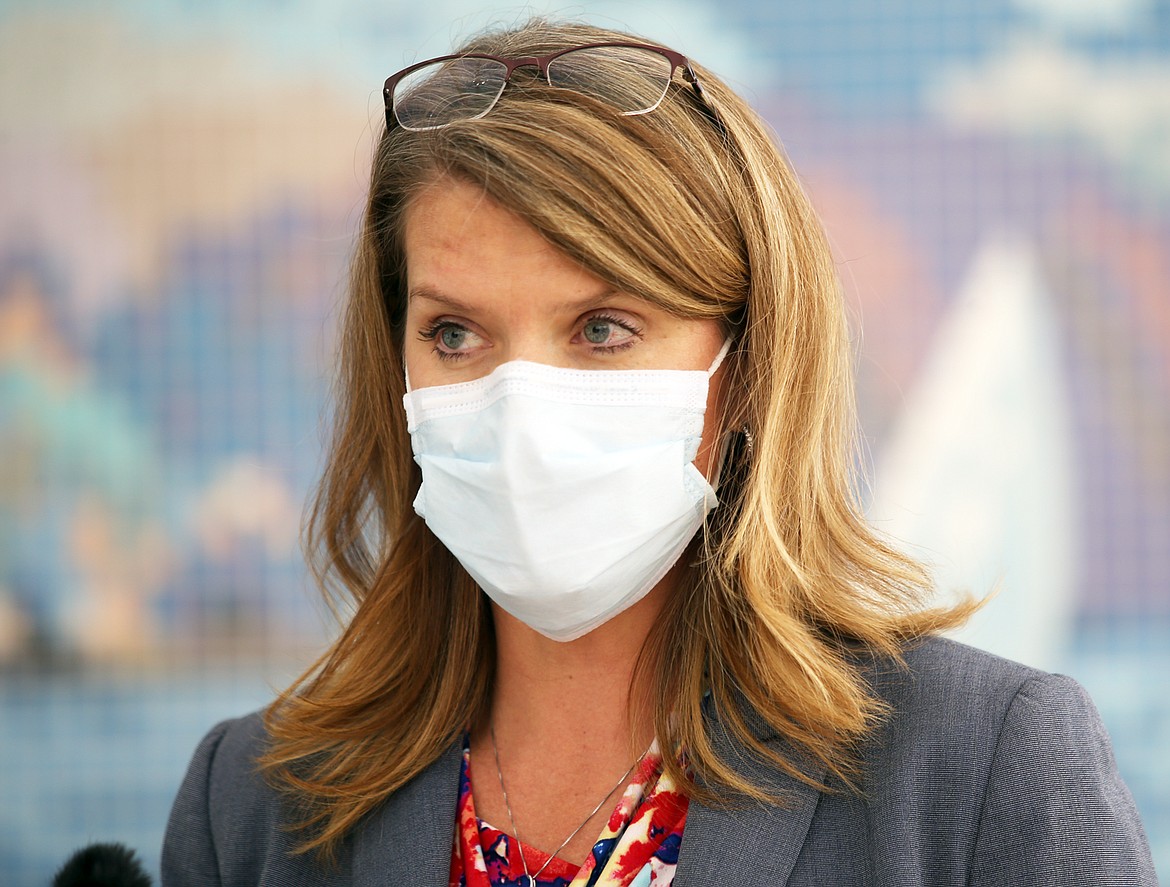 Dr. Karen Cabell, chief physician executive at Kootenai Health, meets with the media Wednesday to provide an update on COVID-19 patients and the toll its taking on staff.
BILL BULEY/Press
by
BILL BULEY
Staff Writer
|
October 14, 2021 1:09 AM
COEUR d'ALENE — Kootenai Health's coronavirus patient count was 122 on Wednesday, down from a high of 150 a week ago.
But Dr. Robert Scoggins said while that is good, he warned people not to be fooled into thinking the worst is over.
"I still want to make everyone aware, that's still kind of a ridiculous number of patients we have in the hospital that are COVID positive," he said during Wednesday's press conference outside the hospital.
It's affecting Kootenai Health in many ways: ability to care for patients; postpone elective surgeries; operate under crisis standards of care; struggle to find space for those who show up at the emergency room or even accommodate transfer patients.
Delayed care, for a day or even just a few hours, can affect the outcome for a patient.
"I really don't know in the end if we'll ever know how many people in this area have died because of the inability to get care," Scoggins said.
Dr. Karen Cabell said 122 COVID patients, 41 requiring critical care and some there for months, "continues to be quite straining" for their staff.
It's not just the threat of bringing the virus home to their families, but the suffering they are witnessing.
"We're very much focusing on the morale of our health care workers," she said. "We know that the COVID-19 pandemic has stretched our health care workers beyond any way we ever imagined."
Physicians and nurses at Kootenai Health have quit during the pandemic.
"We're seeing health care workers leave. I suspect we'll see more," Scoggins said.
He said of 12 ICU patients he recently saw, all were unvaccinated, which is "frustrating from a health care perspective that many of those patients don't need to be there."
"Many realize they probably should have done something different prior to getting there," he said.
Scoggins said he hoped Kootenai Health has seen its peak of COVID patients with the recent decline, but he expressed doubts. He referred to it as more of a "plateau."
"Maybe we're coming down off that plateau," he said. "We're still going to be getting patients over the next few weeks."
He said the crush of COVID patients may have been drawn out by many late-summer events in North Idaho and the reopening of schools.
Now, he's concerned about the spread of the delta variant over the holiday travel season.
"So we'll see," he said.
Earlier in the day, Gov. Brad Little fielded COVID questions during an AARP telephone town hall. One caller asked if Idaho's hospitals were ready if they got hit with another wave of coronavirus patients.
"You tell me how the virus is going to mutate and I'll be able to tell you," Little said. "Nobody knows that."
He said he hopes a new variant of COVID-19, one unaffected by current vaccines, doesn't mutate into existence.
"That's my worst nightmare," he said.
Recent Headlines
---