Safe Infant Sleep Month
by
ELLI GOLDMAN HILBERT
Staff Writer
|
October 14, 2021 1:00 AM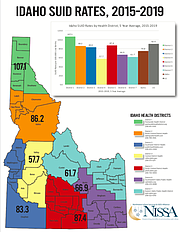 POST FALLS — October is Safe Infant Sleep Awareness month. In a statewide prevention initiative bringing awareness to sudden unexpected infant death syndrome, Mayor Ron Jacobson and numerous leaders made the proclamation official.
SUIDS is the No. 1 cause of death between the ages of one and 12 months, said Liz Montgomery, executive director of NISSA, the Northwest Infant Survival and SIDS Alliance.
"These deaths are preventable," Montgomery said. "In 90% of them there is something unsafe in the sleep environment."
After losing her five-and-a-half-month old son Mason in 2003, Montgomery understood the devastation firsthand. Mason was asleep on the couch and rolled over into the cushions, Montgomery said.
"At the time we didn't have the current sleep recommendations that eventually came out in 2012," she said.
Montgomery founded the Inland Northwest SIDS Foundation 10 years ago and merged two years ago with other organizations on the same mission to form NISSA. Safe Start is a part of that alliance.
Working to prevent SUIDS deaths, NISSA focuses on education for parents and caregivers. Since 2012 when safe sleep efforts began, SUIDS deaths in Idaho have decreased by 26%, Montgomery said.
With several classes offered, all are online and free for participants. To register for Safe Sleep 101, car seat safety or infant and child CPR/first aid classes, go to www.nwsides.org, www.safestartnw.org or email info@nwsids.org. Bereavement support is also provided.
"I encourage everyone to take safe sleep 101 if you're caring for a baby," Montgomery said.
With family structures changing and grandparents sometimes being caregivers, for example, the class is open to more than just parents.
The ABCs of safe sleep are relatively simple: alone, back and crib. Alone because it isn't safe for infants to co-sleep with parents, siblings or other children. Babies should be placed on their backs in a sleep sack. And the crib should be free of bumpers, stuffed animals, pillows, blankets or other suffocation and strangulation hazards.
If parents need a new car seat or a safe crib, they can participate in the classes. Safe Start then provides new car seats, cribs and sleep sacks. In 2020 they gave away 64 cribs, 1,341 sleep sacks and 102 new car seats.
A Community Car Seat check is being held Nov. 7 from 9 a.m. until 1 p.m. at Post Falls Volkswagen. Text 208-557-4371 to register for an appointment.
Serving on three different review teams studying cases of infant death has given Montgomery a perspective on Idaho's SUIDS statistics. In the United States between 2015 and 2019, the average was 90 deaths per 100,000 births. Idaho averaged 74 deaths per 100,000 births during that time. But Kootenai County had the highest SUIDS rate across Idaho with an average of 107 per 100,000.
NISSA provided over 3,040 hours of free prevention education in 2020 alone. The 26% decrease in SUIDS deaths is proof that the education works, Montgomery said.
It isn't only parents and caregivers creating the net of education, but is a community effort, Montgomery said. Partnering with hospital personnel, all seven hospitals in the northern counties are certified in safe sleep. Fire and police department staff have become certified and NISSA has home visit partners who spread the message as well.
In 2020, NISSA reached more than 325,000 people. "It is imperative that the babies sleep safe," Montgomery said. "We don't want another family to experience the loss that we have."
Recent Headlines
---