Photographed, digitized and wrapped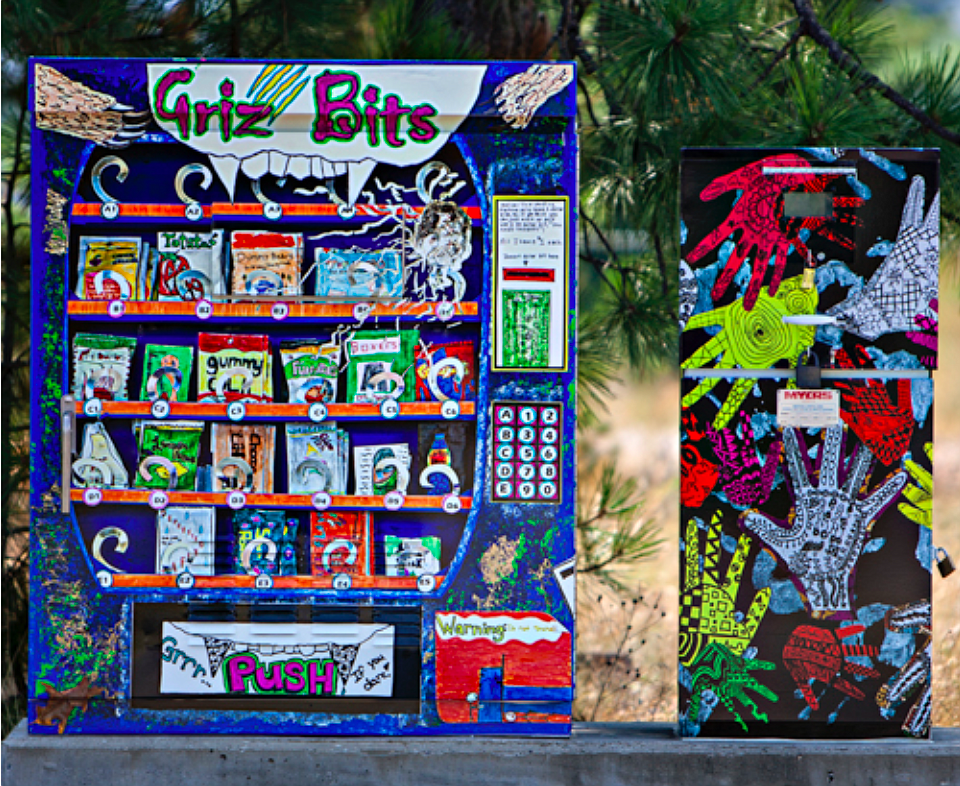 The "Tame Your Hunger" signal box located at Kathleen Avenue and Atlas Road, was designed by former Woodland Middle School art students.
Photo courtesy of the Arts Commission of Coeur d'Alene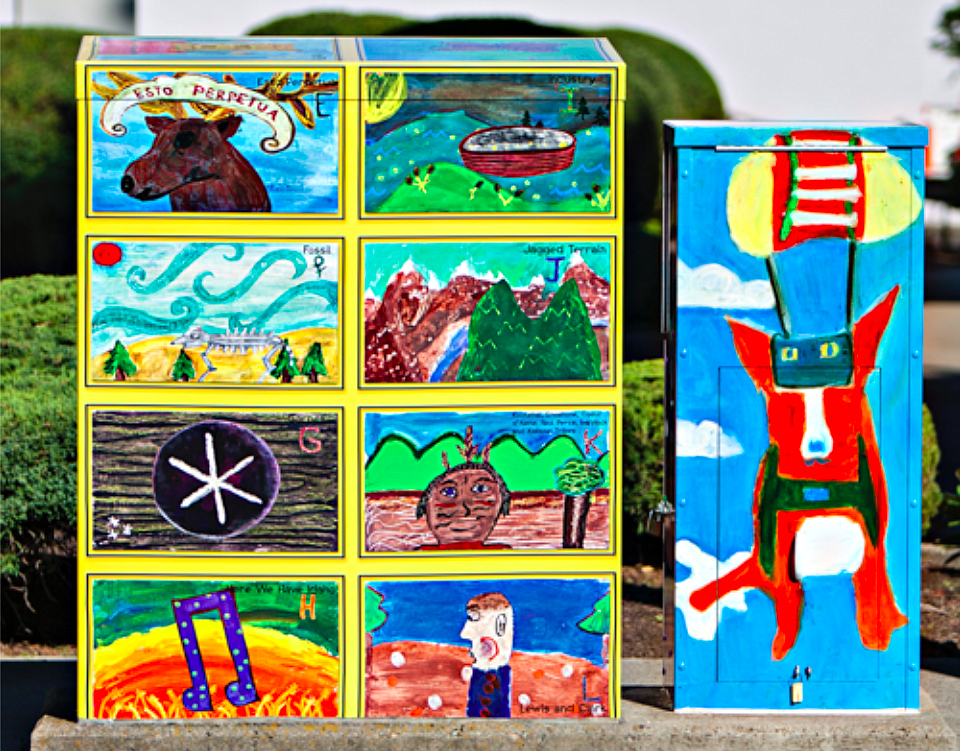 Signal box covered with artwork by former Sorensen Magnet School students. It sits at the corner of 11th Street and Sherman Avenue.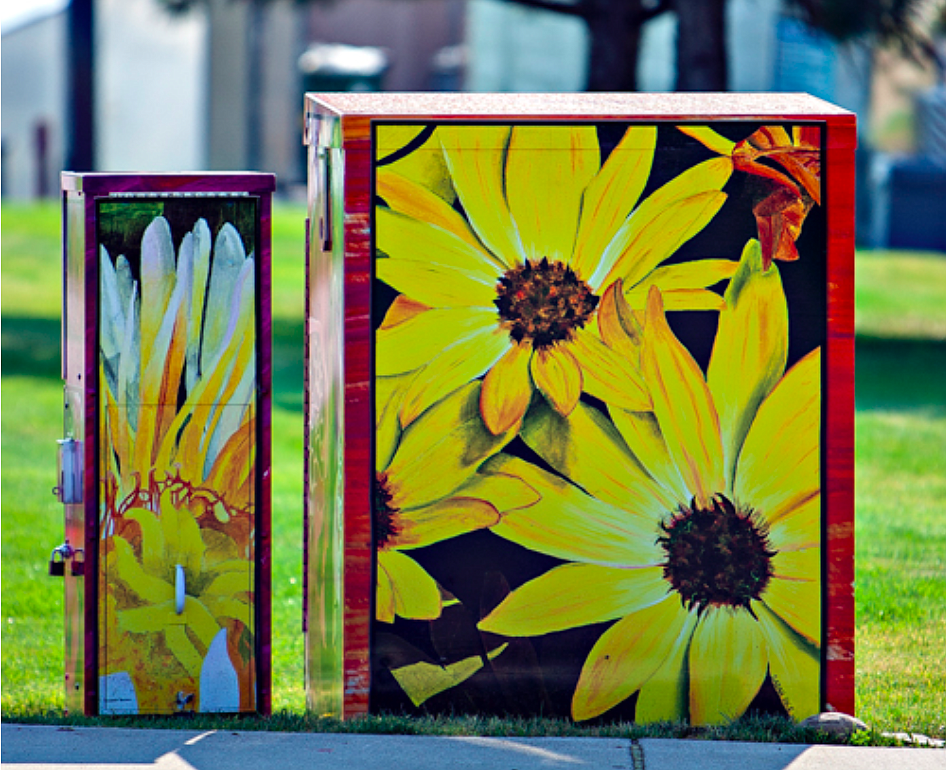 Signal box located at the corner of Government Way and Kathleen Avenue, adorned with artwork by former Coeur d'Alene High School students.
Previous
Next
by
ELLI GOLDMAN HILBERT
Staff Writer
|
October 14, 2021 1:08 AM
POST FALLS — Beautification may be coming soon to a signal box near you.
Councilman Steve Anthony and former chairman of the Arts Commission of Coeur d'Alene, Joe Sharnetsky, teamed up in hopes of sprucing up the plaza along Spokane Street.
The signal box beautification project will be similar to one commissioned by the city of Coeur d'Alene in 2012 that both helped bring to fruition.
Rather than dull metal signal boxes on street corners, passers-by are treated to works of art submitted by area artists and designs created by students from local elementary, middle and high schools.
Inspired by former Principal Jim Gray of Sorensen Magnet School of the Arts and Humanities, the idea was to have his students hand-paint a signal box at 11th and Sherman. Anthony thought it would help beautify the city on a larger scale, he said during a Post Falls City Council presentation.
But back then, safety concerns nipped initial excitement in the paintbrush.
"Basically our police department, the school district and a lot of people weren't too keen on having 30 kids out painting the box," Anthony said.
But the inspiration had taken root in Anthony's mind and on a trip to Boise, he took an arts tour. On the tour he discovered Boise had a vinyl-wrap program for its signal boxes.
"So I go, 'Aha! I can steal this idea,'" Anthony said. "You borrow ideas, I should say. So I borrowed it and brought it up to the Arts Commission in Coeur d'Alene."
The multi-colored epiphany sparked ornamentation of signal boxes across Coeur d'Alene that the community has enjoyed for about a decade.
With the rejuvenation of the downtown area in Post Falls underway, Anthony and Sharnetsky have a project plan using the services of CW Wraps, a Post Falls company.
"If Steve hadn't taken that trip to Boise, we'd probably still be wondering what to do," Sharnetsky said. "The minute he mentioned the vinyl, all the lights went on."
Images can be printed on UV-coated adhesive vinyl which is then wrapped around a surface, like a signal box. This allows for the representation of all kinds of art: paintings and drawings, photography and even sculpture.
Sharnetsky highlighted one of his favorite boxes from his time working on the Coeur d'Alene project.
Students from Woodland Middle School, whose art adorns a box at the corner of Kathleen and Atlas, created a 3-dimensional mixed-media sculpture of a "Griz Bits" vending machine. Made of cardboard and cellophane wrap, the sculpture was hand-painted, detailed and complex, Sharnetsky said.
After photographing the piece, the images were then digitized and transferred onto the vinyl wrap to cover the box. Great care is taken to fold the vinyl corners in tightly, creating a seamless depiction of the artwork, Sharnetsky said.
Signal boxes can be quite large, about 12 by 5 feet. Vinyl wraps allow the inclusion of entire classrooms of work. Sharnetsky didn't relish the task of having to choose only a few of 54 photos submitted by a Coeur d'Alene class, he said. He got to use them all.
"It was really creative. They did a great job," Sharnetsky said. "We want kid art.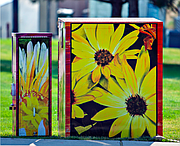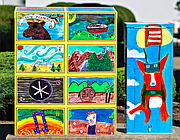 "It doesn't have to be professional as long as it's fun and brings a smile to your face."
Other benefits include the low maintenance and easier repair of vinyl if a wrap gets damaged. The UV coating is also designed to last at least seven years before any evidence of fading, Sharnetsky said.
"We've got boxes out there that have gone for 10 years with no fading," he said.
The entire project cost is $13,800. With no money in the city budget for it, Anthony is hoping to rely on local business sponsors or fundraisers.
"It is a project celebrating civic pride," Anthony said. "The community involvement gives everyone a chance to have their art on display."
In the spirit of community involvement, the Post Falls-based company CW Wraps has offered to handle the project at a discount, with no installation costs for the city.
"I work here. I live here. Why not give back?" said owner Sam Carlino, who was born and raised in Post Falls.
CW Wraps is also responsible for the vehicle wraps done for local police and fire departments and worked with the city of Coeur d'Alene on its signal box beautification project.
"It's an awesome project," Carlino said. "We've never had a negative response from it."
As was done in Coeur d'Alene, organizers hope to be able to offer stipends to participating classrooms to support the purchase of art supplies. Readers interested in contributing funding may contact Shelly Enderud, city administrator, at 208-659-0352.
Recent Headlines
---