Adrienne Shadwick, 91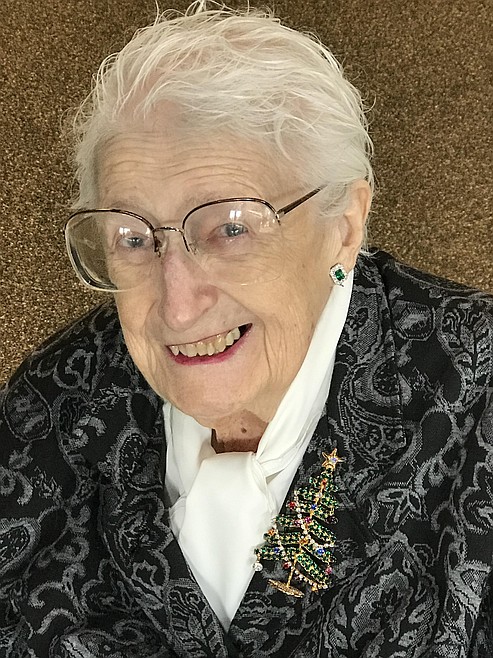 |
October 14, 2021 1:00 AM
Adrienne "Lou" Shadwick, 91, from Athol, Idaho, went home to be with her Lord and Savior on Oct. 8, 2021, in Coeur d'Alene, Idaho. Lou was born to Alfred Gottlieb Linke and Pearl Josephine Marie (Conrad) Linke in Atlantic, Iowa.

As a child, her family moved from Iowa to Southern California for her elementary, high school, and junior college years. It was at junior college that she met her precious husband-to-be, Lloyd C. Shadwick. (They were on a decorating committee and although they did not like each other very much in the beginning, she soon fell in love with him, and they were married 49 ½ years.)
Adrienne loved to read and to learn, but she also grew to love fishing and the outdoors during her years with Lloyd. She had a wonderful sense of humor, and after her son, Scott, was born, she made the life-changing decision to ask Jesus Christ to be her Lord and Savior. She and Lloyd began to attend Faith Bible Church in San Bernardino, Calif., and soon she began to share what she was learning about the Bible and God's forgiveness of sin.

She taught a family Bible study, Sunday School, Women's Bible Studies, Youth Group, and Awana. Adrienne began teaching 5th & 6th grade at Faith Bible Christian School and then taught 5th grade, junior high and high school at Hesperia Christian School in California. She excelled at teaching English and math, but her favorite subject was always teaching God's Word and showing others how they too could know their sins were forgiven. Her Bible is underlined and noted and well worn, and she taught her last Ladies' bible study two days before she passed from this life into eternity — She was looking forward to seeing Jesus and her precious Lloyd and son again.
Ephesians 2:8-9 "For by grace you have been saved through faith, and that not of yourselves; it is the gift of God, not of works, lest anyone should boast."
John 5:24 "Truly, truly, I say to you, whoever hears my word and believes him who sent me has eternal life. He does not come into judgment, but has passed from death to life."
Adrienne was preceded in death by her husband, Lloyd Shadwick and son, Scott Shadwick, her parents, Alfred and Marie Linke, and her sister, Mickey Way. She is survived by her daughter, Jodee Shadwick Stratton; sister, Lvonne Hubbs; niece Heidi Hubbs; brother-in-law, Jim Way and niece, Terri Way Wright.
A memorial service will be held at 10 a.m. on Wednesday, Oct. 20, 2021, at Candlelight Christian Fellowship, 5725 N. Pioneer Drive, Coeur d'Alene, Idaho 83815.
Yates Funeral Home has been entrusted with final arrangements. Please visit Lou's online memorial and sign her guestbook at www.yatesfuneralhomes.com
Recent Headlines
---