It's the Great Pumpkin giveaway
|
October 13, 2021 1:00 AM
COEUR d'ALENE – The city of Coeur d'Alene is giving away pumpkins on Friday.
Beginning at 9 a.m. from the lower parking lot on the McEuen Park side of the building, there will be a drive-through for pumpkin pickup. Participants will remain in their vehicles and wastewater and library staff will hand out the pumpkins. Bagged decorating supplies will also be available.
Patrons are also invited to use these pumpkins, or their own, for a pumpkin decorating contest. To enter the contest, participants are asked to submit a photo — one entry per person — of their decorated pumpkins to bit.ly/3FMQdGO by Oct. 22. Participants are welcome to use their own pumpkins and, unlike previous years, the pumpkins can be carved.
All entries will be displayed on the library Facebook page where the public can vote on the entries until Oct. 31.
Entries will be voted on in youth, teen, and adult categories.
Prizes are up to $50 gift cards from local businesses.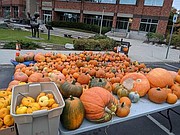 Recent Headlines
---