Leaders intent on building workforce muscle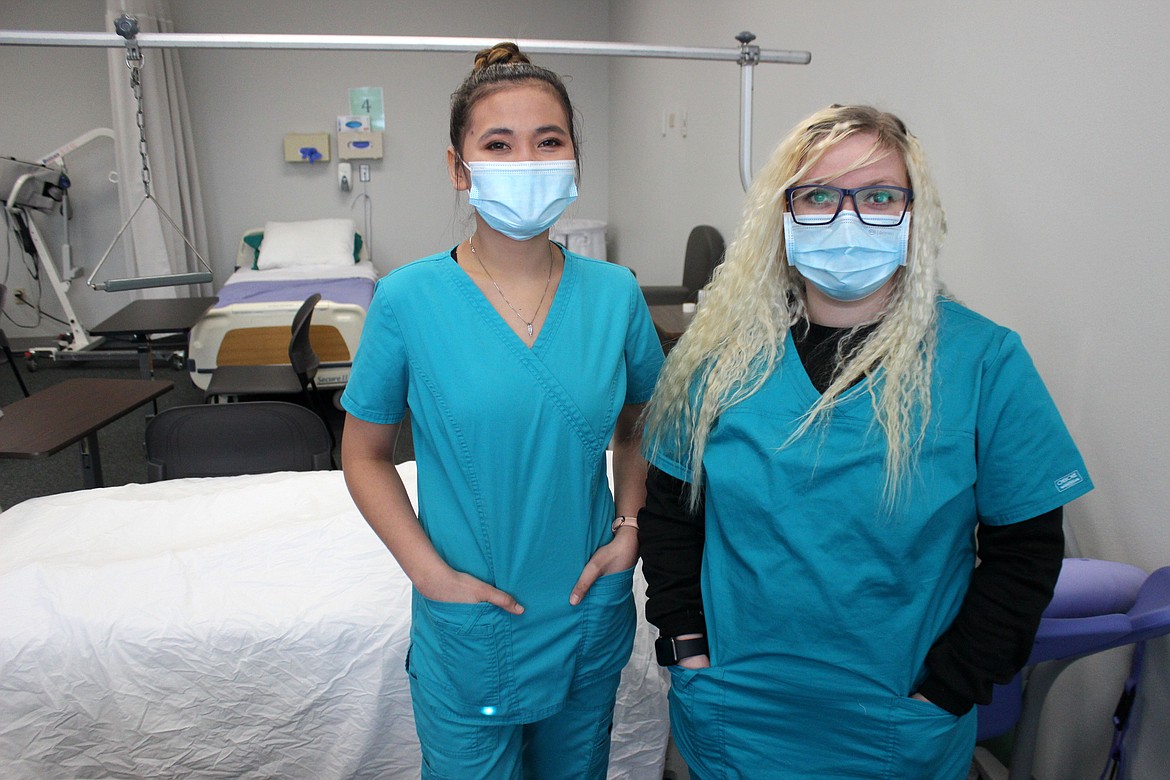 Mariane Bustarde (left) and Christal Champagne-Cave are pictured in one of the classrooms at the North Idaho College Workforce Training Center. They both work at Life Care Center of Post Falls and are in the Registered CNA Apprenticeship program.
Photo courtesy of NORTH IDAHO COLLEGE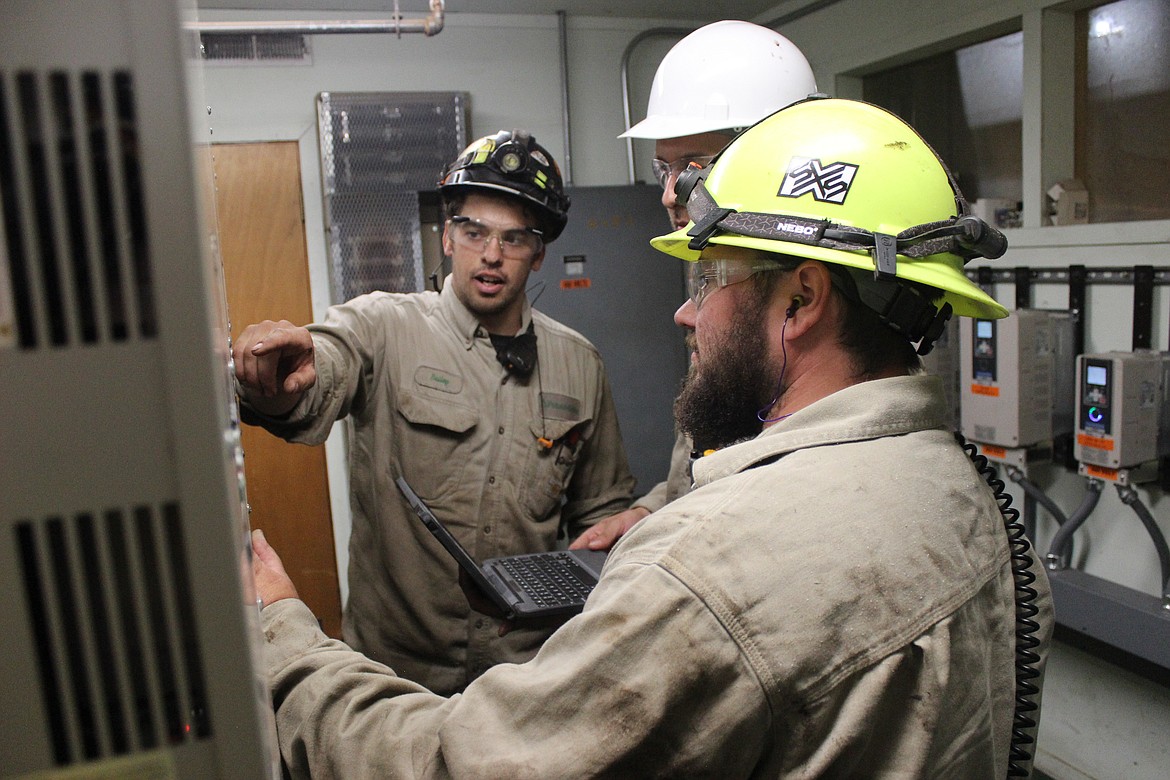 Bailey Brown (far left), 26, from Coeur d'Alene, doing his job at the PotlatchDeltic mill in St. Maries. Brown just finished the NIC Workforce Training Center apprenticeship program, earning his journeyman's license in the process. He's pictured with Harrison Escobar (middle), 32, from Nampa, and Danny Hilde, 32, from St. Maries, who are currently enrolled in the program.
Previous
Next
by
MADISON HARDY
Staff Writer
|
October 13, 2021 1:08 AM
A strong economy starts in the classroom, but it sure doesn't end there.
During "The Age of Agility" Governor's Summit on The Future of Work, leaders from business, education and policy described what they see on the horizon for Idaho workers and employers. 
The Idaho Department of Labor reported the state unemployment rate had held steadily below 3% for the second consecutive month. But putting that number in context, Gov. Brad Little said the number of eligible Idahoans participating in the workforce is only 62.5% — a stark drop below the state's all-time high of 71.4% in 1998. 
"Just imagine what our economy would look like if we were back around 70%," Little said during the conference Tuesday. "We know that Idaho employers desperately need skilled employees across the state in health care, cybersecurity, the trades, manufacturing, transportation, and construction, just to name a few." 
To promote the longevity of Idaho workers, Little said it's vital that students learn skills like trustworthiness, effective communication and problem-solving. The governor's platform has consistently advocated for academic initiatives. On Tuesday, it was no different.
"Our most economically and socially challenged students are in the achievement gap, and the pandemic has exacerbated that gap," Little said. "We want to move them from becoming recipients of government spending to becoming economic contributors and a part of our much-needed workforce." 
Through a series of roundtable discussions with state business leaders, Little said Tuesday a "common hymn" was the need to strengthen the pipeline of young Idahoans entering career fields. 
"Whether it's an apprenticeship, career technical programming in high school, a community college or university, that's what we need to replicate to have a pipeline," Little said. 
North Idaho College Workforce Training and Community Education Director Vicki Isakson said the institution offers multiple apprenticeships and hands-on training. Youth apprenticeships provide students the opportunity to "earn while they learn," Isakson said, and help keep the cost of higher education manageable. NIC has apprenticeship programs for certified nursing assistants, HVAC, electrical, and plumbing certifications. 
"Apprenticeships bring awareness to students, so they have a chance to see what they like or don't like and provide direction for something they want to do for the rest of their life," Isakson said. 
Participating in an apprenticeship, training, or internship gives individuals "an edge up" on others who don't begin working at a young age, she said. 
"(A lot of youth) are not taking on those after-school jobs that teach them soft skills like communication, teamwork, and build that work ethic every employer wants," Isakson said. "The younger they learn those skills, the better off they are competing in an occupation or industry and probably will reach a leadership or supervisory position at a much faster pace." 
To strengthen that pipeline further, local leaders are joining the U.S. Chamber of Commerce Talent Pipeline Management initiative. 
"Construction, manufacturing, the health industry, pretty much everyone is short on available workers," Coeur d'Alene Economic Development Council Director Gynii Gilliam said. "The (TPM) program uses a supply chain model related to talent where the businesses are the end-users, and all the service providers are engaged in helping create that talent." 
In meeting with employers, Gilliam said they could see "how we can help them with their talent needs," what essential skills they're looking for, and what abilities employees should have before applying. CDAEDC, North Idaho College and several other local industry leaders are participating in the TPM initiative. 
"Things are changing so fast," Little said. "If people don't have the skills to retain and continue adding on to their skills, they are going to fall behind. That's whether you're a student and then a potential employee, an educator, or the employer." 
Another critical influence Little pointed out is that students need to be passionate about their careers. 
"My goal is to have our kids stay here, and we want them to be here because they have a passion," Little said. 
NIC Assistant Director of Career Services Gail Laferriere has worked in her field for nearly three decades. She said, "having a passion" for your chosen career is paramount to success later in life. 
"The entrepreneurial spirit and innovation are carrying our workforce," Laferriere said. "It's wonderful to see how successful people are when they have their foundation down and how they can make their mark on the world with passion and purpose in a way that is practical and possible."
Laferriere said she encourages every student to participate in job shadowing, practice interviews, or internships. NIC hosts free biweekly workshops that center on career assessment, counseling and developing unique action plans for the community. 
Moving forward, Little said two initiatives to benefit Idahoans in the workforce are remedies to the housing crisis and increasing funding for day care facilities.
A half-hour broadcast with highlights from the "Age of Agility" summit will be available on Nov. 1.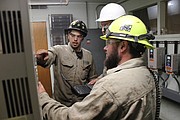 Recent Headlines
---