IDAHO SKYLIGHTS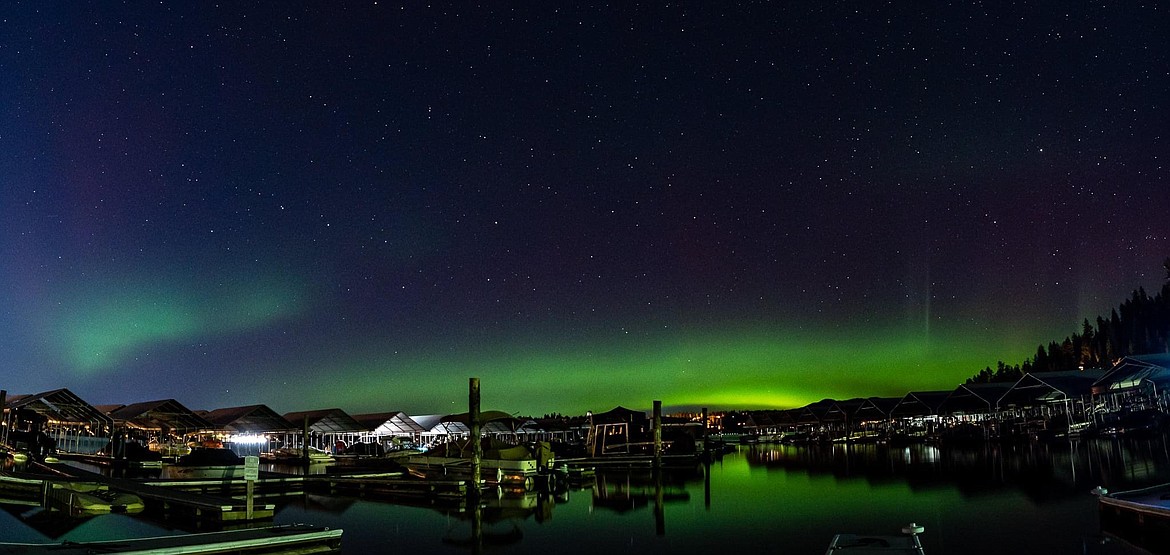 Panhandle residents looked to the sky Monday night to see the Northern Lights in full view. Here, the lights glow above Hayden Lake. Photo courtesy Pat Sloan.
by
MADISON HARDY
Staff Writer
|
October 13, 2021 1:09 AM
Shimmering shades of green will be brushed across the night sky this week as the Northern Lights shine on North Idaho. 
Images of one of Earth's natural wonders flooded social media accounts Tuesday after Panhandle residents caught breathtaking glimpses Monday. 
Scientifically known as Aurora Borealis, the Northern Lights are brightest from September through April, when days are short and nights are darkest. 
Luckily for Pat Sloan, the Northern Lights were shining bright Monday night from his vantage point on Hayden Lake. 
"Seeing Aurora this far south is quite rare," Sloan told The Press. "So it's always a special night when you get to see them with your eyes." 
According to the National Oceanic and Atmospheric Administration, the glimmering hues stem from the sun's activity, like solar flares that affect conditions in space. 
While the spectacle may induce tranquility and awe for viewers, a much different situation occurs in space. Aurora visibility is dependent on mainly two factors, according to NOAA experts:
• geomagnetic activity, or "space weather" - the degree to which Earth's magnetic field is being disturbed at that time 
• geographic location
Space weather, particularly the kind that leads to aurora lights, results from solar flares and electrons colliding with Earth's upper atmosphere. As the electron releases that energy into orbit, it radiates light into the atmosphere, chemically reacting with elements to create a colorful hue.
When geomagnetic activity is low, the NOAA website explains, it's typically more challenging to see the Northern Lights in North Idaho. But as geomagnetic activity increases — like Monday night — the aurora expands to lower latitudes "in the direction of the equator."
NOAA said other factors like weather, light pollution and a full moon could also affect visibility.
Monday wasn't the first time Sloan, a photographer, has seen the Northern Lights. In 2015, he was driving north of the U.S.-Canadian border toward Cranbrook in British Columbia when "the whole sky" was filled with aurora. Still, Sloan couldn't pass up the chance to experience the display Monday evening.   
"We saw the aurora as soon as we jumped out of the car last night," he said Tuesday. "It was cool." 
According to Forbes magazine, Idaho's geography and lack of light pollution — featuring the nation's first International Dark Sky Reserve area — gives Panhandle residents a better advantage of seeing the aurora's magnificence. 
A live 30-minute forecast of aurora activity is available here. 
Recent Headlines
---