'Muppets Haunted Mansion' mixes nostalgia with kid-friendly fun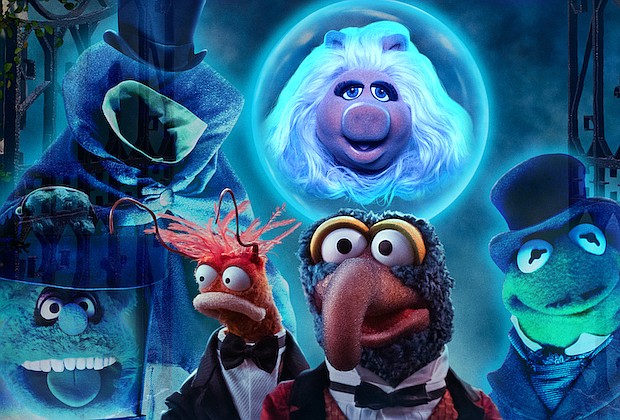 Photo courtesy of Disney+
by
TYLER WILSON/Coeur Voice contributor
|
October 13, 2021 1:00 AM
As both a parent and film reviewer, I've made it one of my life goals to make sure my kids appreciate "The Muppets."
It's a challenging endeavor in the current children's market, as talking puppets who spout old fashioned jokes and hobnob with random celebrities don't seem relevant to them compared to video games, TikTok and YouTube stars. The old "Muppet" movies are great, as was the show, but times have changed. Even the Muppet movie with Amy Adams from 2011 and its sequel leaned more into nostalgic button-pushing for existing fans rather than trying to appeal to new audiences.
To be fair, Disney has struggled to find a consistent outlet for the Muppets ever since they acquired the creative rights to Kermit and crew back in 2004. They tried an "Office-style" mockumentary series on ABC that didn't go anywhere, and the latest series, "Muppets Now" on Disney+, resembled a web series with many different mini-segments that mirrored a YouTube stream.
As a Muppets superfan, all that stuff has been OK-to-solid, but it's also easy to understand why it hasn't caught on like, say, "The Mandalorian" or a Marvel show.
The latest "Muppet" reimagining, however, makes a compelling case for how Disney should use the characters going forward. The 50-minute Halloween special, "Muppets Haunted Mansion," gets in and out without trying to establish a series or some convoluted plan for the franchise. It's just a silly, stand-alone Muppets story, and the various references and celebrity cameos don't distract from the lighthearted, haunted house antics (though my kids loved seeing Will Arnett in the special, because they know him from the "Lego Masters" reality competition show).
I'll admit some bias from the start — the "Muppets Haunted Mansion" special frontlines two personal favorite characters in Gonzo and Pepe the King Prawn, OK? Had Beaker appeared in more than just a small cameo, I might've declared it the best Muppets story ever made.
Anyway, Gonzo and Pepe decide to skip Kermit's annual Halloween party in favor of a challenge to spend the night in a famed Haunted Mansion (yes, the one from Disney parks). Gonzo believes he's fearless and must continue to prove his Greatness, and the various ghosts at the mansion at first seem to be nothing but entertainment to the long-nosed daredevil.
Expect to see all your favorite other Muppets as ghosts, including Miss Piggy as Madame "Pigota" and Fozzie Bear as a dead comedian (in more ways than one).
Kids and parents familiar with the Haunted Mansion ride will especially enjoy all the references and iconic images ("muppified" of course), though those unfamiliar with the ride can still appreciate the gags (what's charming about the ride remains charming here). Aside from Will Arnett as the butler/host, the most prominent human performance is Taraji P. Henson as the famed ghost bride Constance Hatchaway. She's hoping to sink her teeth into Pepe as her next doomed groom. Other brief appearances include a rather strange mix of folks, from the late-great Ed Asner to "Wheel of Fortune" host Pat Sajak.
Expect about 999 spectre-themed puns. Of all the Muppets material I've shown my kids, "Haunted Mansion" held their attention as a stand-alone piece, and Gonzo's arc does come with a nice little message about how some of the biggest fears stem from our own personal insecurities.
It also helps that I made the kids watch the Haunted Mansion episode of Disney Plus' documentary series, "Behind the Attraction" which serves up an entertaining history of the ride, as well as a helpful layout to the experience for those who haven't yet been to Disneyland.
Maybe nobody should be asking for more Disney Empire synergistic content, but I'd be down for the Muppets appearing in other classic rides… a "Jungle Cruise" or "Pirates of the Caribbean" or "Star Tours" with Kermit and friends might be more entertaining than at least some of the big-budget blockbusters we've seen from those franchises already. My kids just want more Swedish Chef, so get on it, Disney.
• • •
Tyler Wilson has been writing about movies and pop culture for Inland Northwest publications since 2000, including a regular column in The Press since 2006. He can be reached at twilson@cdapress.com.
Recent Headlines
---