Unearthing new life for history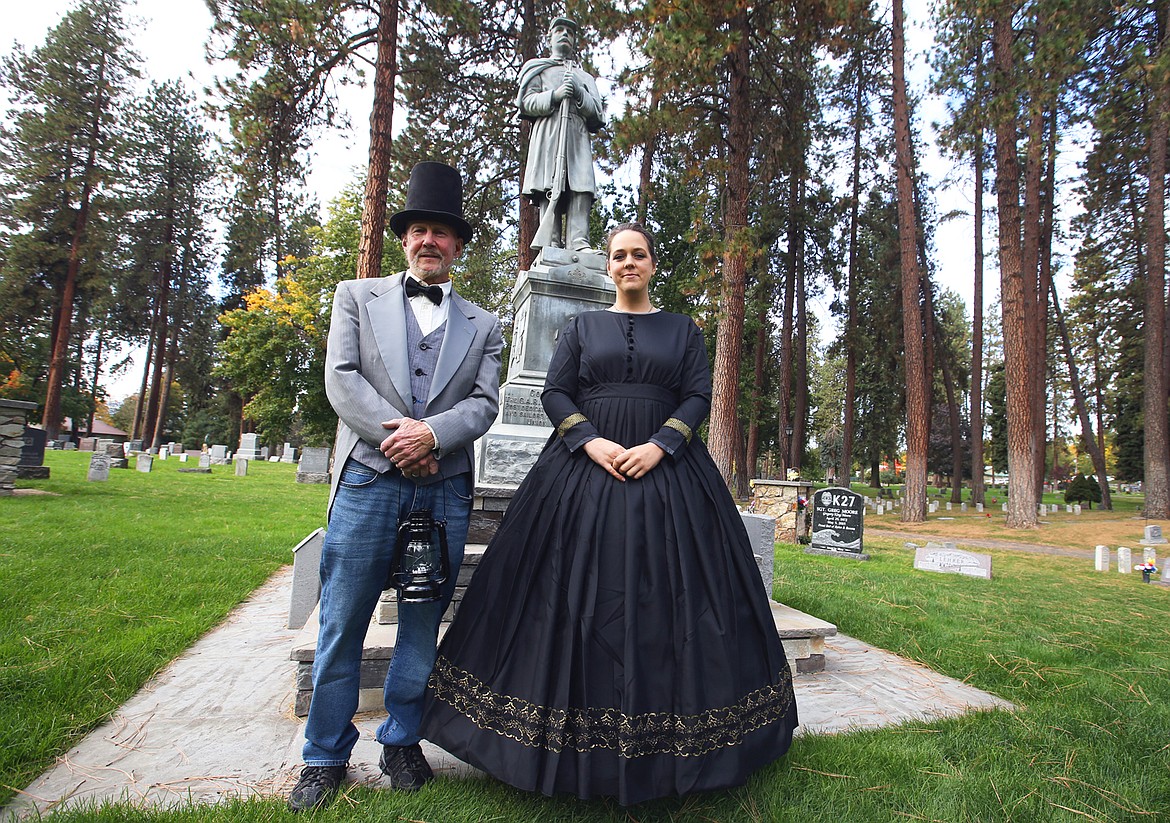 Dave Eubanks and Britt Thurman will lead walking tours of Forest Cemetery later this month.
BILL BULEY/Press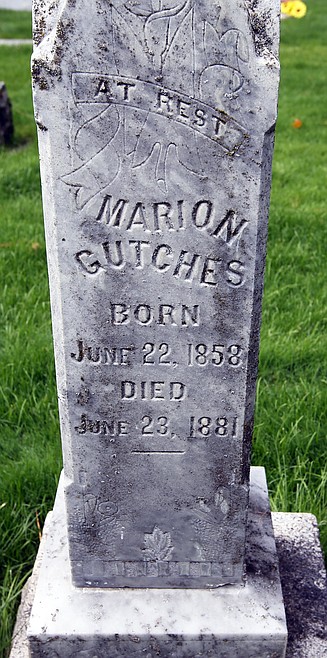 The gravesite for Marion Gutches is the oldest burial in Forest Cemetery. It's in the original Fort Sherman Cemetery, which is referred to as the 'Old Post' section.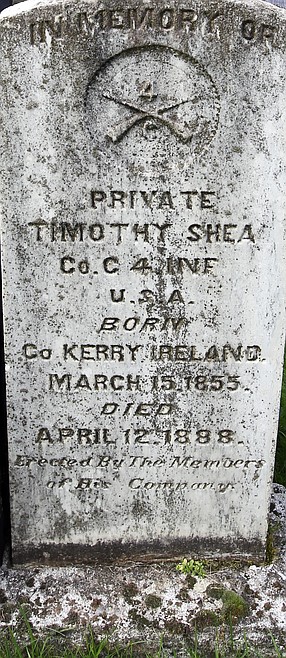 Timothy Shea from Kerry County Ireland served in the U.S. military infantry. He is the only soldier from the Fort Sherman era that was not relocated when the Post moved to Spokane in the 1890s.
Previous
Next
by
BILL BULEY
Staff Writer
|
October 12, 2021 1:08 AM
COEUR d'ALENE — History, for some, is dead.
But it's about to find new life in Coeur d'Alene.
"I think many people don't know anything about the history of Coeur d'Alene," said Dave Eubanks. "They're starting to discover not only history here, but a great and fascinating history here."
Eubanks, a retired teacher, and Museum of North Idaho executive director Britt Thurman will lead six walking tours at Forest Cemetery this month. They offer an opportunity to "learn about the people who are buried in Coeur d'Alene's oldest cemetery."
The first two sold out quickly and a third was added. When demand was equally strong for that one, three more were added. Only 25 tickets are available for each tour.
"I think we're reaching a younger age group than the museum has reached before because it's talking about the history in a context they find to be cool and interesting," Thurman said Friday as she wore a Victorian dress that will be her tour attire.
She said the museum is still sharing information about who has lived here and made their mark on the area, as always, but now is doing it in a way that connects with a younger generation.
Thurman said cemetery walking tours have been done by museums where she previously worked and were well received as a way to increase interest in history.
"I thought they were phenomenal and would be a great fit here in Coeur d'Alene," she said.
Eubanks will wear a vest, top hat, jacket and bow tie that were in style a century ago, and carry a lamp for the dusk tours. He said he's learned much about Coeur d'Alene from local historian Robert Singletary and is proud to be part of the tours, which he said will be done tastefully and respectfully.
"I learned an awful lot from Robert," he said.
Eubanks led some recent local tours around Coeur d'Alene and said the reaction from guests about what they learned was "tremendous."
"I never knew that," was a common expression.
He expects the same impact from the cemetery tours.
There will be nothing "Hollywoodsy" about them – just an hourlong walk to 10 grave sites of people who have storied histories here, but histories not many know about.
The names of Blackwell, Sanders, White and Pulaski will be on the tour. So will a stop at the graves of Marion Gutches, born June 22, 1858, and who died June 23, 1881, and Pvt. Timothy Shea, born Co. Kerry Ireland on March 15, 1855, and who died April 12, 1888.
Gutches is the oldest burial in Forest Cemetery. Shea is the only soldier from the Fort Sherman era not relocated to Spokane in the 1890s.
The 20-acre Forest Cemetery was originally called Fort Sherman Cemetery. It was owned by the U.S. Army at Fort Sherman from 1877 to 1901 before it came under city ownership.
By 1905, many of the graves and the remains of the soldiers were relocated to Fort George Wright in Spokane.
"A proclamation under Theodore Roosevelt in 1905 gave the city of Coeur d'Alene the original 1 acre of the 'Old Post' cemetery and an additional 19.7 acres to form what is now Forest Cemetery," according to the city's walking tour guide.
"Everywhere you look there's history in that cemetery," Eubanks said.
Tickets, $10, remain for these cemetery tours: Saturday, Oct. 23, 6 p.m.; Wednesday, Oct. 27 at 5:30 p.m.; Thursday, Oct. 28 at 5:30 p.m. and Saturday, Oct. 30 at 1:30 p.m.
Tours depart from Forest Cemetery, 1011 Government Way.
Tickets can be purchased in advance at the museum or online, museumni.org.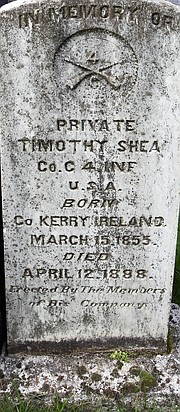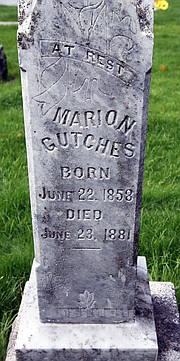 Recent Headlines
---