There's a snowball's chance tonight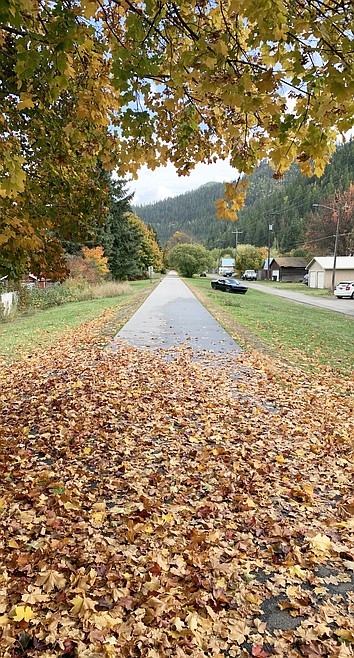 Leaves decorate the Trail of the Coeur d'Alenes in the Silver Valley on Sunday afternoon.
BILL BULEY/Press
|
October 12, 2021 1:07 AM
COEUR d'ALENE — A hard freeze of 26 degrees Monday morning set the stage for winter-like weather this week.
Climatologist Cliff Harris said Monday that a slow-moving front could drop a mix of rain and snow in Coeur d'Alene late tonight and Wednesday. There could be snow above the 3,000-foot level.
Harris said Utah got socked with a foot of snow Sunday. While the storm pushed off south of North Idaho, he said the latest one "will hit us more directly."
Harris said it's possible there could be measurable snowfall in Coeur d'Alene.
"It's a chance," he said. "Not a big chance."
The lows should dip into the 20s again Wednesday, Harris said. He reminds residents to unscrew their hoses.
Monday's low of 26 missed the Oct. 11 record of 20 degrees set in 2009. The coldest day ever in October in Coeur d'Alene was Oct. 12, 2009, when it hit 15 degrees.
Recent Headlines
---