PREP ROUNDUP: St. Maries boys return with thrilling shootout win to open districts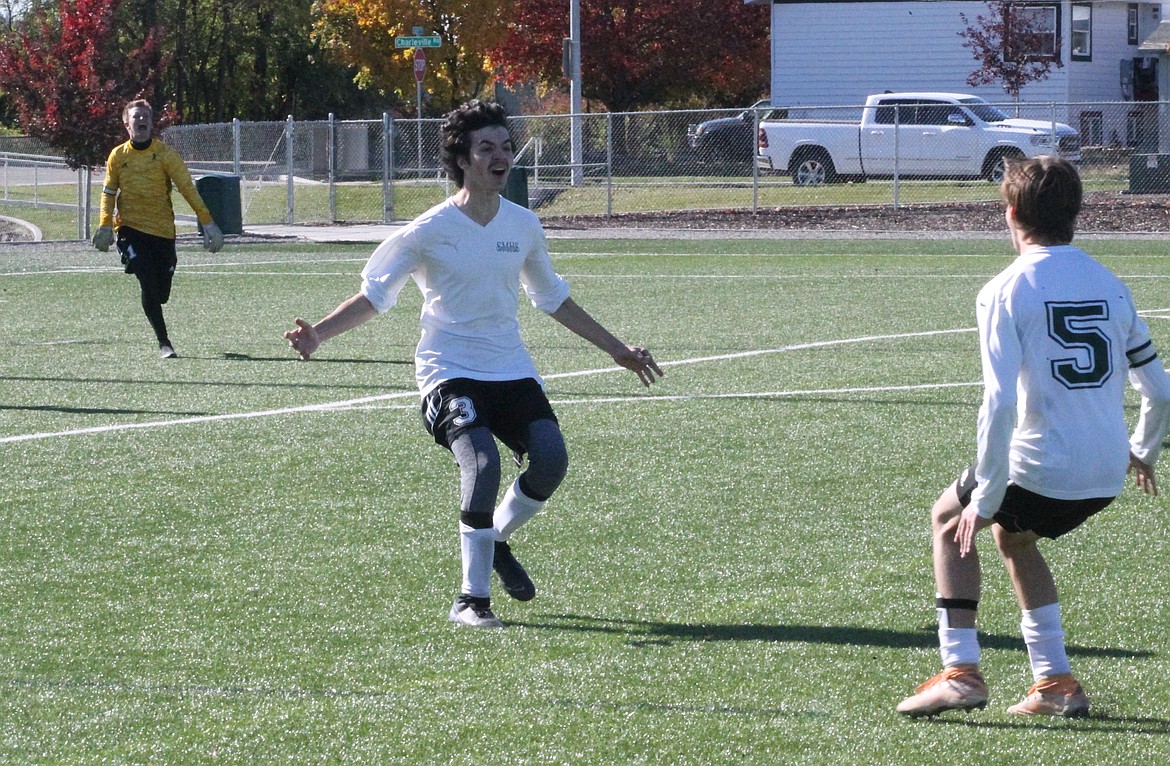 MARK NELKE/Press Silas McGuire (3) of St. Maries celebrates after scoring the game-winning goal in a shootout against Priest River in the first round of the 3A District 1-2 boys soccer tournament on Monday at The Fields at Real Life in Post Falls, as teammate Lance Hamblin (5) waits for him and Lumberjacks keeper Greyson Sands, left, races in to join the celebration.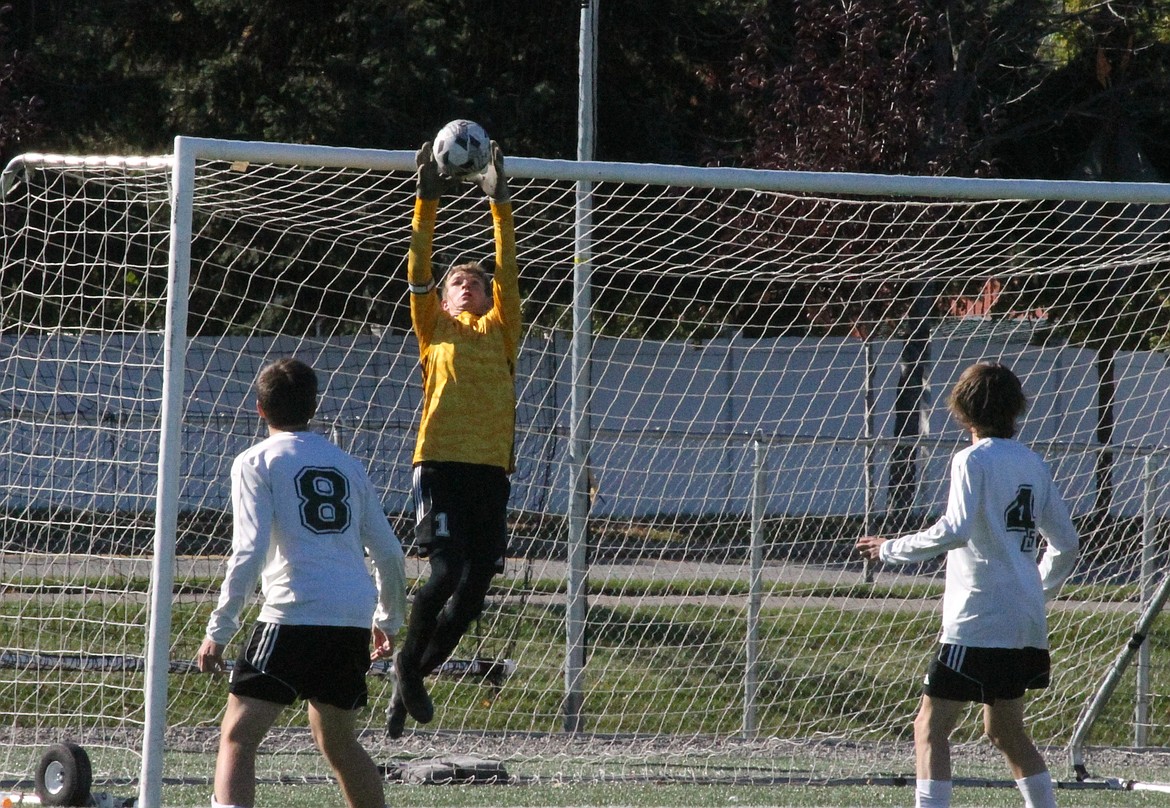 MARK NELKE/Press St. Maries goalkeeper Greyson Sands soars to make one of his 19 saves against Priest River in the first round of the 3A District 1-2 boys soccer tournament Monday at The Fields at Real Life in Post Falls, as Lumberjack teammates Remy Ballew (8) and Connor Wolfe (4) look on.
Previous
Next
|
October 12, 2021 1:15 AM
By MARK NELKE
Sports editor
BOYS SOCCER
POST FALLS — It was almost a storybook ending.
But it was still some pretty good reading on Monday as the St. Maries boys soccer team, sidelined (along with the rest of the Lumberjack programs) for nearly three weeks due to COVID-19 issues in the school, beat Priest River in the seventh round of a shootout in the first round of the 3A District 1-2 soccer tournament at The Fields at Real Life Ministries.
"We needed that game; it was a big game. We haven't gone to state ever, we just wanted that one bad," said St. Maries junior goalkeeper Greyson Sands, who had 19 saves. "We've been out for (more than) two weeks; we fought hard today."
It's the second straight year the Lumberjacks have missed a chunk of their season due to COVID-19.
"It's happened the last two years, but we just fight hard," Sands said. "That's what St. Maries is; we're never going to be out of a game."
Junior Silas McGuire chipped a PK over top of the keeper and just underneath the crossbar to send No. 5 seed St. Maries (4-10-0) into a semifinal Friday at 4 p.m. vs. top-seeded Coeur d'Alene Charter (11-2-2) at The Fields.
Priest River, the No. 4 seed, finished 7-8-0.
"It's a unique little community, that's for sure," St. Maries coach Chris Renaldo said. "I think they do well for a 2A school in a 3A division."
Last year, St. Maries got a late start due to COVID, and played just three matches prior to districts. This year, the Lumberjacks played eight matches before COVID (mostly with teachers) shut down sports for a time.
St. Maries' last match prior to Monday was Sept. 18, a 5-0 loss to Bonners Ferry. The Lumberjacks either canceled or had to forfeit its final five matches before districts.
"Last year was a little more difficult, because last year a lot of the kids had COVID," Renaldo said.
"We weren't supposed to practice, but me and (teammate) Lance Hamblin went to the field every day, played every day," Sands said. "We tried to get as many kids as we could down there, because it was a city park, and we could play whenever we wanted to. Just tried to stay in shape."
Which they needed to, because the Lumberjacks had just one sub on a sunny, breezy, 48-degree Monday. Sophomore Grant Compton scored both goals for St. Maries, and his second one, in the 64th minute — one minute after Priest River scored on a penalty kick — concluded the scoring in regulation.
After two scoreless 10-minute overtime periods, the teams went to a shootout — something not used during the regular season. Renaldo said the Lumberjacks usually work on PKs at the last practice before districts. But Sands missed last weekend's two practices because he was in Nebraska visiting family and watching the Nebraska-Michigan football game, so St. Maries didn't practice them this year.
Priest River went first, and made its first four PKs. St. Maries missed on its fourth, but the Spartans missed a chance to win it on the fifth PK, and Cade Martin scored for the Lumberjacks to move the shootout into sudden death.
Sands dove to his right to save a try by Priest River keeper Luke Butler, then had a chance to win it on his own PK, but it was stopped by Butler. After the next Spartan missed wide right, McGuire lofted in the game-winner.
"Grey had a good match, obviously," Renaldo said.
"That's probably the best game we've played all year," said Sands, who made several dazzling saves look routine. "I've been busy all year; that's just kind of how we've been playing. I just wanted to give us a chance to move on."
First half — 1, SM, Grant Compton (Corbin Scheer), 9:00. 2, PR, Bradley Gleason, 14:00. Second half — 3, PR, Shane Gamber (penalty kick), 63:00. 4, SM, Compton (Lance Hambliln), 64:00. Shootout — SM, Compton, Connor Wolfe, Hamblin, Cade Martin , Silas McGuire. PR, Erik Deem, Gleason, Bowen Fegert, Gamber.
Shots on goal — SM 11, PR 23.
Saves — SM, Greyson Sands 19; PR, Luke Butler 6.
Timberlake 4

Grangeville 0
POST FALLS — Senior Jacob Simpson scored two goals and assisted on one as the second-seeded Tigers blanked the No. 7 Bulldogs in the first round of the 3A District 1-2 tournament at The Fields at Real Life.
Timberlake (11-3-3) will play third-seeded Bonners Ferry (11-2-4) on Friday at 6 p.m. at The Fields in a semifinal game, with the winner qualifying for state.
Bonners Ferry defeated sixth-seeded Orofino (1-11-0) 4-1. Grangeville finished 0-13-1.
First half — 1, TL, Jacob Simpson (unassisted), 30:00. 2, TL, Nolan Marosi (Tristyn Frank), 36:00. Second half — 3, TL, Brendan Barry (Simpson), 48:00. 4, TL, Simpson (Gavin Mooney), 60:00.
Shots on goal — Not available.
Saves — Grange, N/A. TL, Nate Anderson 2.
• GIRLS
Bonners Ferry 4
St. Maries 1
POST FALLS — The third-seeded Badgers ended the season of the sixth-seeded Lumberjacks in the first round of the 3A District 1-2 tournament at The Fields at Real Life.
Bonners Ferry (9-6-0) will play No. 2 seed Timberlake (9-4) on Friday at 6 p.m. in a semifinal game at The Fields.
The winner qualifies for state.
Allie Dundas tallied her second goal of the season on a penalty kick for St. Maries, which finishes 0-10-1.
"Bonnie Rottini had an amazing game on defense," St. Maries coach Amber Morris said. "Hope Asgard and Lynee' Law played a great game as our forwards. Beth Anderson pushed herself as a midfielder and made sure she was in the right position during the entire game. These five girls worked so hard for me all through their soccer high school career. I am so happy to have gotten the opportunity to coach them, I was sad that our season is over and I will miss them very much."
In the other first round girls game, No. 5 Priest River defeated No. 4 Grangeville 2-1. Priest River (4-12-1) will play top seed and five-time defending state champion Coeur d'Alene Charter Academy (141-0) on Friday at 4 p.m. in the other semifinal game.
Grangeville finished 5-6-0.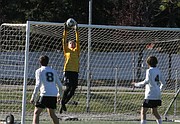 Recent Headlines
---