Book unwraps North Idaho's 'wicked' past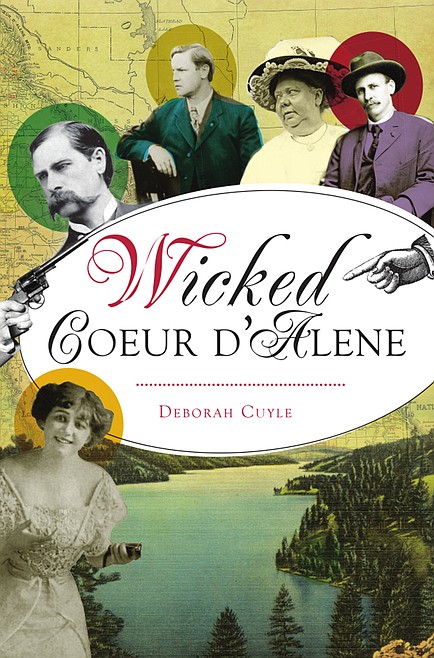 by
KAYE THORNBRUGH
Staff Writer
|
October 11, 2021 1:07 AM
In the late 1800s, Coeur d'Alene was considered one of the roughest towns between Portland, Ore., and St. Paul, Minn.
From houses of ill repute to a graveyard full of murder victims near Tubbs Hill, writer Deborah Cuyle explores the Lake City's sordid past in her new nonfiction book, "Wicked Coeur d'Alene."
Cuyle, an expert in Pacific Northwest history and author of several books on the subject, said her most recent title was the most challenging to research and write.
That's because so much dirt was swept under the rug in the city's early days.
"They were really trying to get people to move to Coeur d'Alene," Cuyle said. "They didn't want everybody to know about all the murders."
She nonetheless uncovered many true stories of murder and mayhem, including accounts of a notorious entrepreneur known as Fatty Carroll.
Carroll resided in a home overlooking the Spokane River — and locals said those who visited him there never made it out alive.
He reportedly disposed of the bodies of his victims by dumping them through a trap door into the river or burying them in shallow graves.
Cuyle found a story about Carroll that ran in The Coeur d'Alene Press on Nov. 23, 1897.
It reads, in part, "Jim Metzger, known as Fatty Carroll, Coeur d'Alene's bad man, has a graveyard of his own near town."
Skeletons were found in the early 1900s near Tubbs Hill, buried beneath the lumberyard, according to stories published in The Coeur d'Alene Press at the time.
Human bones rumored to belong to Carroll's victims were also found beneath Sherman Avenue.
"He was a bad man," Cuyle said. "He was a horrible person and a part of Coeur d'Alene's history."
Carroll is just one of the colorful, real-life characters Cuyle documents in her new book.
Others include "Two-Gun" Hart — a sharpshooter, lawman and Al Capone's less-famous brother — and Molly b'Damn, a sex worker and madam whose funeral in Murray drew more than a thousand mourners.
Cuyle, a former Wallace resident, didn't have a background in history before she penned her first nonfiction book.
"I actually flunked history four times," she said with a laugh.
But she did have a passion for the subject and a nose for research.
Her first nonfiction book emerged from her love of Cannon Beach, Ore.
"At the time, there wasn't a really good book with photos about the history," she said.
She pitched the book to a publisher. It was the beginning of her writing career.
"It starts with the history of the town and the buildings," said Cuyle, who has also penned books about Snohomish, Wash., Spokane and the Silver Valley. "Then I research the pioneers."
A single chapter can take a month to research, she said, between sifting through newspaper archives and chasing down other sources.
Cuyle recently completed another nonfiction project, "Murder and Mayhem in Spokane," which will be published by The History Press.
She hopes to write a similar book about South Dakota, where she's currently remodeling a house built in 1881 that was destined for the wrecking ball.
For now, Cuyle said she's glad to share some of the salacious stories of the city she loves so dearly.
"Coeur d'Alene is probably one of the most beautiful places I've ever been," she said. "There's just something about it."
Info: www.arcadiapublishing.com
Recent Headlines
---