Pocket parks progress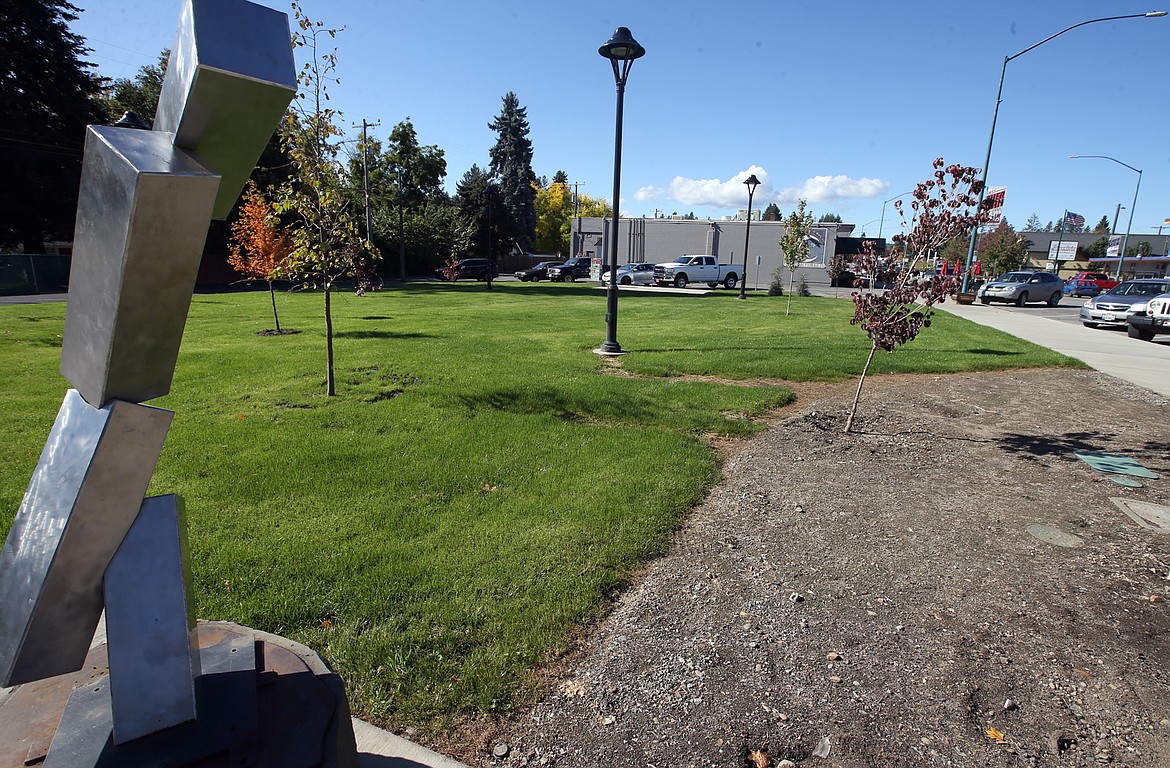 The city's pocket park at the corner of 17th and Sherman is nearly complete.
BILL BULEY/Press
by
BILL BULEY
Staff Writer
|
October 9, 2021 1:00 AM
COEUR d'ALENE — Pick a pair of pocket parks.
Coeur d'Alene did, and the city is almost done.
The former homes of motels on East Sherman Avenue have been turned into open green space, with more amenities coming to one of them.
"It turned out good," said Bill Greenwood, city parks director. "I was pleased with it."
The park at 1620 E. Sherman, about a quarter-acre, is the nicer of the two and includes light posts, trees, art work and manicured green grass. A sign at the site states "Please Stay Off Hydroseed."
Shrubs and stones will be added, as well as a sheltered porta-potty. A stage area with access to power and benches may be installed, as well.
City crews carried out the grating, asphalt work, irrigation and landscaping on a $25,000 budget.
The low-maintenance park on 15th and Sherman, also about a quarter-acre, is pretty much just microclover. Plans are to keep it that way until the city determines a better use for it, or it could be sold and developed.
But in the meantime, the city wants it to look good.
"Better to have it as a manicured piece rather than a weed patch," Greenwood said.
That one cost the city just a few thousand dollars in materials and equipment.
The two properties were once the homes of the Sandman and Star Haven transitional motels. After the city acquired the properties in a land swap a few years ago, city staff started developing plans to demolish the buildings, abate the lots and develop the properties.
With winter around the corner, Greenwood said the final touches to the pocket park on 16th and Sherman will take place next spring.
According to The Parks Alliance, pocket parks have been around for half a century and are rising in popularity.
"What is clear is that over the last 20 years they have become a familiar feature of most cities as populations grow, housing densities increase and the pressure on green spaces intensifies," states the alliance website. "Cities across the world now rely on pocket parks to provide much needed access to green space for their growing urban populations."
Recent Headlines
---