A long walk to recovery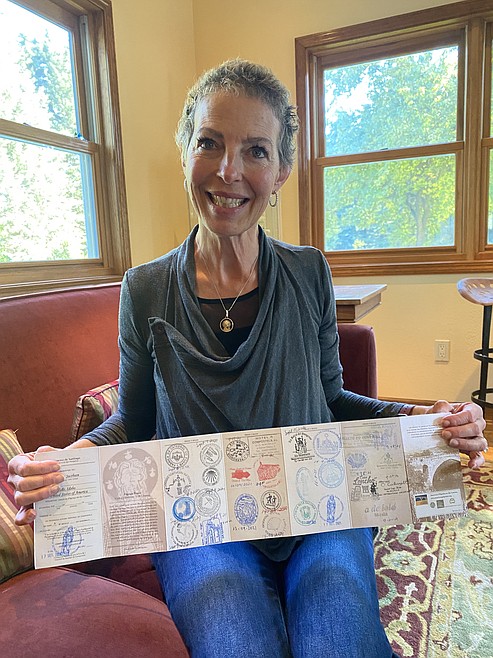 Jacobson holds a booklet credentialed at every stop along the Camino de Santiago. Hotels, eateries, pubs, restaurants, youth hostels - they all provide a stamp as proof of your trek.
ELLI GOLDMAN HILBERT/Press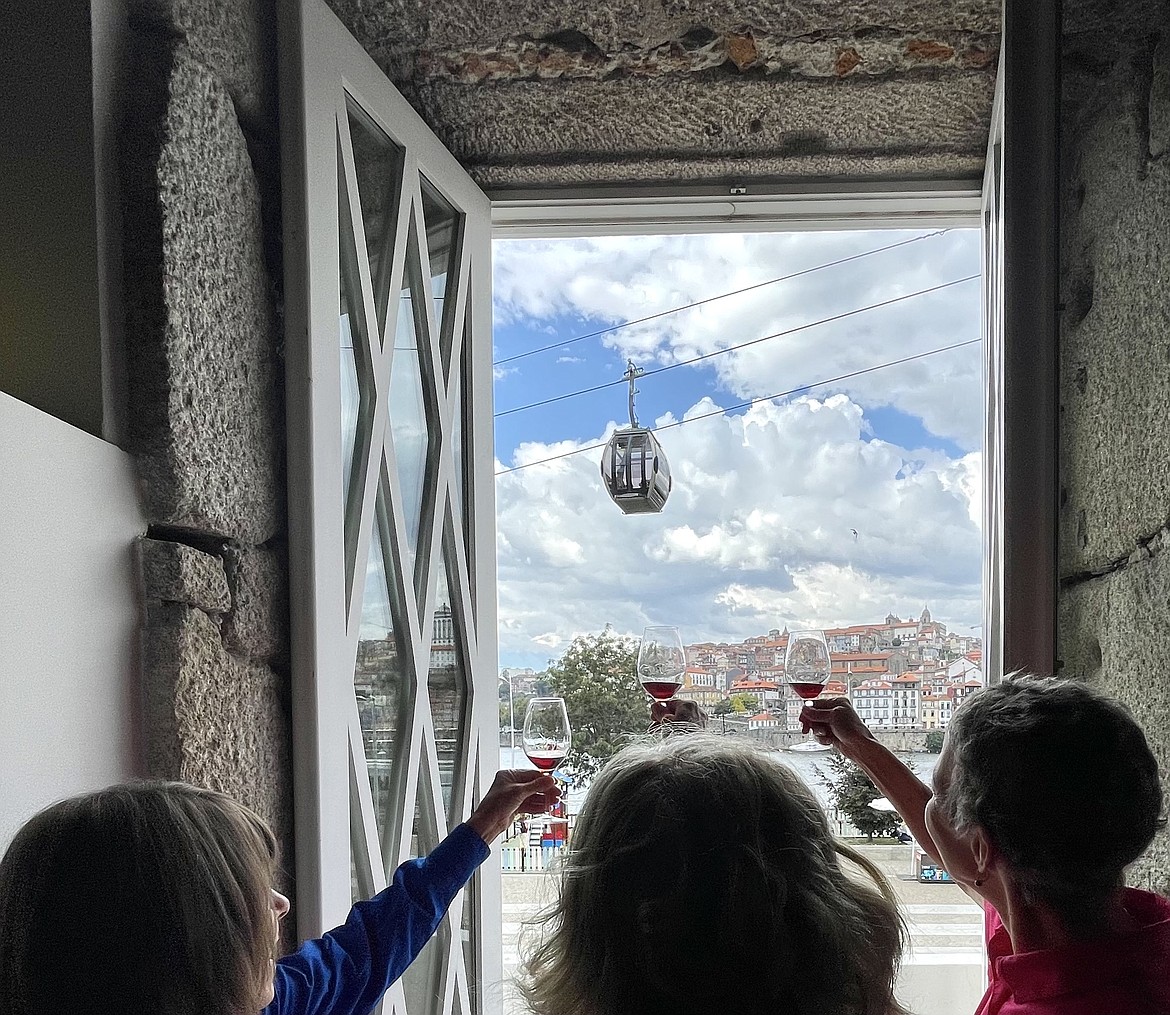 Jacobson and travel companions toast to the view in Porto, Portugal, after a long day of hiking. Courtesy photo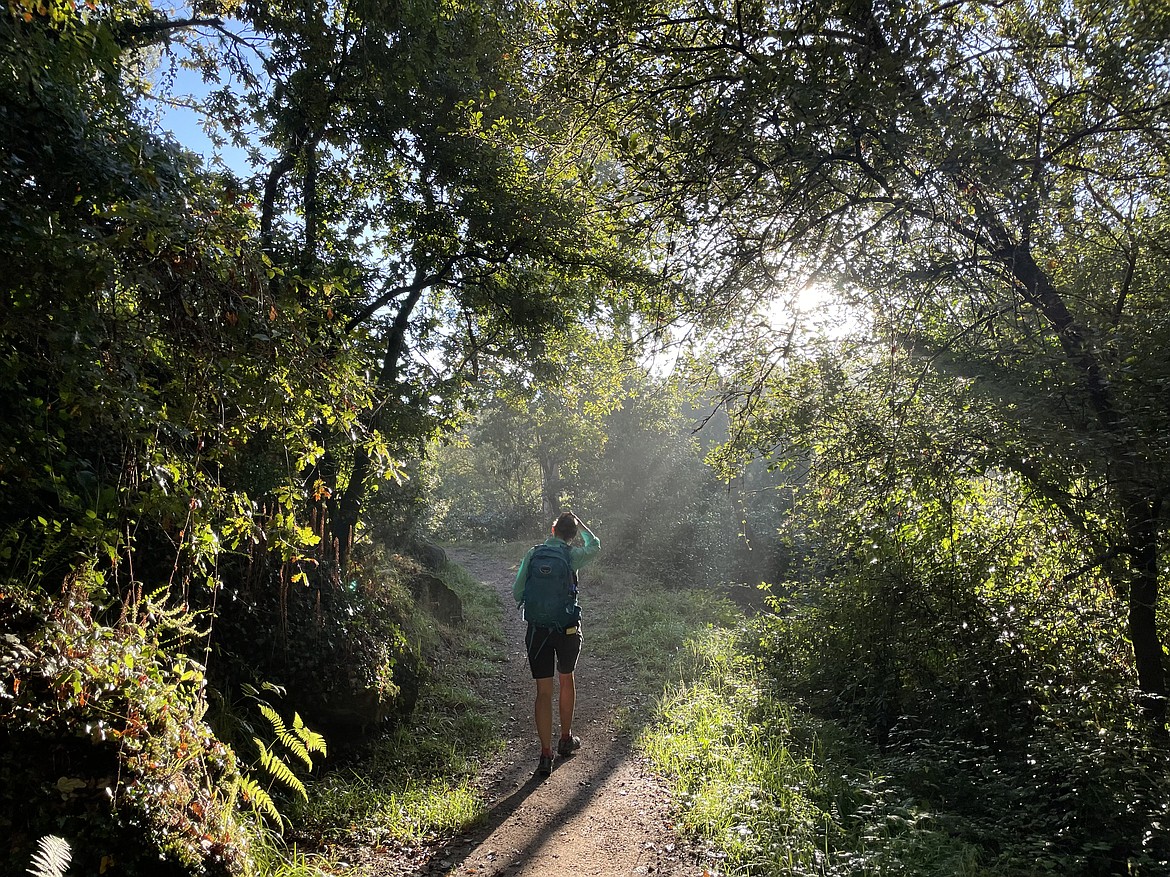 Jacobson on the Camino de Santiago. Courtesy photo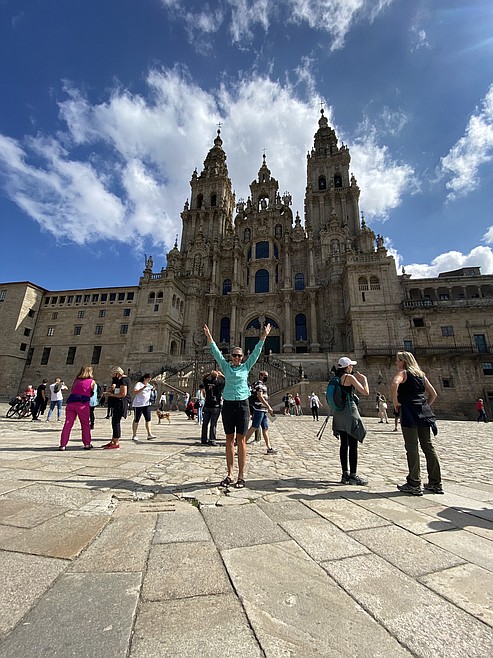 Post Falls resident Susan Jacobson celebrates her arrival in front of the Santiago de Compostela, the possible burial site of St. James. Courtesy photo
Previous
Next
by
ELLI GOLDMAN HILBERT
Staff Writer
|
October 9, 2021 1:08 AM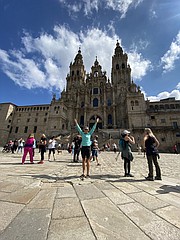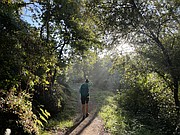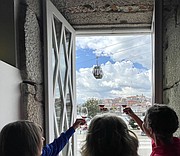 Editor's note: October is Breast Cancer Awareness Month.
POST FALLS — Some call it a pilgrimage, but Susan Jacobson considers it her "prayer walk."
Hiking hundreds of miles along the Camino de Santiago for the fifth time, Jacobson said this week that each person hikes the path for their own reasons.
The rural landscape of Portugal takes one back in time, said Jacobson, whose husband, Ron, is mayor of Post Falls.
"We just don't know that way of life here. It's so peaceful," Jacobson said. "You get on that trail, you get that backpack on your back and ask, 'Oh my gosh what have I done?' Then you get a rhythm down and all of a sudden the world recedes behind you and you just put one foot in front of the other."
The most recent trip took three weeks. Jacobson, who came home Sept. 24, experienced more 20-mile days than on any of her previous trips.
Starting in Lisbon, Jacobson traveled on foot with two close friends. Covering miles of old Roman roads, wooded paths and ancient sites, the trio hiked through rural communities to Santiago and through to Muxia and Fisterra on the coast.
"Susan is the perfect traveling companion," said Tina Johnson, who has accompanied Jacobson on four of her five trips.
In August of 2016, Jacobson abruptly offered Johnson an invite during Mass at St. Thomas the Apostle Catholic Church.
"We didn't really know each other except that we sat near each other at church (for years,)" Johnson said. "That began a beautiful friendship."
Friendship helped carry the trio through magnificent churches, charming villages and monasteries that are sprinkled along the way — as are excellent food and drink. When in Porto, Jacobson said, one naturally must sample the port.
In 2016, after retiring from a career in health care, Jacobson was wondering what to do next. Inspired by a magazine article she'd read years before, the Camino de Santiago trail had never left her mind. She began planning and since then, the journey has been a yearly event, other than last year during COVID lockdowns.
There happened to be another impediment in 2020, too.
Last December, the symbolism behind each step of the walk took on new meaning for Jacobson. Diagnosed with breast cancer, enduring chemotherapy and radiation was a challenge, she said. Nevertheless, Jacobson continued hiking 5 miles each day throughout her recovery.
"I would just try to get that 5 miles in," she said. "If I could do that I knew that I could handle everything else."
Planning this year's trip helped Jacobson remain forward focused during treatment.
"In getting through chemo and radiation, my carrot was knowing that I could do this trail again," Jacobson said.
Jacobson usually travels with two close friends or family members. Her backpack weighs about 6.5 pounds and no travel services are used to plan for food or lodging.
"I just fly by the seat of my pants," she said. "On a wing and a prayer, we called it."
Ample information is available on hiking the trail and Jacobson is a member of several Facebook groups dedicated to the journey.
On her first trek, the backpack weighed 9 pounds, which Jacobson said was too much. Whittling the necessities right down to measured lengths of dental floss, absolutely no superfluous item is carried.
The entire path is marked by yellow arrows. Spray painted on cement posts or building faces, many markers are vague, Jacobson said, but travelers become accustomed to spotting the signs.
There are numerous routes a traveler can take when on the road to Santiago. Some originate in France, Spain, or Italy; Jacobson's chosen route this year was mostly in Portugal.
"You get in that peaceful reverie of just walking, and your mind gets really clear," she said. "Until you experience that clarity, it's a hard thing to wrap your mind around."
Jacobson encourages everyone to travel the Camino de Santiago if the opportunity arises.
"For me, you get a glimpse into the part of your mind that you will never experience unless you step away from this life," Jacobson said. "And you don't get it right away — then the rhythm hits and you can finally see it."
Recent Headlines
---