Kenneth Richard Goings, 85
|
October 9, 2021 1:00 AM
Kenneth Richard "Dick" Goings (1936-2021) who resides in Coeur d'Alene Idaho passed away, at 85 years old, while surrounded by family at 1630 hrs on Oct. 1. Dick and his wife Mary's greatest love is their family. They spent their entire life caring for them and making sure they had everything they needed in life thanks to Cal Fire.
Dick is survived by his wife of 60 years Mary Evelyn (Watt) Goings, Children Pamella Linnane of Newcastle, Calif.; Katherine Faye Hagele of Nevada City, Calif., and William August Goings of Coeur d'Alene, Idaho. seven grandchildren; and nephews Jim and Graden Rogers. He was preceded in death by his son Steven Arthur Goings by parents Hilda Isabell (Drews, Goings) Loflin (D 1998), Father William Kenneth Goings (D 1936) and siblings, retired Navy Captain/school teacher Hilda Carolyn Goings, Joan Marie (Loflin, Watt) Wicksten, Judith Ann (Loflin, Bird, Rogers, ...)
Dick graduated from Paradise Elementary, Chico High School, took pre-forestry at Cal State University at Chico and graduated from the University of California, Berkeley, with a Bachelor of Science degree in Forestry. Dick was a California Registered Professional Forester. He retired from the California Department of Forestry "CAL FIRE" in June 2003 and worked as a Cal Fire Volunteer in Prevention (with Mary) until 2013.
He served in the U.S Airforce during the Korean War period in Germany, France and Libya North Africa as a Military Policeman and Sentry Dog Handler with the 50th Fighter — Bomber Wing. He was assigned to the Air Police K-9 Corps during the last 18 months of his active military duty. He was discharged as a Staff Sergeant and after spending three years in Germany and France within three days after his discharge he was back fighting forest fires in the Butte Ranger Unit (BTU), where he had been employed seasonally since 1952.
He started as a forest firefighter when he was 16 in Stirling City, Butte County. While he worked, he attended Chico State College taking Pre-Forestry. Between his sophomore and junior years in college, he took time off to catch up on his bills by working as a Fire Apparatus Engineer at Jarbo Gap in BTU. During this time he married the love of his life, Mary Watt from Red Bluff. He finally took an educational leave from CDF and Dick and Mary spent two years in Berkeley attending UC and working during the summer on Jackson State Forest. They graduated from UC Berkeley on the GI Bill in 1963.

When they graduated Dick went to work in the old District I Headquarters in Santa Rosa. Dick worked his way up through the ranks as a Forest Fighter Foreman ECC Chief (Graduate Trainee) and Asst. State Forest Ranger in the Lake-Colusa Unit. As the first person with the title of Fire Prevention Officer II, he returned to the Butte RU in Project Butte and was then promoted to the first person with the title of Fire Prevention Officer III in Sacramento in the old District III Office. When the old District III was eliminated, due to budget cuts, Dick moved to Camino as the Forester II (DC) area Forester for Amador, Eldorado and Alpine Counties. He later was appointed to Division Chief Administrative Officer and Operations Officer and then to Deputy Chiefs positions in the Fire Prevention and Law Enforcement Program Manager, Conservation Camp Program Manager and Fire Control Officer positions in old District I before being promoted to Unit Chief. Dick became the first "Unit Chief" in the state (by that title) in Siskiyou Unit. From Siskiyou, he was promoted to the Assistant Region II Chief of Operations in Redding from which position he retired the first time.
Dick came out of retirement to be the Humboldt-Del Norte Unit Chief. As chief of the Humboldt-Del Norte Unit Goings oversaw the Unit which covers approximately 3,000 square miles of unincorporated Humboldt and Del Norte Counties. While he was Unit Chief he also became the Operational Area Fire and Rescue Coordinator for the Office of Emergency Services for Humboldt County.
Dick was also appointed to be the first Humboldt County Fire Warden by the Board of Supervisors. This assignment included the administrative supervision for 14 volunteer fire departments and seven city departments located in Humboldt County.
The Unit Chief assignment also included the resource protection of over two million acres with a permanent and summer-time employee roster of about 250 personnel, including foresters, firefighters, law enforcement personnel, pilots, dispatchers, mechanics and administrative staff. These employees regulated all of the timber harvesting on private and state lands in Humboldt and Del-Norte counties and staffed 14 firefighting stations, which included the work supervision of three 100-person inmate prison camps, two airbases, three lookout stations, a ten-person helicopter, a 1200 gallon Air-tanker and an air attack coordinating aircraft. One of Goings' primary tasks was to manage the Unit's about $50M in facilities, equipment and personnel budget.
Dick, after first going to work as a Forest Firefighter in 1952, finally retired in 2003. However, he then continued to work for the Volunteers in Prevention in Fire Information Centers in northern California as CDF Retired Annuitant (along with wife Mary) and also conducted investigations for Cal Fire for another 10 years until 2013.
After 61 years with CDF, Dick and Mary finally fully retired when they moved to Coeur d' Alene, Idaho, where they have lived since.
He had a genuine passion for life and spent his free time enjoying gardening, fishing, hunting, but mostly spending quality time with his family. He knew the meaning of a handshake and a hard day's work. Dick was an avid hunter and he mostly hunted by himself. He killed a moose when he was 79 at around 6 p.m. and it took him 12 hours to dress it out by himself, and he exhausted 2 Coleman lanterns in the process.
In lieu of flowers, please donate to the Judicial Watch governmental watchdog organization or the Cal Fire Honor Guard.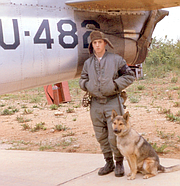 Recent Headlines
---