County manager: A call for consistency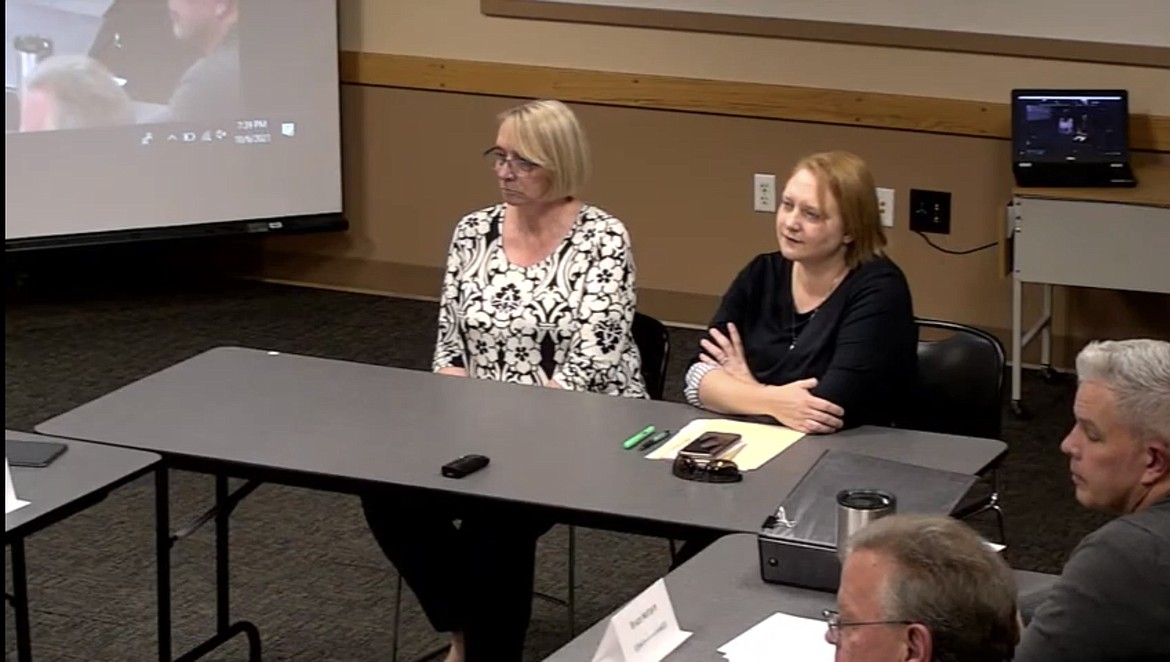 Kootenai County Senior Business Analyst Nanci Plouffe, left, and former communications manager Nancy Jones share their thoughts on entity needs Wednesday night. Photo courtesy Kootenai County.
by
MADISON HARDY
Staff Writer
|
October 9, 2021 1:00 AM
Support for a county manager was on display in the Optional Forms of Government Study Commission meeting this week.  
The OFGSC is evaluating Kootenai County operations so it can recommend if an alternative would better serve constituents. If so, any proposal would go to voters.
Three current and former county employees sat down with the study commission on Wednesday. Two of the three, former county communications manager Nancy Jones and senior business analyst Nanci Plouffe, spent most of their careers working for the commissioners. 
After nearly a decade of county service, Jones said part of her influence to leave was due to its "leadership structure." 
In her opinion, hiring a county manager and increasing the number of commissioners would improve services to the citizenry. Commenting on rumors that she's advocating for the manager form because of her intent to apply, Jones said she is in no way considering a return to the county. 
"I think having the continuity of having a county manager who had the trust, worked on communication, morale and different things over time like strategic planning that we so desperately need would lead to solid staff," Jones said.  
Plouffe and Kootenai County human resources director Sylvia Proud echoed Jones' support for a manager, saying it would provide consistency. 
In Plouffe's three years with the county, she has seen who sits in the commissioner chair change. The same, she noted, has occurred with the other six elected officials — sheriff, prosecuting attorney, assessor, clerk, coroner and treasurer. The turnover strains their efficiency, all three interviewees said. 
"It's difficult because where we work, there is no continuity," Plouffe said. "Our bosses change every two years, and there is no continuity, no strategic planning, and we have to train people every two years." 
Touching on a worry expressed during the public comment hearing last week, Plouffe said the only accountability people have is when they elect officials every two or so years. During those periods, Plouffe noted "how much damage can be done in that time frame." 
"In North Idaho a lot of the officials are elected based on their ideology and not their qualifications," Plouffe said. "They need communications, and they need managerial skills. They need to know what we're doing. Otherwise, we lose staff. It is very difficult to have to go behind and clean up after a bad elected official."
Proud said she doesn't view the county as "broken," but every department needs to consider if they're doing the "right thing the right way" for taxpayers.
"It's just about improving efficiencies, working together and breaking down the silos, and being strategic in how we are delivering services to our citizenry," Proud said. 
Advocacy for a county manager form of government has come from several interviewees, including Kootenai County Sheriff Bob Norris and former commissioner Dick Panabaker.
Much of the support for that form stems from a desire for continuity. Still, study commissioner Kurt Anderson questioned if the role would become "just as much of a revolving door" because of the turnover in commissioners. 
Plouffe said that would be a possibility, but a good manager tends to have a settling effect. 
"I spoke to cities where there is a manager, and they didn't change every time they got a new council because (the manager) was qualified and good at what they did," she said. "They came with this experience that the council began leaning on." 
Before coming to Kootenai County, Proud worked for government agencies in Colorado that used a county manager form. 
"After that individual left, they decided to try without a county manager concept," Proud said. "In the last two and a half years, they brought the county manager back, and it's really about the continuity of operations."
In a sense, the women compared a county manager to the chief deputy positions employed by other elected officials.  
"We think nothing about our other elected officials having chief deputies to run their departments for them," Plouffe said. "Why would the commissioners be any different?" 
All interviewed also believed the person hired as county manager should be a collaborative decision made by all elected officials and department heads. 
Andersen pointed out that many have suggested the commissioners could create a manager's position without changing the form of government. However, OFGSC chair Dave Botting said that if an individual were hired as manager today, it would be comparable to a secretary and wouldn't have the administrative authority permitted in Idaho statutes. 
To Jones, increasing the number of commissioners and adding a manager would improve long-term planning, policy development and institutional knowledge. 
"If it's a five-member board, at least you could divide and conquer to do a little bit more," she said. "At least talk to the legislators about what is being proposed that legislative year. Or what is needed at the county level, or how decisions and laws the past year impacted them." 
Recent Headlines
---