Embracing excellence: Coeur d'Alene rides strong first half to shutout of Lake City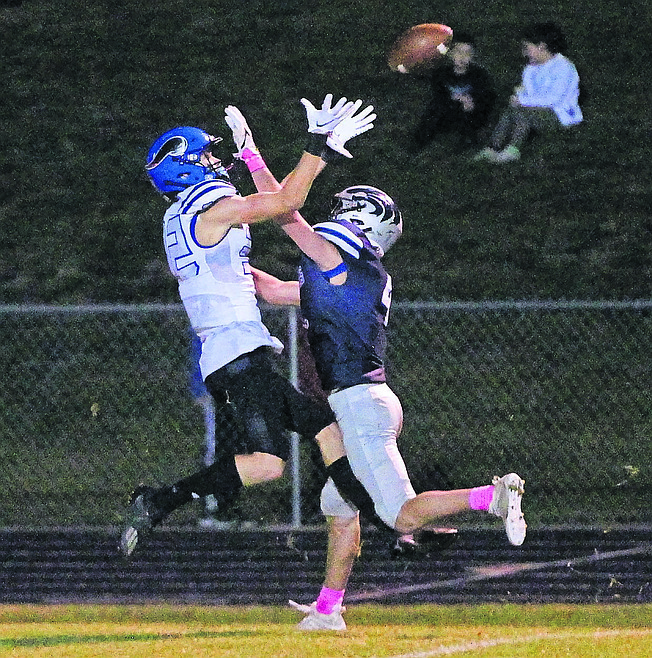 MARK NELKE/Press Sam Entzi of Coeur d'Alene makes a leaping catch for a touchdown against the defense of Eric Bumbaugh (4) of Lake City in the first quarter Friday night at Lake City.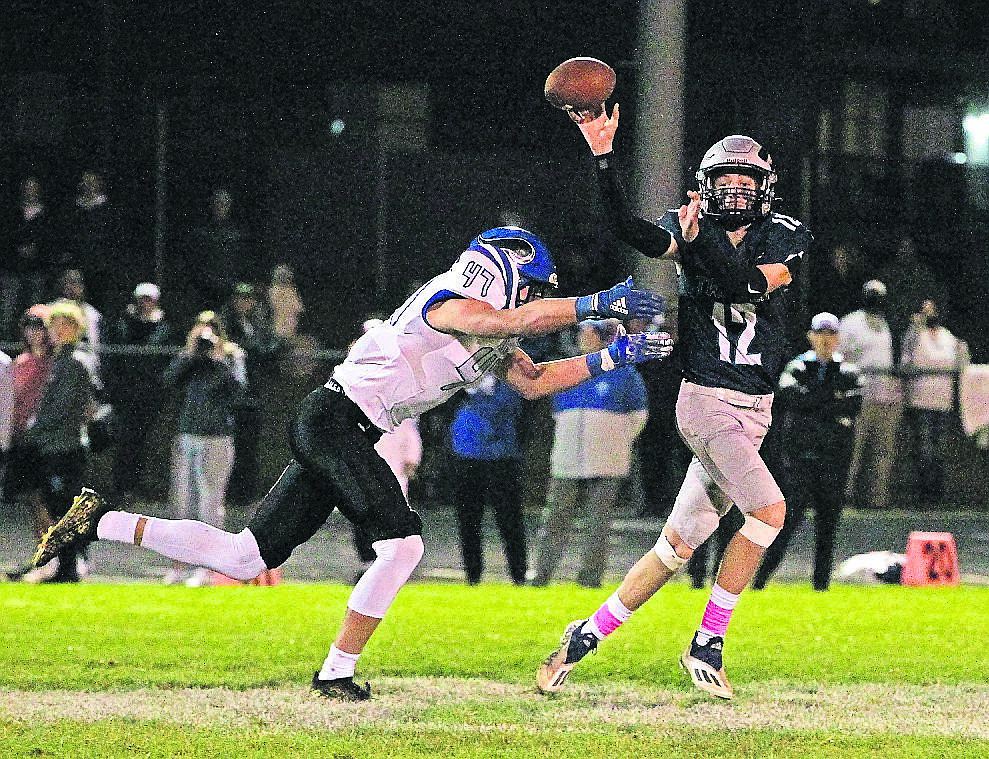 MARK NELKE/Press Camden DeGraw (47) of Coeur d'Alene puts pressure on Lake City quarterback Jackson Pettit in the first half Friday night at Lake City.
Previous
Next
|
October 9, 2021 1:30 AM
By MARK NELKE
Sports editor
COEUR d'ALENE — The coaches for the Coeur d'Alene High football team are an unusually "huggy" bunch.
But the hugs were more plentiful and had a little more "hug" to them Friday night, after the Vikings rode an impressive first half to a 38-0 blanking of the Lake City Timberwolves in the Inland Empire League opener for both teams at Lake City.
From Sam Entzi's leaping catch for the first score to Coeur d'Alene's defensive effort which never let Lake City get untracked, the Vikings were dominant in beating their city rival for the eighth straight time, and 14th time in the past 15 meetings.
"I think we played, especially in the first half, we played a really good football game," Coeur d'Alene coach Shawn Amos said. "That's something to feel good about. Step 1; that first league win is critical; we're one step closer."
Brayden Bengtson passed for three touchdowns and Gunner Giulio ran for two scores for Coeur d'Alene (5-1), which has won five straight games.
Robert Collier broke a 57-yard touchdown run late in the second quarter, and Bengtson directed a nifty two-minute drive that was capped by a 12-yard TD pass to Caleb Short with 31 seconds left in the half for a 32-0 halftime lead.
Amos called that last drive of the half "textbook" and "impressive."
After punting on its first possession, Coeur d'Alene scored on five of six possessions to wrap up the half.
"I was especially pleased with how we played in the first half," Amos said. "In league, you've got to be dialed in and ready to go (with just three league games), because you can't afford any slip-ups."
Coeur d'Alene outgained Lake City 324-71 in the first half, with Bengtson throwing for 186 yards in the first two quarters. For the game, it was 415-166 Vikings in total yardage.
Lake City punted on its first six possessions. Its best chance to make some noise came early in the second quarter, down 13-0, with the ball on Coeur d'Alene's 40 after a personal foul on the Vikings following a punt.
Lake City drove to the Coeur d'Alene 26, but the Vikings pressured Lake City into back-to-back intentional grounding penalties, and the T-Wolves eventually punted on fourth and 35 from their 46.
"We're all disappointed, in that effort and execution the first half," Lake City coach Brian Fulp said. "We're better than that score shows. But they played really well, and we didn't capitalize on mistakes that they made, and they capitalized on mistakes that we made. Hat's off to them; they're good. But we're not that bad."
Coeur d'Alene scored first on fourth and 16 at the LC 31, when Entzi came back at the goal line for a jump ball-type pass from Bengtson.
Bengtson ran it in from 4 yards out on the Vikings' next possession.
In the second quarter, Jake Wuolle took a pass in the right flat and ran it in from 11 yards out, helped when two T-Wolves collided trying to tackle him near the 5.
Lake City took the second half kickoff and embarked on a spirited drive which lasted nearly 8 minutes, only to see a holding penalty negate a 3-yard TD run by Bridger Stephens. The T-Wolves eventually turned the ball over on downs.
Coeur d'Alene kept close tabs on Lake City's do-everything junior Zach Johnson. He ran for 54 yards on seven carries, caught two passes for 5 yards and his attempted halfback pass in the first half fell incomplete.
"To limit Zach at all is hard to do," Amos said. "He's a really good football player, and they work really hard to get him the ball — I don't blame 'em. I thought our defense did a really good job ... we always knew where he was; if you don't, you're crazy, because he's the real-deal player."
Next Friday, Coeur d'Alene is home vs. Post Falls, and Lake City is home vs. Lewiston.
Coeur d'Alene 13 19 0 6 — 38
Lake City 0 0 0 0 — 0
First quarter
Cd'A — Sam Entzi 31 pass from Brayden Bengtson (Bengtson kick), 5:23
Cd'A — Gunner Giulio 4 run (run failed), 1:43
Second quarter
Cd'A — Jake Wuolle 11 pass from Bengtson (kick failed), 4:42
Cd'A — Robert Collier 57 run (kick blocked), 2:49
Cd'A — Caleb Short 12 pass from Bengtson (Bengtson kick), :31
Fourth quarter
Cd'A — Giulio 5 run (kick failed), 11:25
INDIVIDUAL STATISTICS
RUSHING — Cd'A, Giulio 9-48, Bengtson 3-6, Griffin 1-22, Collier 8-93, Elliott 1-3, Maciosek 6-18, Potter 2-1. LC, Ross 9-25, Pettit 4-11, Johnson 7-54, Bumbaugh 4-13, Weaver 6-19, Stephens 6-19, Adkinson 1-(minus 10), Condon 3-35.
PASSING — Cd'A, Bengtson 16-22-0-224, Potter 0-1-0-0. LC, Pettit 5-14-0-36, Weaver 1-5-1-1, Johnson 0-1-0-0.
RECEIVING — Cd'A, Wuolle 4-68, Farrar 2-60, Short 4-20, Griffin 2-15, Entzi 1-31, Collier 1-3, Giulio 1-16, Mallory 1-11. LC, Johnson 2-5, Hill 3-24, Adkinson 1-8.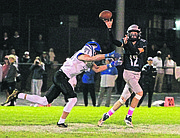 Recent Headlines
---