All things fall and frightful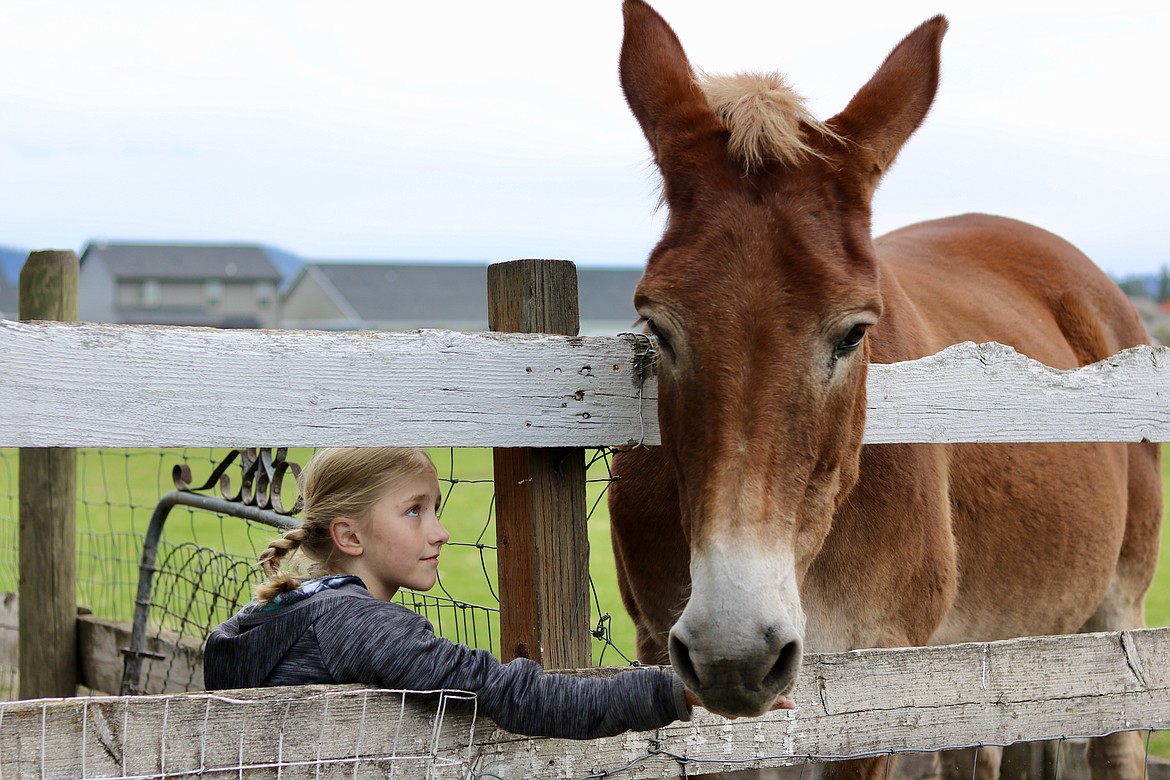 Lillian Watts, a 5th grader at CornerStone Christian Academy in Post Falls, visited Prairie Home Farm in Coeur d'Alene on a school field trip on Friday. HANNAH NEFF/Press
A pumpkin patch at Siemers Farm, part of Green Bluff Growers, a small unincorporated farming community in Spokane County. Photo courtesy of Bridget Haynos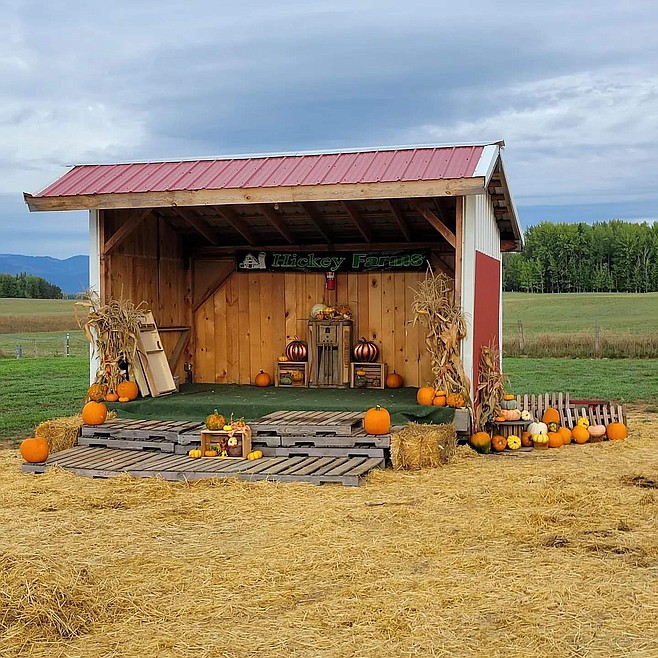 On Oct. 17, Star the Magician will be performing on this stage at Hickey Farms in Sandpoint at 1 p.m. Courtesy photo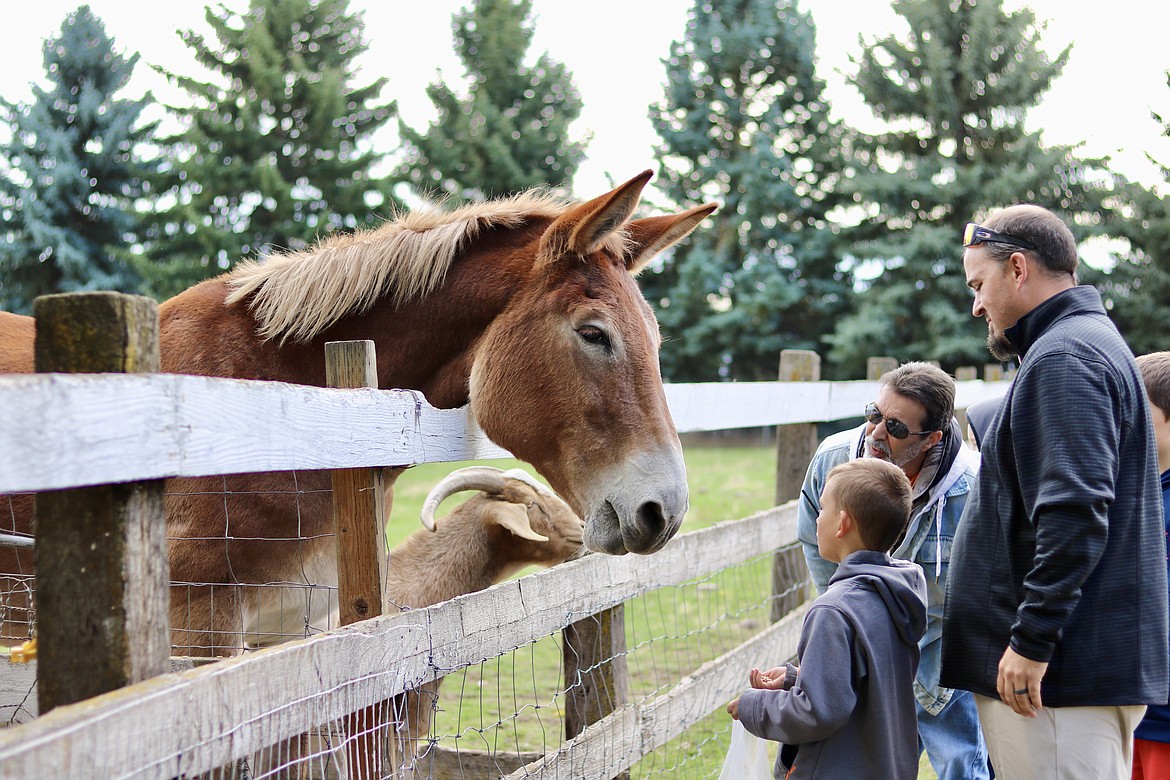 From left, 4th grader Dexter Berdan, CornerStone Christian Academy administrator John Young, and Jeremy Berdan visit Prairie Home Farms in Coeur d'Alene on Friday for a school field trip. HANNAH NEFF/Press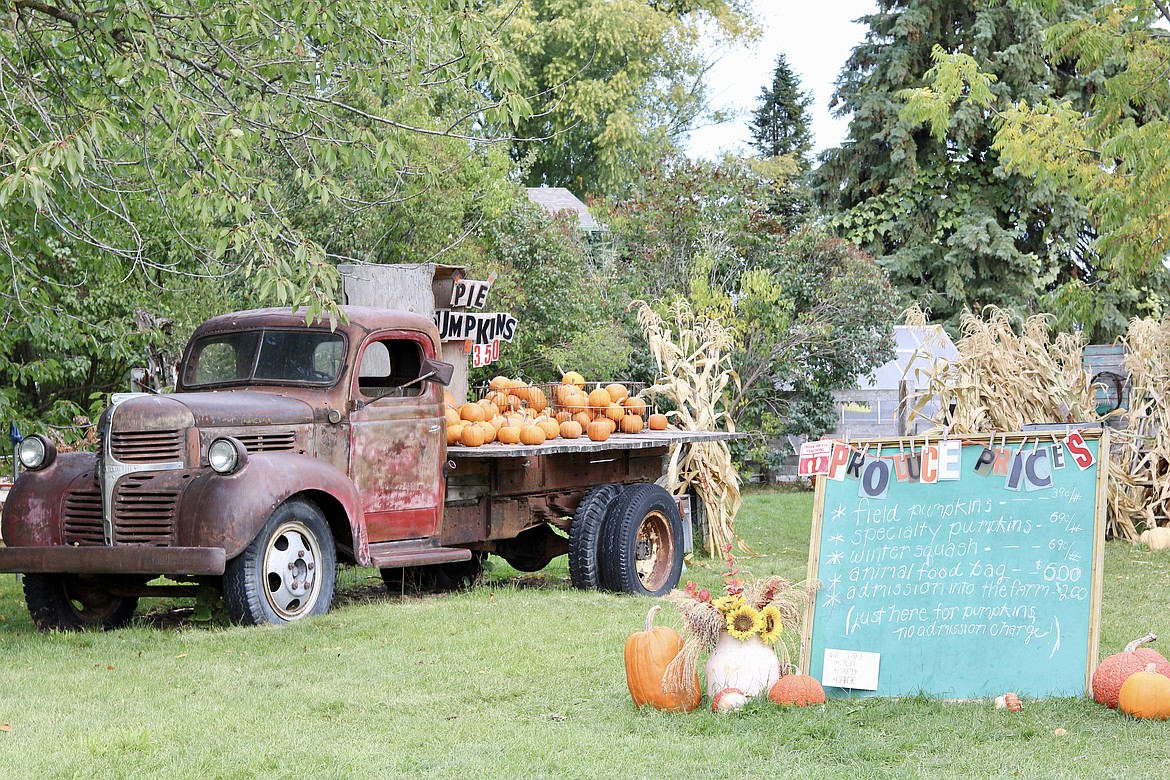 Prairie Home Farm, a U-pick pumpkin patch and more in Coeur d'Alene, is open to the public every Wednesday and Saturday in October, with all other October days available for field trips, barn rental and birthday parties. HANNAH NEFF/Press
Previous
Next
by
HANNAH NEFF/Staff Writer
|
October 9, 2021 1:00 AM
Leaves are turning and pumpkin patch growers have put out their open signs. Here's a list of local fall attractions and spooky events for October celebrants.
LOCAL ATTRACTIONS
Prairie Home Farm, Coeur d'Alene
Coeur d'Alene's own pumpkin patch on Atlas Road is open to the public every Wednesday and Saturday in October, with all other October days available for field trips, barn rental and birthday parties.
The 5-acre, 100-year-old farm has plenty of U-pick pumpkins available for 39 cents a pound. Admission is $2, feed bags to offer the farm critters are $6, and a $9 rate per person for field trips includes a pumpkin, feed bag, and popcorn and cider snack.
There's a tire swing, old milk barn and machinery to check out, as well as plenty of farm-styled backdrops for fall family photos.
Scarywood Theme Park, Athol
Scarywood Theme Park is open for haunted nights with five walk-through attractions including Planet Zombie and Pharaoh's Curse. Halloween lovers can wander through the scare zones, spooked by clowns, zombies, dolls and more.
Silverwood rides including Panic Plunge, Scrambler, SpinCycle, and Tremors will be open as well as Timber Terror, running backward for the spooky tradition. Stunt Pilot may be open based on weather conditions.
The park is open from 7 to 11 p.m. on Thursdays and 7 p.m. to midnight on Fridays and Saturdays. Tickets: $40-58. $5 parking. Firefighters, military, veterans, EMS and police receive free entrance Oct. 28 to 30. The park closes on Halloween.
Carver Farms, Newman Lake, Wash.
About 30 minutes from downtown Coeur d'Alene, Carver Farms in Newman Lake, Wash., has a pumpkin patch and 4-acre corn maze open Saturdays and Sundays every weekend from 9 a.m. to 4 p.m.
U-pick pumpkins are 49 cents a pound, and the corn maze is $5 per person, kids 5 and younger free. There are also $1 fresh pumpkin doughnuts served from 10 a.m. to 3 p.m. and kettle corn, caramel apples, pies and more available for purchase.
Hickey Farms, Sandpoint
This U-pick pumpkin patch farm and more is open Saturdays and Sundays from 10 a.m. to 5:30 p.m. and Wednesdays and Fridays from 2 to 5:30 p.m. until Oct. 30.
Music or a magic show is available on select weekends. Local craft vendors and hay rides and train rides will also be happening on weekends.
Enjoy hot chocolate, bouncy houses, pumpkin carving, a $5 corn maze with a slide and more. Kids wristbands are $9 and include all attractions. Admission is free.
Green Bluff Growers, Mead, Wash.
Green Bluff Growers, an unincorporated farming community in Spokane County, has many U-pick apple orchards and pumpkin patches as well as other produce. Many of the family owned farms have live music, vendors, crafts and more. Farms are run independently with their own open hours. Find farms at greenbluffgrowers.com
SINGLE DAY EVENTS
Oct. 15:
Pumpkin Giveaway
Beginning at 9 a.m. until supplies run out, the Coeur d'Alene Public Library is holding a drive-thru event for free pumpkins and bagged decoration supplies in the lower parking lot near McEuen Park.
Oct. 16:
Pet Lovers Halloween
Pawsitive Difference, LLC, a dog training service in Coeur d'Alene, is giving out free trunk or treat goody bags for pets and humans from 9 a.m. to 1 p.m. Helper dogs Meeko and Kova will be decked out in costume to greet others. Everyone is encouraged to dress up and tour the facility. There will be raffle baskets, food and drinks.
Oct. 23, 30:
Silver Mountain Halloweekends
Beginning at noon both Saturdays, the ski resort in Kellogg will be celebrating with free family friendly activities around gondola village. There will be face painting, cookie decorating, Halloween games and free hot chocolate. A costume contest will begin around 5:30 p.m., and a photo opportunity with "Mo, the Moose" followed by trick-or-treating.
Oct. 29:
Hayden's Drive-Thru Halloween
The city of Hayden is hosting Friday Night Frights, a free drive-thru community event in the Hayden Meadows Elementary School parking lot. There will be about 10 decorated stations giving out candy between the sheriff's office, fire department and local businesses. Participants are welcome to dress up in their vehicles.
Military Family Fall Festival
The National Guard Armory in Post Falls is hosting a festival for military and veteran families with activities, games and candy from 5 to 8 p.m.
Bonner County Fairgrounds Halloween Party
The Bonner County Fairgrounds is getting festive with games, a spooky tunnel, pumpkin decorating, treats and a costume contest from 5 to 9 p.m. for a free night of family fun.
Oct. 30:
Moonlit Monster Cruises
Lake Coeur d'Alene Cruises is holding adult-only Halloween cruises on Oct. 30, a two-hour journey on Lake Coeur d'Alene on a boat filled with spooky decorations. There will be a DJ, grand prize photo contest, and signature Halloween cocktails. Cruises are 5 to 7 p.m., and 8 to 10 p.m. Boarding takes place 30 minutes prior to departure at The Boardwalk Marina. Tickets are $25 per person, including taxes and fees. Tickets: cdacruises.com
Sensory Halloween Fest
All Things Sensory Children's Development Center in Post Falls is hosting a free trunk or treat, costume contest, cake walk, Halloween crafts, and more from 10 a.m. to 1 p.m. There will also be a photo opportunity with Marshall from "Paw Patrol" for a $5 donation. Neighbors-in-Need raises funds to provide items to families in need, Autistic individuals, and families with children in pediatric ICU.
Rathdrum Trunk or Treat
Rathdrum Parks and Recreation is hosting a free event from 5 to 7 p.m. on Main Street in Rathdrum with treats in decorated vehicle trunks. Vehicles need to register by Oct. 15 with Rathdrum Parks and Recreation. There will be a competition for the best decorated car from 5:15 to 6:45 p.m.
Priest River Halloween Party
The Edgemere Grange in Priest River is hosting a free community party from 6 to 8 p.m. for all ages with games, candy, food, a prize table, cake walks, wheel unfortunate and costume contests.
Bayview Halloween Parade
Costumed participants are invited to line up on the east side of Main Street between Jasper's Emporium and Ralph's Coffee House & Cafe in downtown Bayview for the parade starting at 4 p.m.
Oct. 31:
Bayview Fall Festival
Fall-themed games, snacks, and trunk or treat will be running at Bayview Bible Church from 5:30 to 8 p.m. for a family friendly Halloween night for all ages. ​
Halloween at the Coeur d'Alene Carousel
The Coeur d'Alene Carousel will be open from 11 a.m. to 4 p.m. on Halloween. Riders are encouraged to dress up in costumes.
Spirit Lake Street Party
From 5 to 8 p.m., Maine Street and City Park in Spirit Lake will come alive with trunks of treats, games and prizes for the whole family, sponsored by Spirit Lake Parks and Recreation. The cornhole tournament begins at 3:30 p.m. in City Park, with warm-ups at 1:30 p.m. Pre-registration is required and there cost is $15 for 2 players. The Spirit Lake Police Department will be distributing candy.
Athol Trunk or Treat
Librarians from Athol Library will have treats and books outside Athol Super 1 Foods during the trunk or treat from 5 to 6:30 p.m. Participants are encouraged to stop by in costume and decorated vehicles.
Recent Headlines
---